Elegant and Modern Wine Cellar Wine Racking System for the Rosewood Hotel Restaurant in Washington DC
Click here The Rosewood Hotel Restaurant Wine Cellar with Modern Wine Racking at
First Glance
Tim Wright and his team at Harvest Wine Cellars and Saunas recently built a custom commercial wine cellar for Wolfgang Puck's restaurant CUT in Rosewood Hotel In Washington D.C. The high-end restaurant looks even more sophisticated and elegant thanks to the contemporary wine cellar constructed by the team. The wine cellar features a combination of traditional and modern design.  
The vast wine collection display that one can see through the glass panel from outside adds more appeal to would-be diners walking within the vicinity. People would see that premium feel just looking through the intricate details from the combination of metallic racks and wooden wine cabinets from the outside. 
The view from inside is even more surprising as more modern wine racks are revealed. You may feel overwhelmed looking through the vast wine collection, glossy wine racks and the modern wooden wine cabinets.  The restaurant looks more luxurious than ever. 
An Elegant Wine Cellar Wine Racking System in CUT Restaurant in Rosewood Hotel, Washington D.C.
An Elegant Wine Cellar Wine Racking System in CUT Restaurant in Rosewood Hotel, Washington D.C.

Wine Racking System
of the Rosewood Hotel Commercial Wine Cellar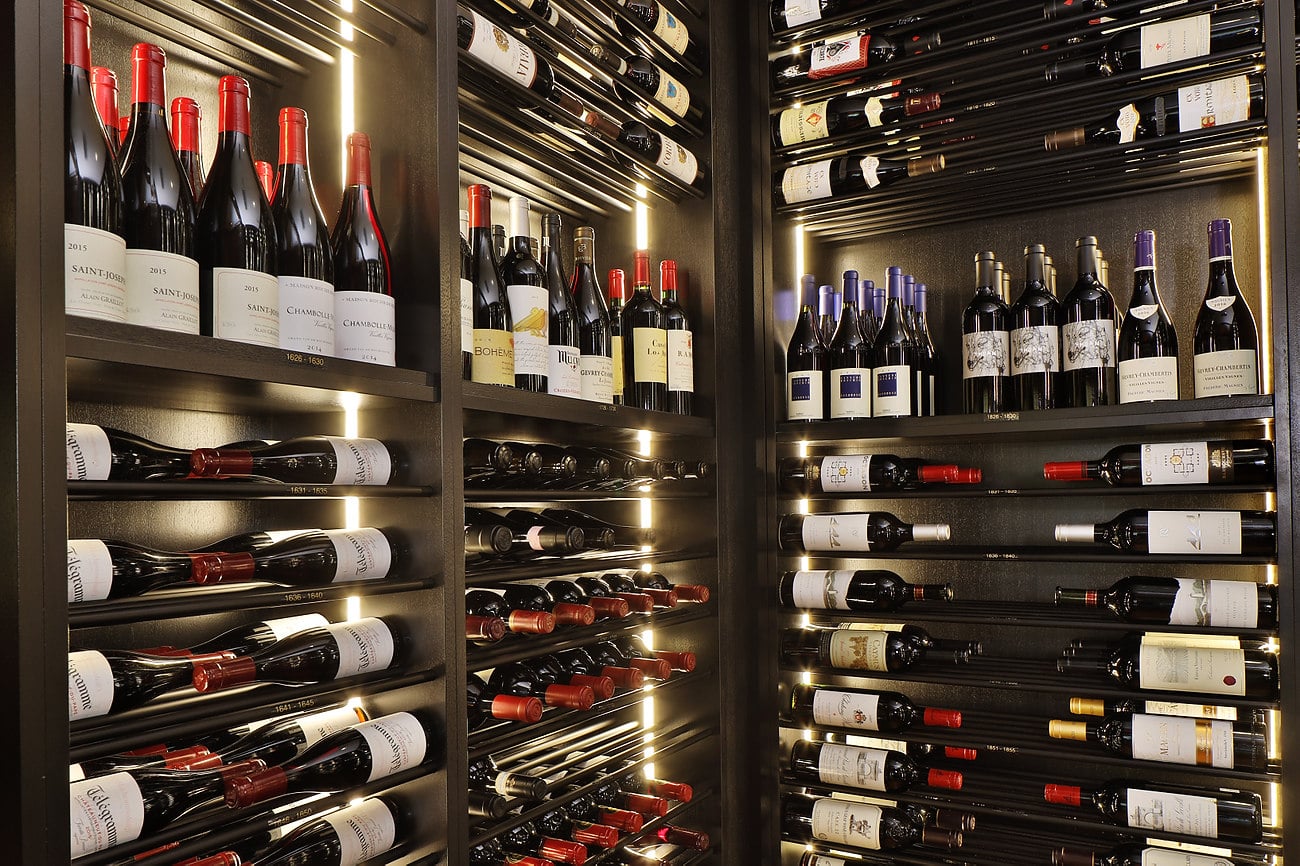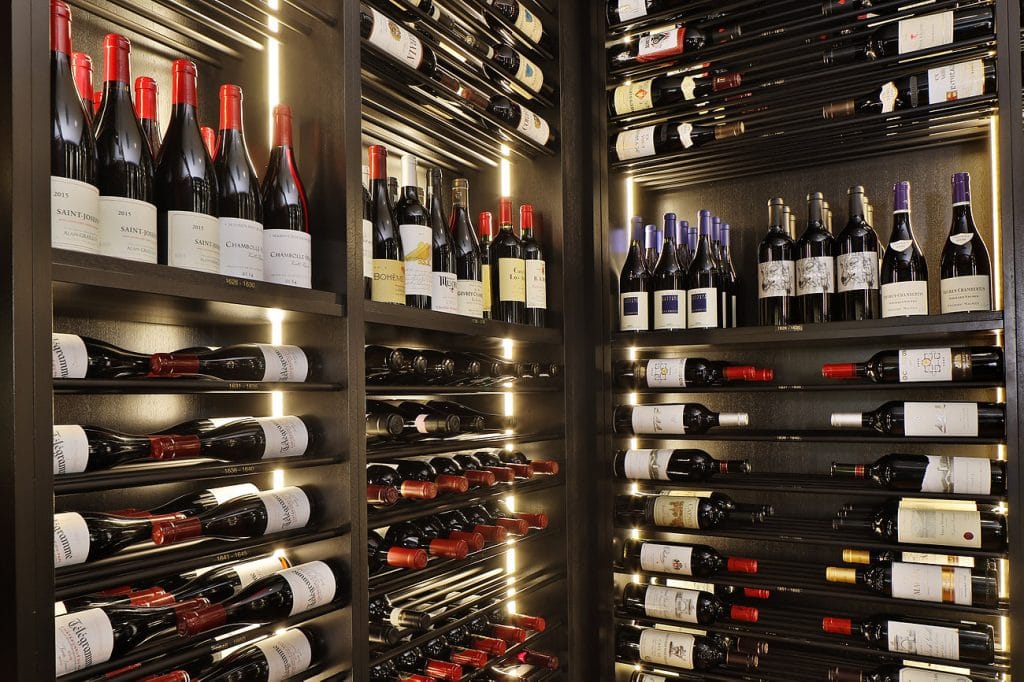 The team decided to use Sapele mahogany for the wooden frame of the wine racking system. The client wanted a traditional feel paired with modern and contemporary elements so they colorized the reddish hue of sapele mahogany with a black microderm stain. It is an elaborate process where each piece is individually hand-stained. It's worth all the time and effort, though, as the wine racking system looks amazing with this elegant choice of color.
To preserve and give it luster, they used a clear satin finish for the topmost layer of the wine enclosure. And, finally the metallic parts of the wine racking system were painted anodized black. 
The wine racking system was originally designed to have the wines placed nose out to maximize the space. Following such an arrangement, wine storage could reach up to 4000 wine bottles, including magnum wine bottles. Wolfgang Puck decided to store some of his wines in an upright position. But, nonetheless, it still looks great and there's still plenty of room for additional wines to his collection. But, the wine racking system is flexible enough to allow the bottles to be stored nose forward, label forward, or upright. The owner can choose whatever layout that best meet their needs. 
Obstacle during the Rosewood Hotel Commercial Wine Cellar Design Proces
s
With over 60 feet of wine storage to work with, the Harvest team subdivided the wine cellar racking system into several partitions. Everything was looking good until they discovered a problem at area D. Area D happened to be located in front of an elevator. This orientation limited the available space for the racking. Fortunately, the Harvest team adjusted their designs and plans to resolve the small hindrance. It goes without saying that experience and expertise from the Harvest designers and builders have been key factors in finding solutions for obstacles like these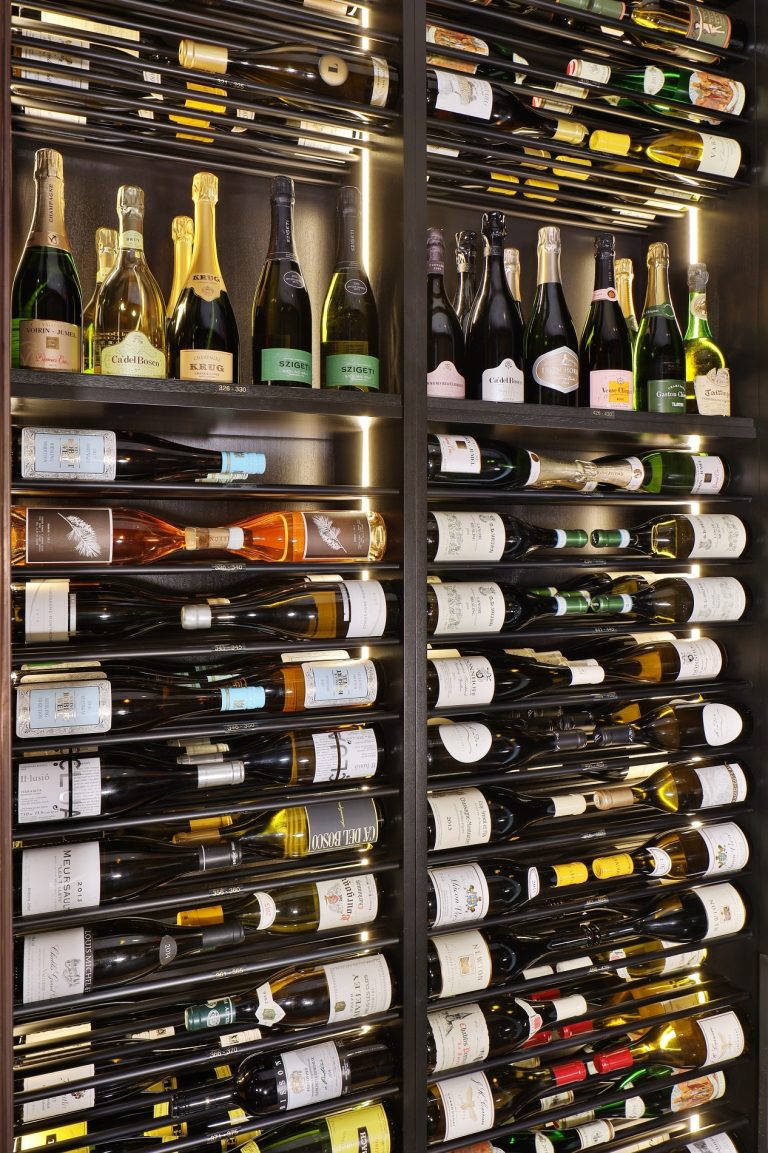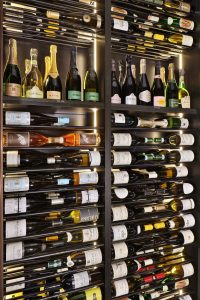 Is a commercial wine cellar with modern wine racking system good investment for your business?
Monarch Construction contacted Harvest Wine Cellar and Saunas to have a magnificent wine cellar built for Wolfgang. The construction firm emphasized that Wolfgang wanted to add a modern and classy ensemble to his top-rated restaurant. The Harvest team didn't disappoint him. They came up with a sophisticated and elegant wine racking system for his business. 
The awe-inspiring design and look of his new wine cellar wine racking system gets the attention of people coming into the Rosewood Hotel in Washington D.C. They can't help but take a look at the wine collection presented in such a delightful manner. And many of these people checking out the collection, ultimately, went inside to eat while enjoying the spectacular view. Adding a wine cellar like this to a commercial establishment can be a large investment, but it will be one that pays off over and over again for years to come. 
There's no denying that the commercial wine cellar wine racking system has been instrumental in boosting Wolfgang's business. Diners and hotel guests are enjoying the elegant dining experience offered by the high-end restaurant and the commercial wine cellar in it. 
Now, won't that be a refreshing thought if you could do the same with your business?



Building a
Commercial Wine Cellar
is Ideal for Your Business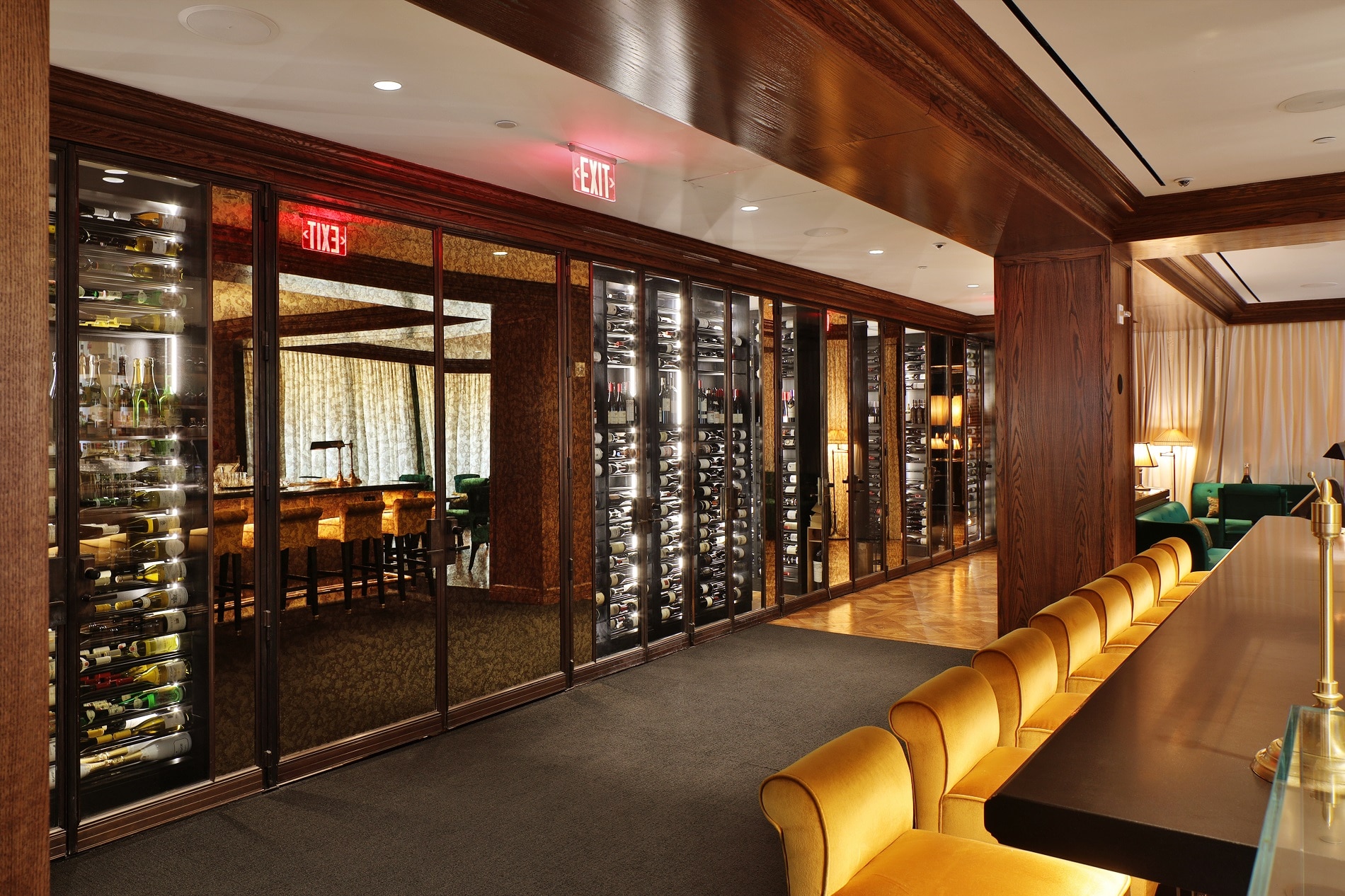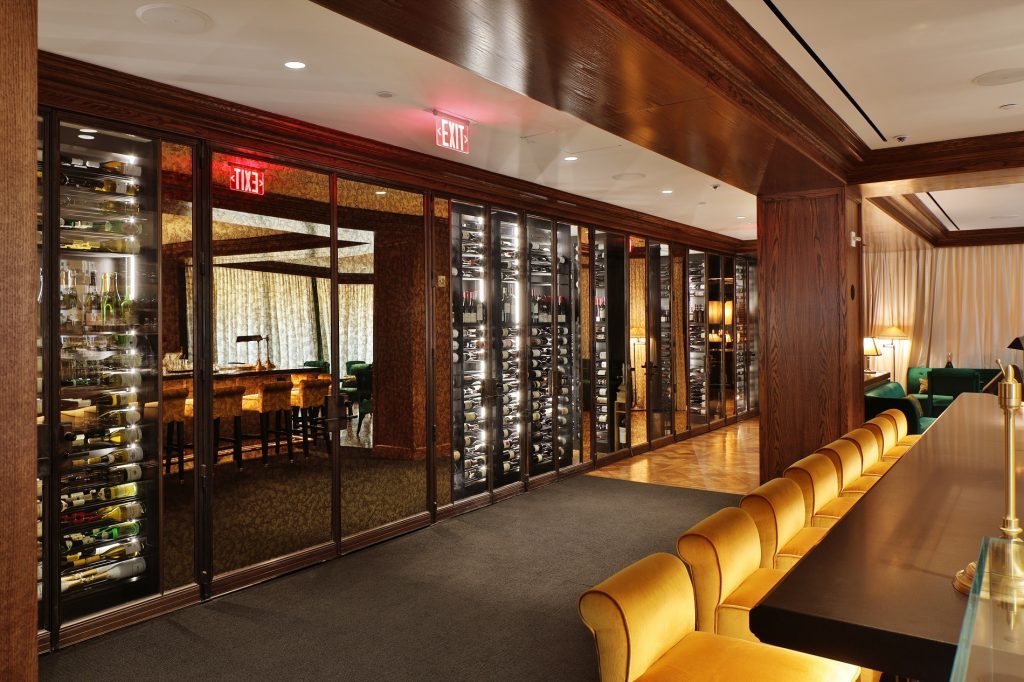 Yes, business is good and your revenue is steadily increasing. But, wouldn't it be nice if you could boost your business and at the same time share your passion for wine with your customers? 
Wolfgang Puck's restaurant CUT has grown in prestige and business by building a commercial wine cellar with Harvest Wine Cellar and Saunas. They have been receiving positive results and feedback from both employees and customers for the prestigious wine cellar the team constructed.  
The gourmet chef was so impressed with how the results of the project turned out that he even asked the Harvest team to build an additional wine cellar project for the Rosewood Hotel CUT restaurant. A man of his class would surely not take his chances with Harvest if he's not happy with the commercial wine cellar project. 
Ready to take your business to new heights? Click here or call us NOW at (804) 467-5816 to start building the wine cellar for your business.