Exceptional Residential Wine Cellars Designed by Experts in Washington, D.C.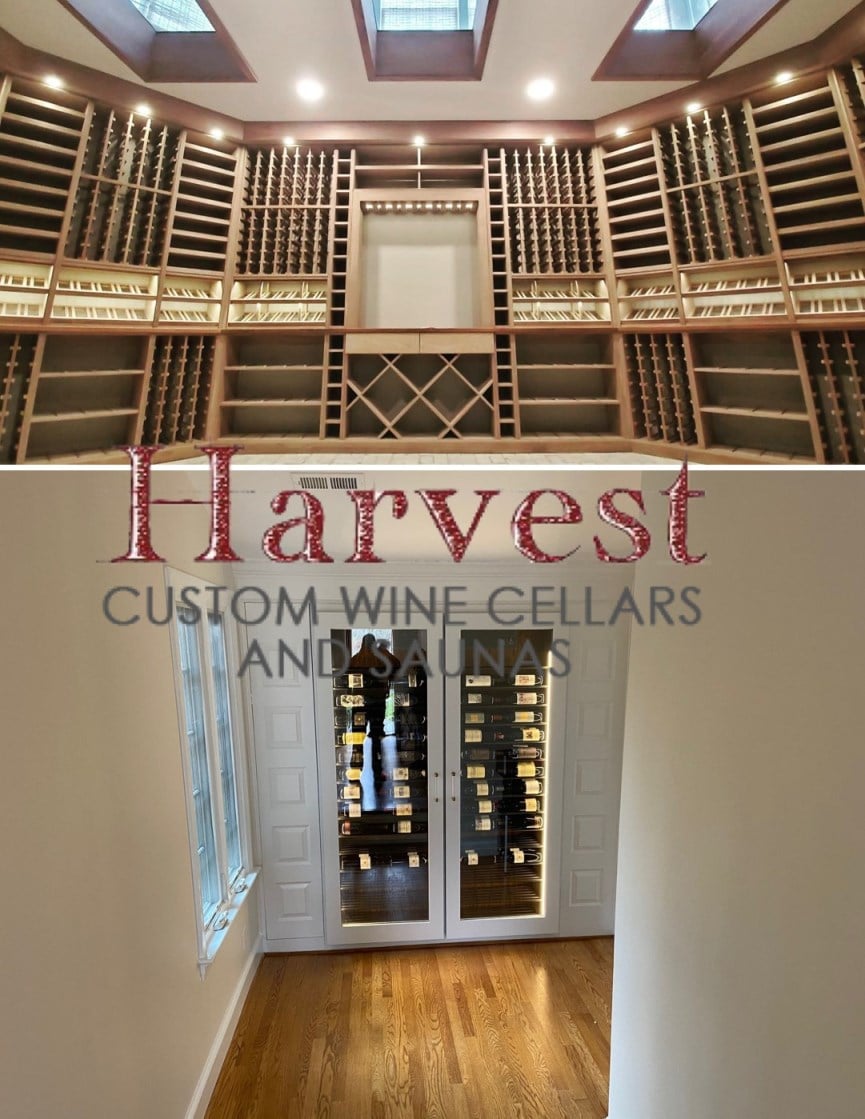 A wine cellar is a wonderful feature in one's property. When designed by a professional builder, it can enhance the aesthetic and resale value of your home. Harvest Custom Wine Cellars is composed of experts in designing residential wine cellars. We have been in the construction industry for many years, helping wine collectors build a safe and exceptional wine room for their favorite vintages. 
Impressive Residential Wine Cellars Designed by Experts in Washington, D.C.
As an experienced designer and builder of residential wine cellars in Washington, D.C., Harvest Custom Wine Cellars has built a good reputation in the construction industry. We have gained our client's trust. Our goal is to create a wine storage facility that will preserve your wines for many years. Moreover, we also want every wine cellar to display your collection beautifully.  
When you decide to work with us, we will assess all of your needs and requirements. After gathering the relevant information, we will create a design to help you visualize your completed wine cellar. Our team has completed residential wine cellars packed with functional and stylish features.  
A Home Wine Cellar Designed with Traditional Features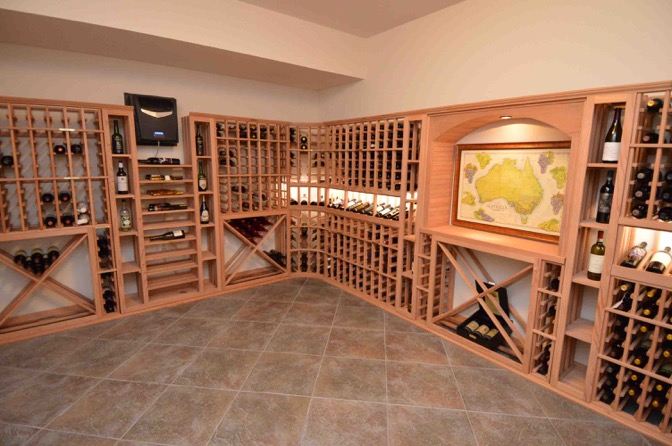 A traditional design is composed of wooden elements that add warmth and a timeless appeal to a space. In one of our projects in Williamsburg, Virginia, we built a refrigerated residential wine cellar in a room that measures 5'L x 12'W X 9'H.  
Wine Racks
The client wanted to incorporate an important object into the design of his wine cellar. He likes Australian wines, and he wanted to commemorate his trip to an Australian vineyard with a map, which he wanted to be placed against a wall in an arched opening.
The arch display comes with a tabletop to provide a space for decanting and serving wines. Below it is a lattice X-bin. Both of its sides consist of shelving for storing some of his bottles vertically. The rest of the racking includes individual wine racks, display rows, and horizontal wine racks.   
The owner chose Redwood for his wine racks. Even when left unfinished, the wood wine racks from IronWine Cellars look good. We mixed different racking styles to create a custom design that would fit more than 1,000 bottles.  
Wine Cellar Cooling Unit
For the wine cooling system, we installed a Wine Guardian 0018 through-the-wall cooling unit. The type, size, and brand of the climate-control system were determined based on the assessment and heat load calculation. 
Transitional Custom Home Wine Cellar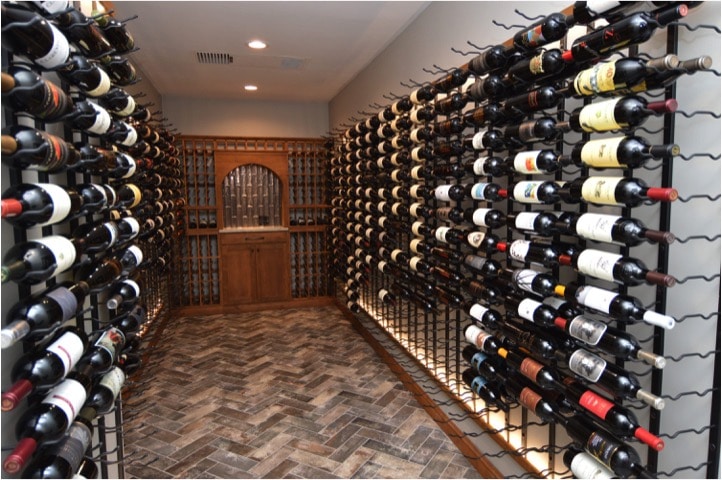 A wine lover in Richmond, Virginia, contacted us because they needed help transforming a space into a wine cellar with stylish features. The homeowner presented an inspiration photo they got from the web. 
We created a 3-dimensional design based on their needs and requirements. We had fun working with him. When he received our design proposal, he was very quick to make the changes based on his personal preference. After minor modifications were made, we started the construction phase. 
Wine Racks
The style and material of the wine racks must be chosen carefully to achieve the desired appeal and functionality. For this project, we installed metal and wood wine racks to achieve a transitional look. Metal wine racks are in demand in building minimalist wine rooms. In addition to their sleek appeal, metal wine racks are easy to maintain and offer installation flexibility. 
We installed VintageView wine racks on the left and right walls. We chose triple-deep racking to maximize the storage capacity of the room. The metal wine racks are designed with a label-forward orientation. With the labels facing out, it would b easier for the owner to read the wine description. There is no need to flip the bottle to see the labels. Flipping the bottle will disturb the sediments that have settled on one side, affecting the texture and flavor of the wine. 
We placed the wooden component in this custom wine cellar on the back wall. The racking was supplied by IronWine Cellars, consisting of an arch display with a tabletop. Below it is a drawer and a 2-door cabinet for storing the client's wine accessories like decanters, bottle openers, wine glasses, and a lot more. On both sides of the arch, you will find display rows that pitch the bottles at an angle. The rest of the wood wine racks are for single bottle storage. 
Wine Cooling System
Finding a suitable wine refrigeration unit for this wine cellar was quite challenging because the wine room is concealed. However, with our team's expertise in HVAC and refrigeration, we were able to determine the best cooling system for this project. We installed a WhisperKOOL Series 8000. It is a ceiling-mount unit.
There was no way to duct out of the wine room, so we decided to install the condenser outdoors. We included a line set, which sits in the ceiling. With this type of climate-control system, we eliminated the use of racking space, increasing the storage capacity of the wine cellar. 
Let Our Washington D.C. Experts in Residential Wine Cellars Build an Exceptional Wine Room for Your Collection
Harvest Custom Wine Cellars is composed of experts in designing and building residential wine cellars. With our extensive knowledge, passion, and creativity, we have helped many homeowners in the Washington, D.C. area, including McLean, Virginia, create a stunning wine room for their collection.   
If you need help or have any questions, please do not hesitate to call us at (804) 467-5816!