Wine Guardian Refrigeration Systems: Smart Choice for Your Residential or Commercial Custom Wine Cellar in Baltimore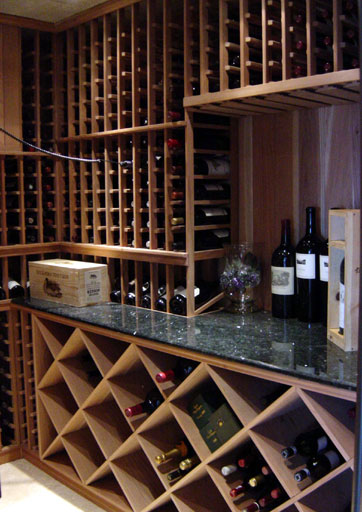 At Harvest Custom Wine Cellars and Saunas, we believe Wine Guardian refrigeration systems are one of the best units to help preserve your wine collection. These reliable units come in many different varieties including, ducted self-contained, ducted-split, ductless split, and through the wall units. There is a unit out there for every type of wine cellar.
The Significant Role of an Efficient Wine Refrigeration System in Baltimore Custom Wine Cellars
Wine is sensitive to external factors such as heat, light, vibration, and odor. You can preserve its desirable characteristics and enhance your wine drinking experience if you provide a safe storage room for it. Correct wine storage is the main reason investing in a wine cellar is increasing in demand among wine collectors.
Whether you are building a wine cellar for your residential property or commercial establishment in Baltimore, you have to consult an expert in wine cooling to ensure that your wine storage facility is cooled efficiently. At Harvest Custobalm Wine Cellars and Saunas, our team has extensive knowledge in wine cellar refrigeration.
We offer wine cooling units manufactured by top-notch manufacturers in the United States. One of them is Wine Guardian.
What is the Best Cooling Unit for Your Custom Wine Cellar?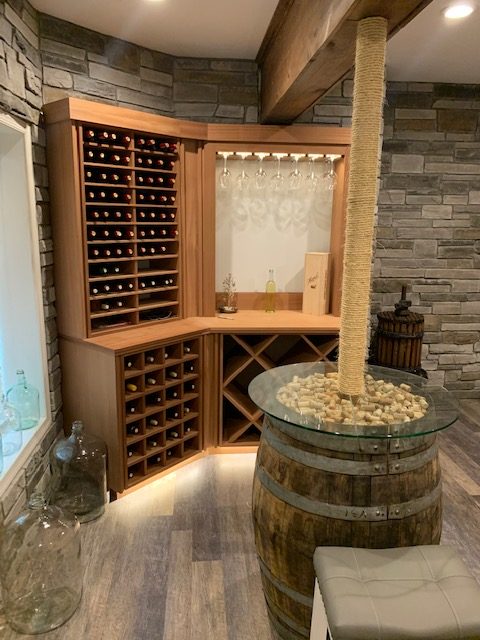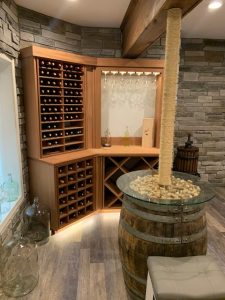 When building a wine cellar, there are many factors to consider. To meet all of the specific requirements (aesthetic, functional, technical, and financial) of each client, we make a careful assessment their needs.
When choosing a wine cooling system, this process helps us determine the correct size, capacity, type, and brand of unit suitable for each project. Installing a refrigeration unit that is too small for the size of your wine cellar will not achieve the optimum conditions required for the proper aging of your wines.
On the other hand, installing a cooling unit that is too large for your wine cellar will cause your wines to age faster. This is called accelerated aging, which affects the overall bouquet of the wines. It is best to keep in mind that the wrong size of the climate-control system will not be able to keep the temperatures and humidity levels in the ideal range.
Why Should You Choose to Have a Wine Guardian Refrigeration System Installed in Your Custom Wine Cellar?
With so many types and brands of wine cooling systems available in the market today, it is easy to make a mistake in choosing a climate-control unit. We recommend the Wine Guardian wine cellar refrigeration systems because of the benefits they offer. They are designed to provide a stable environment for your collection without compromising style.
The founders of Wine Guardian are Larry and Mike Wetzel, who are also the founders of Air Innovations. We, at Harvest Custom Wine Cellars and Saunas, have been using it in our installation projects for many years.
Wine Guardian Units Have Precise Temperature and Humidity Control
All of Wine Guardian products are designed to ensure superior performance. This is one of the reasons why their wine cellar refrigeration systems are a favorite choice in wine cellar construction projects in Baltimore. The temperature in your wine cellar must be between 55 to 65 degrees Fahrenheit, and the humidity level should be within 60 to 70 percent. Wine Guardian's cooling units are proven and tested to provide maximum cooling efficiency both for residential and commercial applications.
Extremely Energy Efficient and Offer a Quite Operation
Energy efficiency is another advantage of Wine Guardian's cooling products. You do not want to purchase a refrigeration unit that will cause your electrical bill to soar high. Moreover, they designed their cooling units with minimal to no noise at all. They want their clients to enjoy wine tasting parties with family and friends without being distracted by the noise coming from the equipment.
Standard Features of Wine Guardian Refrigeration Systems that Make them in Demand in Wine Cellar Projects in Baltimore
Commercial -grade quality design

Corrosion resistant (body, evaporator coils, and condenser coils are made of aluminum)

Lightweight

Removable control panel (provides easy access)

One supply and return duct collars

Installation flexibility (there are multiple air openings)

Tested in the factory before shipment
Different Types of Wine Guardian Wine Cellar Refrigeration Systems Offered by Experts in Baltimore
To meet the unique needs of each client and offer installation flexibility, Wine Guardian designed four types of cooling systems:
Ducted Self-Contained Wine Cooling Systems

Ducted Split Wine Cellar Refrigeration Units

Ductless Split Cooling Units

Through the Wall Cooling Systems
Ducted Self-Contained Wine Cooling Systems are Ideal for Large Wine Cellars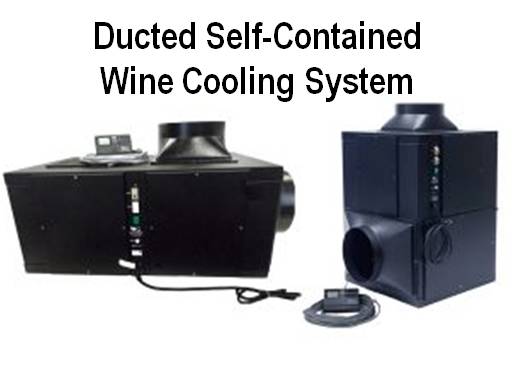 Our wine storage specialist recommends the ducted self-contained refrigeration units for wine cellar installations in large spaces. These units are designed to achieve optimum conditions and provide efficient cooling.
The self-contained unit consists of the evaporator, condenser, compressors, controls, and fans. Insulated flexible ductwork connects the grill on the inner wall to the self-contained unit placed outdoors.
Standard Models:
D025

D200

D050 & D050V

D088 & D088V
Water-Cooled Units:
Water-Cooled D025 

Water-Cooled D050 

Water-Cooled D088 

Water-Cooled D200 
Ducted-Split Refrigeration Systems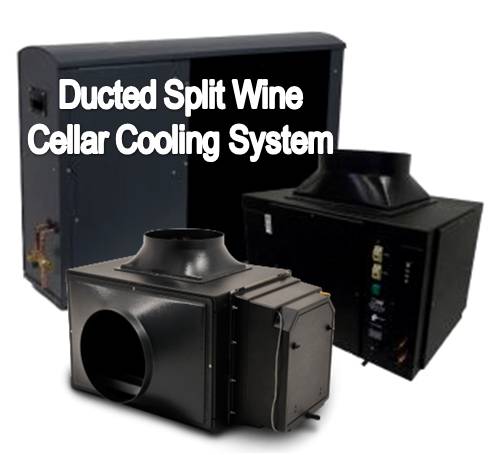 We have installed wine cellars in tiny spaces. In cases where space is limited, Wine Guardian's ducted split wine cooling units are recommended. It is also the ideal option for wine room installations where it is difficult to dissipate heat.
Standard models:
Ductless Split Climate-Control Systems by Wine Guardian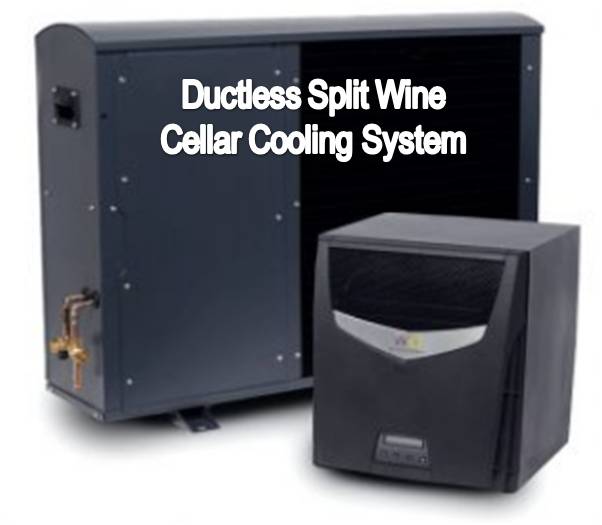 In other types of wine cooling systems, a mechanical room is required to heat dissipation. With the ductless split system, you do not have to worry about the dissipation of heat. The unit is mounted on a wall or a surface. This eliminates the use of floor space while offering a stylish appearance. The SS018 is the only model for this type of cooling system.


Through the Wall Systems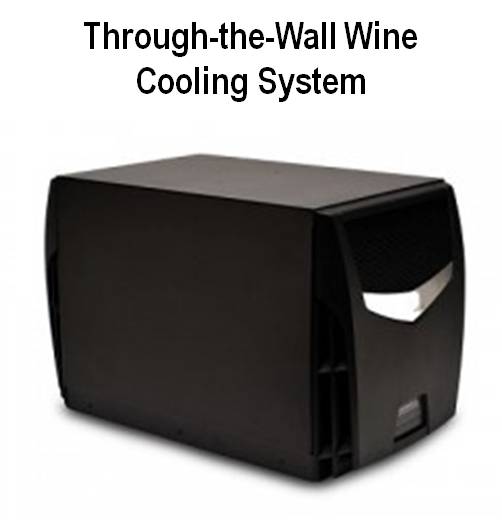 Our Wine Guardian Through the Wall Cooling Systems are designed for small to medium size wine cellars. The installation of the system requires less ductwork. With a sleek appearance, the units blend well with modern designed homes, restaurants, hotels, bars, and wine stores.
Models available:
TTW018 (for rooms up to 1500 cubic feet)

TTW009 (for rooms up to 850 cubic feet)
>>> Click here to learn more about a recent wine cellar project in Williamsburg, VA where we utilized a Wine Guardian system.
Work with the Experts at Harvest Custom Wine Cellars and Saunas to Select the Best Wine Guardian Refrigeration System for your cellar in Baltimore.
Are you unsure about the proper unit to have installed in your commercial or residential wine cellar project? With the large variety of Wine Guardian refrigeration systems out there we can help you select the best unit for any cellar design.
Call us at 804-467-5816 today to get started on your wine cellar build. Feel free to reach out to us with all of your wine cellar cooling related questions.