Kessick Wine Cellars: Contemporary Wine Storage Solutions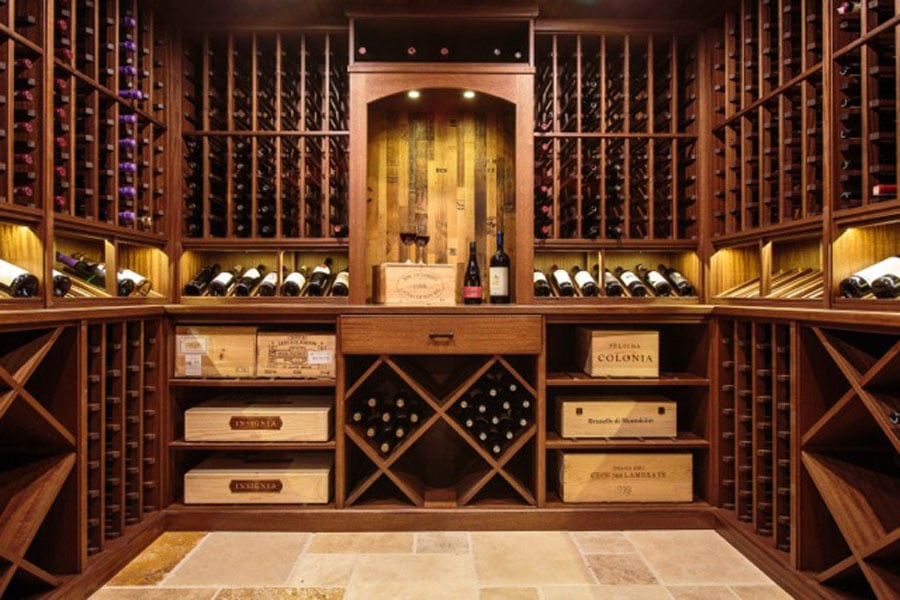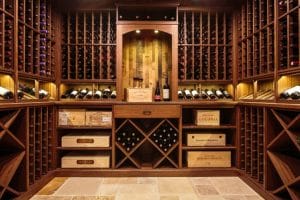 Is a Kessick Wine Rack the Right Choice for You?

Harvest Wine Cellars and Saunas is proud to offer top quality wine cabinetry and wine racking from Kessick Custom Wine Cellar Storage Systems. Kessick creates beautiful storage solutions that combine aesthetics, function, and expert building science. Their designs are constructed of hardwoods (including Sapele Mahogany, White Oak, and Walnut) and 3/4″ Columbia Pure-Bond® hardwood core wood panels.
We take pride in offering the very best products to our customers. When you consult with one of our experts for your custom residential or commercial wine cellar, we'll find the perfect solutions for your needs. We'll help you design, build, and furnish the wine cellar of your dreams, and high quality products from suppliers like Kessick are a large part of what makes us successful.
Harvest partners with Kessick for their expertise and consultations on wine racking storage options, climate control, room preparation, and the cellar transformation process. We love working with them, and you will, too!


About Kessick Custom Wine Cellars, a South Carolina Family Business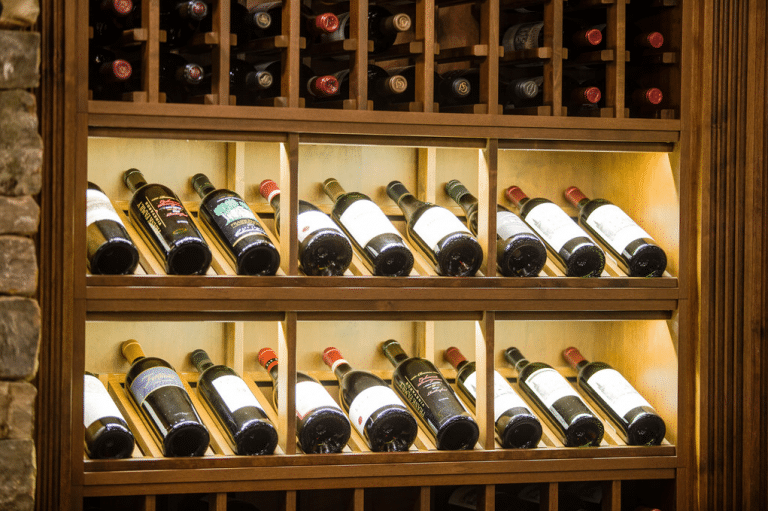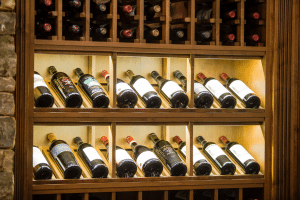 Kessick Wine Cellars is a family business founded by Ralph and Robert Bass in 2004, to meet rising demand for wine cellars in their local community of Greenville, South Carolina. The combined talent of the father and son team led Kessick Wine Cellars to success. Ralph's business savvy plus Robert's design and construction expertise worked together to create wine cellars that continually exceeded the expectations of their clients.
Since then, Kessick Wine Cellars designs and manufactures exceptional quality wine cabinetry and wine racking in their facility in South Carolina and ships them to wholesale dealers across the US and internationally.
Kessick Wine Racks
Kessick Wine Racks are a unique addition in an industry that places high value on quality, design flexibility, and wood type and finish options. Kessick manufactures and ships fully assembled, box construction wine cabinetry built to your order. These wine components are ready to install immediately upon delivery which results in an easier installation and a more refined final product.
Their wine racking comes in 4 series components namely Estate, Reserve, Elevate and Wine as Art. Read on to take a closer look at each series in more detail.
Estate Series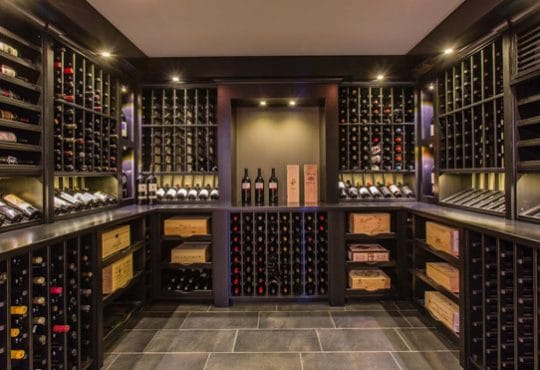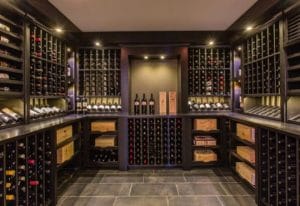 The Kessick wine racks Estate series is defined as "a custom wine storage cabinetry fabricated in a European box construction format". The series is available in four styles: Old World, Transitional, Traditional, and Contemporary. Each style is available in Sapele Mahogany, White Oak, and Walnut, each with multiple finish options available.
The components come fully-assembled, which allows for easier installation and superior fit. Also, the estate series has 3 wood types to choose from Sapele, walnut and white oak. Each wine cabinet and rack is assembled in a controlled shop environment by skilled craftsmen. They are available with factory installed, integrated LED lighting. Storage solutions are very flexible, with options for single bottle slots, large rectangular bins for bulk storage including Magnums and Splits, can feature "label view" bottle orientation, and lots more options.


Reserve Series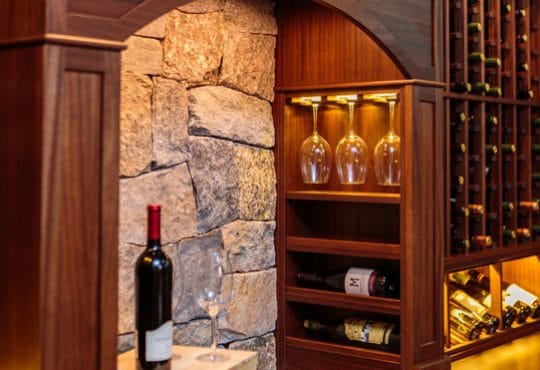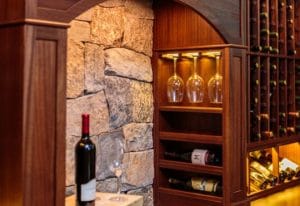 The Kessick wine racks Reserve series is on of the finest examples of furniture grade wine storage and display cabinetry available." This series takes pride in its architectural design, construction process and finished quality.
Cabinet backs as standard, 14″ single bottle depth, furniture finish, and one-of-a-kind designs are all details that you can expect exclusively from the Reserve Series. This beautiful series is also available in 3 wood types: Sapele Mahogany, Walnut and White Oak. Wine cabinetry includes slide-out shelves and display niches, and architectural details include pilasters, coffered ceilings, and paneled walls.
These beautiful options are shipped ready to install.


Elevate Series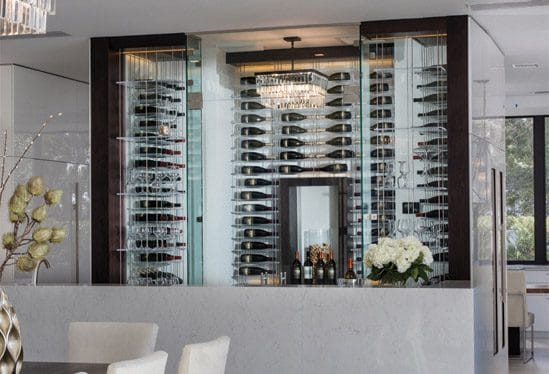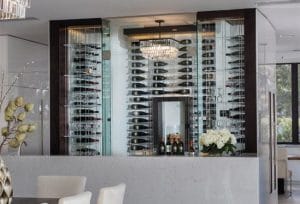 The Kessick wine racks Elevate series is a unique contemporary presentation of wine, truly a Kessick original. This series makes use of stainless steel rods that support the acrylic wine cradles creating an aesthetic floating effect. Elevate design elements can include a neck out and a label forward bottle display. Plus, it can incorporate casework and LED display lighting.
Architectural features of this modern wine storage series include display rows, custom color LED lighting, cabinetry, and niches for display. This proprietary, original product line is only available from Kessick through Harvest Wine Cellars & Saunas, a registered dealer, and each design is unique and custom made for residential or commercial wine storage.


Wine as Art Series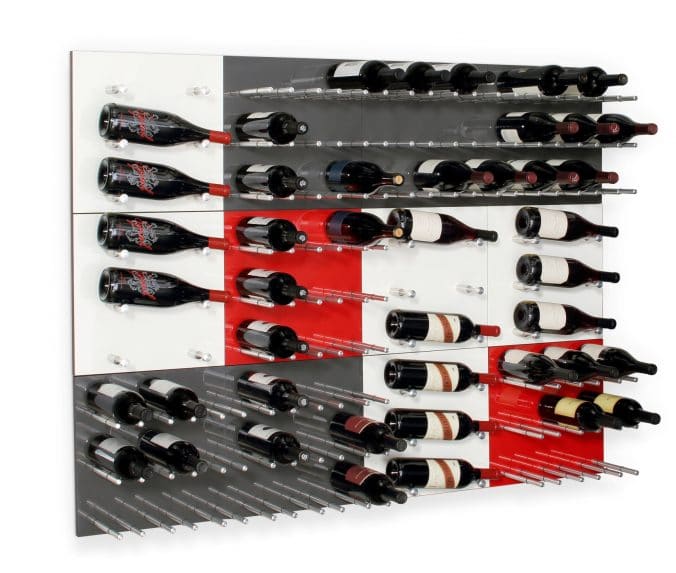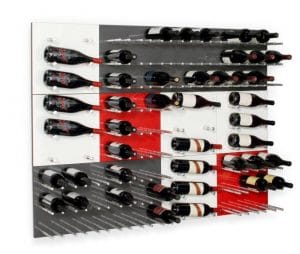 The Kessick Wine Racks Wine as Art series is a unique and custom contemporary line of designs wherein Kessick incorporates metal, acrylic, wood, glass, lighting and more to create one-of-a-kind wine storage and display for home and hospitality. The brushed aluminum wine hardware is available in neck out as well as label forward formats. The flexibility in this design series and in the construction materials allows for wide variation in styles, layouts, and can be set up in a way to allow for a large amount of bottle storage in relatively small spaces.
Wine as Art hardware can also be integrated seamlessly in the Estate Series and Elevate product lines. The possibilities are absolutely endless.
When You're Ready to Learn More About Kessick Products, Harvest is Here for You!
Savvy wine cellar owners want a beautiful and stylish design incorporated into a secure and safe place to store their valuable collections. Harvest understands this, and we're here to help you decide if racking or cabinets from Kessick is the right choice for your project. Call us today to get started on your free 3d design and let us get to work for you!