Custom Designs for Williamsburg, VA – How to Build a Wine Cellar for Your Residence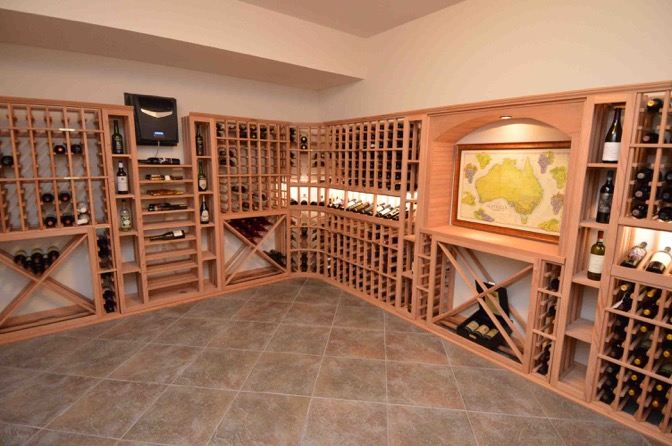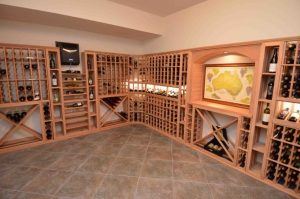 Having previously had a cellar at their last home the homeowner reached out to us to design a gorgeous cellar for their space. When you first start thinking about how to build a wine cellar you always start by creating a few concept drawings to lay out the dimensions and types of racking to be involved in the project. It is also a great idea to have an on-site consultation completed to really get a feel for the project before a build is started in your Williamsburg, VA residence.
Contact Harvest Custom Wine Cellars and Saunas to get started on your next installation project today.



How to Build a Wine Cellar for Your Williamsburg, VA Residence
How to Build a Wine Cellar for Your Williamsburg, VA Residence
How to Start a Wine Cellar Build Process for Your Williamsburg, VA Home
There are quite a few things to keep in mind when designing and building a wine cellar. As mentioned it is best to start with concept drawings once the final dimensions and racking selections have been determined. This particular cellar was 15'L x 12'W X9'H.
It is also important to consider if there is a specific overall design or theme that you are going for. For this wine cellar, our client wanted to have an Australian Vineyard map integrated into his design. He has an affinity for Australian wine, so he chose to commemorate his trip with the map that is included on the focal wall of this cellar.
At Harvest, we can advise you on all aspects of your wine cellar build. CLICK HERE to request a quote on your next residential or commercial project in Williamsburg, VA.
Racking Types – Unfinished Redwood
When determining the types of racking you want to be installed in your cellar, it is important to think about the type of wood, style of racking, color and bottle count. There are lots of custom wine racking options available for your residential or commercial project. Peruse our product lines HERE.
The owner selected a hardwood redwood unfinished wine racking from Iron Wine Cellars for this project. He was very specific about the bottle count that they wanted to have for this custom wine cellar build. The cellar holds a little over 1,000 bottles. With the large variety of racking configurations out there we can customize any cellar to hold the bottle amount you desire for your cellar.
Customizing a Beautiful Space for any Room
Custom Wine Cellar Design - Williamsburg, VA
Custom Wine Cellar Design – Williamsburg, VA
Another important aspect to consider when thinking about how to build a wine cellar is to decide if there are any odd shaped areas of the room. A tricky part of this space to design was the small alcove in the right corner of the room. This is why an onsite design consultation is so important when planning a wine cellar design for your Williamsburg, VA home.
We worked together and decided to incorporate a storage desk with space to hold wine records, bottles, and wine glasses. The homeowner is also a malt scotch connoisseur so he plans on using this space to show off his scotch collection as well.
CLICK HERE to learn how adding a wine cellar to your home can increase resale value.
Refrigeration Unit for Under Ground Wine Cellar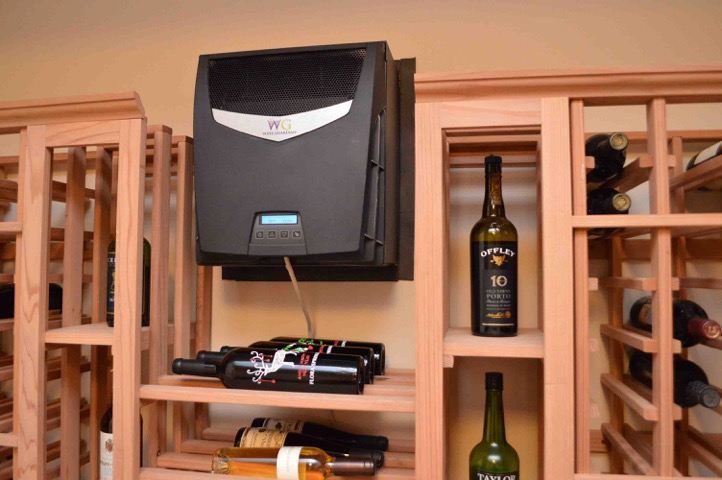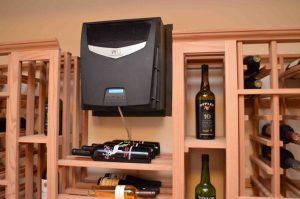 A through the wall Wine Guardian 0018 refrigeration unit was utilized to protect the wine collection in this cellar. This cooling unit is the largest through the wall unit that can be used for this size of cellar. The system is set to keep the cellar at 57 to 58 degrees with the relative humidity set to 58 to 59 to age the wines properly.
It is imperative that you have the right size cooling unit for your wine cellar installed to keep your cellar at the right temperature and humidity. Work with the specialists at Harvest to determine the proper system for your project.
>>>Learn more about wine cellar cooling units HERE.
Tuscany Inspired Flooring
Custom flooring is a great way to show off your personal style when designing your wine cellar build. We can help you choose the best option for your cellars overall design and budget.
There are tons of options out there when choosing flooring for your custom wine cellar. From hardwood to reclaimed wine barrel the possibilities are endless. The homeowner opted to have 18'x18" ceramic tile flooring installed in this room by his builder. He wanted the cellar to have a rustic look that makes him think of Tuscany. This flooring choice flows seamlessly with the design theme of his custom wine cellar.
Wine Cellar Lighting to Show Off Worldly Collection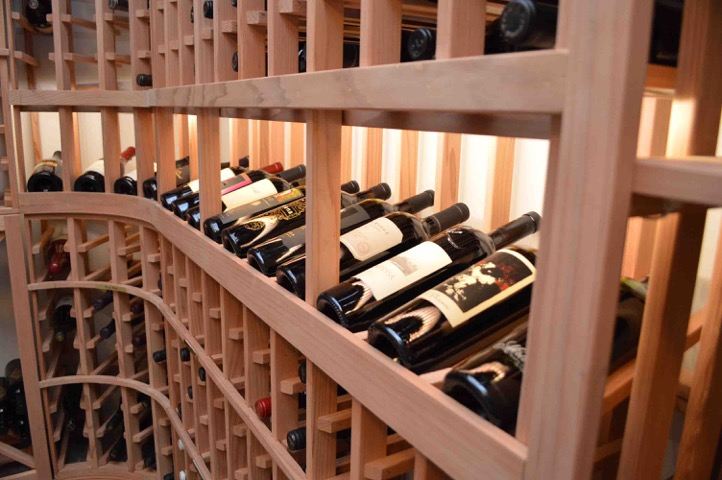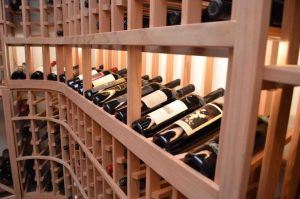 The lovely wines stored in this cellar are from all over the world. The owner decided to organize the collection by type and region. With wines ranging from the U.S. to Argentina and Australia, highlighting this collection was a must as it is for any custom wine cellar.
Custom lighting options allow you to show off your collection and cellar to family and friends. Ribbon and puck lighting were used in this cellar as well as overhead lights. All the lighting fixtures in this design are on separate switches to allow several lighting options.
Create Your Custom Designed Wine Cellar with Us Today
Are you looking to add a stunning custom wine cellar to your residence? Work with the experts at Harvest Custom Wine Cellars and Saunas to learn how to build a wine cellar in your Williamsburg, VA home. From modern to traditional, we can work with you to design your dream cellar. Call us at 804-467-5816 to get started.