Need Help with Your Custom Wine Cellar Project? Work with a Trusted Builder in Richmond, Virginia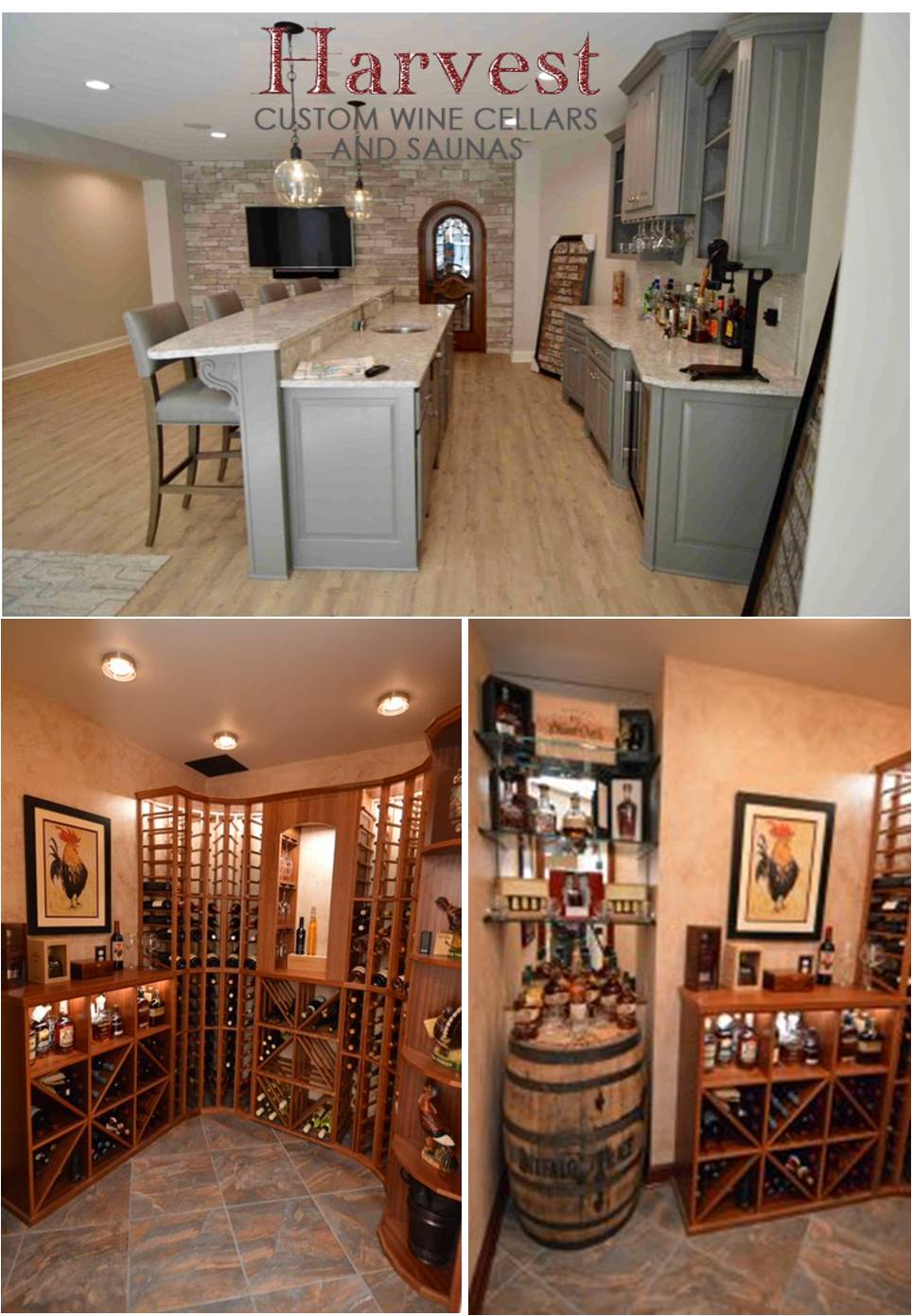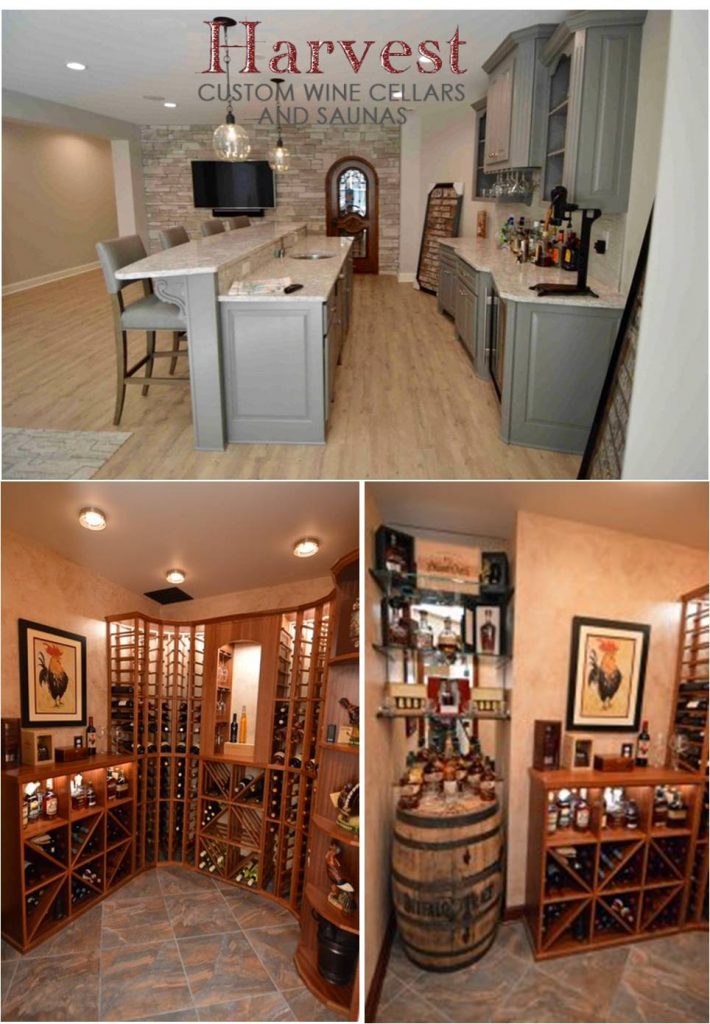 At Harvest Custom Wine Cellars and Saunas, we offer the highest possible level of service, and provide onsite design consultation and CAD drawings for our clients. With over 10 years of home renovation, wine cellar design, and construction experience in Virginia and beyond, our goal is to create a beautiful wine cellar that meets your needs.
Wine Cellar Design Process

: Plan with a Custom Wine Cellar Builder in Richmond, Virginia
Design Consultation – First we need to know your preferences before designing the cellar. We will discuss the room size, the style of cellar you want (traditional, modern, or transitional), bottle capacity, bottle sizes, estimated budget, and timeline of the project. A careful assessment of your needs, including the space and resources you have, will help us create a design that will suit your unique needs and requirements.
Design Proposal – After the consultation, our expert wine cellar designer will prepare a design concept  that will include drawings of your custom cellar, with suggested racks, flooring, doors, and refrigeration with consideration for your budget.

Our design package includes different elevation views (overhead view and view of the racking on all of the walls), room measurement, dimensions and styles of the wine racks, bottle capacities, and placement of the wine cooling unit. These CAD images help visualize your custom wine cellar designed by a premier builder in Richmond, Virginia. Your budget is one of the most important considerations when designing a wine cellar. We have to know how much you want to spend on each component. We help our clients save money on their project by making smart choices.
Revisions – Keep in mind that the design we create for your wine cellar is not final. The drawings will be submitted to you for review and approval. This process gives you the opportunity to make modifications. If required, we will revise the cellar design according to your preference. We will then start preparing the room once the design is approved.
Cellar Preparation – If not yet prepared, insulation, vapor barrier, and framing will be installed to ensure your wine is safe. A wine cellar that has to be cooled by a refrigeration system must be sealed correctly or else, the conditions in the room will be unstable, resulting in wine spoilage. Insulation plays a crucial role in preventing wine faults caused by temperature fluctuations and varying humidity levels.
Installation – Once the design of the project is finalized and the room is ready, the wine cellar construction can begin. Your chosen builder must have technical skills necessary in building functional and beautiful wine rooms.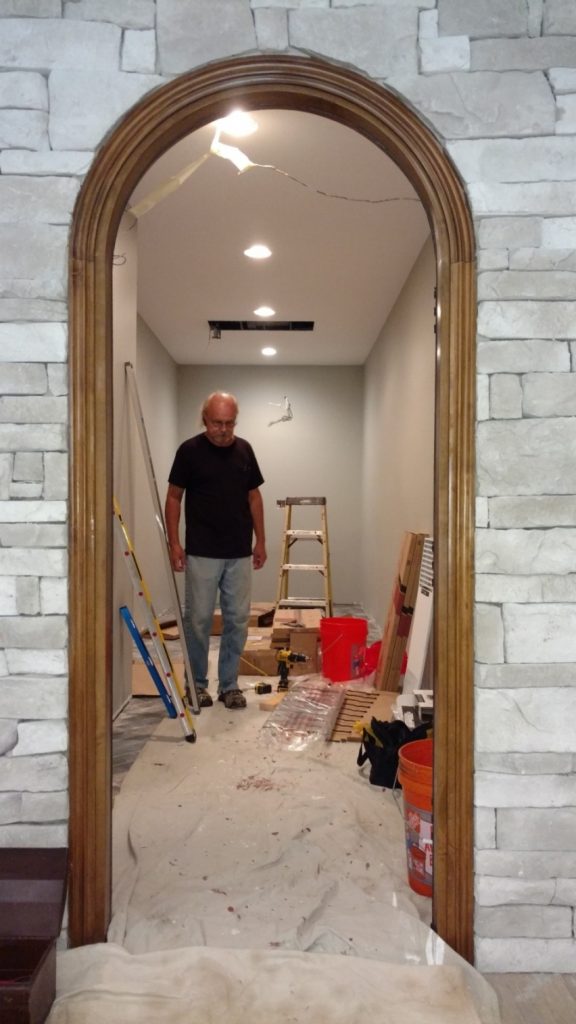 Protecting your Wine Collection
Although a cellar is meant to be an aesthetically pleasing space, its primary purpose is to protect your wine collection from temperature fluctuations and humidity variations. Wine is sensitive to heat, light, odor, and vibration. Thus, you have to make sure that your wine cellar is capable of protecting your collection from these damaging environmental factors.
Protecting wine from spoilage requires expertise in wine storage guidelines. The wrong general contractor does not have extensive knowledge about the proper techniques to keep your wine collection safe for decades to come.
Harvest Custom Wine Cellars and Saunas, one of the top-notch custom wine cellar builders in Richmond, Virginia, knows that for long-term wine storage, your cellar needs insulation, a vapor barrier, refrigeration, racking, and a door to keep the temperature and humidity at acceptable levels.  Our goal is to build safe and stunning custom wine cellars for owners of residential and commercial properties who want their wine investment to last for many years.
The Role of an Efficient

Wine Cellar Refrigeration

System Installed by a Custom Wine

Cellar Builder

in Richmond, Virginia
Some people who love wine but are not willing to invest in a climate-controlled wine cellar are only wasting their money. If you are a serious collector, you must know and understand that all wines require optimum conditions to age gracefully. Poor conditions will deteriorate your wines. If you do not want this to happen, you must work with a wine refrigeration expert.
For many years, Harvest Custom Wine Cellars and Saunas has been providing high-grade wine cooling solutions for residential and commercial applications. For us, the wine cellar refrigeration system is extremely important.
Please keep in mind that we perform a heat load calculation when choosing the most suitable refrigeration unit for each project. This step helps us determine the BTUs needed in the wine cellar. BTU stands for British Thermal Unit, which is used to measure thermal energy or the amount of heat required to raise the temperature of 1 pound of water by 1°F.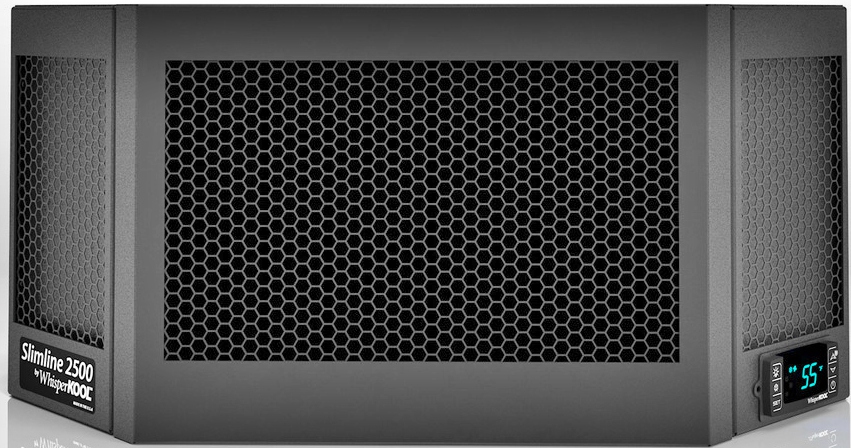 Other factors that we consider when choosing the size, capacity, type, and brand of cooling unit are:
Size and location of the wine room
Number of bottles intended to be stored in the cellar
Aesthetic preferences of the client
Budget
The different types of cooling systems we offer are self-contained cooling units (mounted through the wall), ductless air conditioners, or ductless split systems. Here at Harvest, you may opt for a ducted air handler if you prefer no visible equipment in the wine cellar. 
If you are unsure of which option to choose, we will talk you through the pros and cons of each one so that you can select a cooling system that is perfect for your wine room. Some of our favorite wine cellar cooling brands are WhisperKOOL, CellarPro, and Wine Guardian.
Is it Necessary to Insulate Your Wine C

ellar?

Ask a Top-Notch Custom Wine Cellar Builder in Richmond, Virginia
Yes. If you want to keep your wine collection safe for years to come, you should insulate your wine cellar.
The ideal storage conditions for a wine room are a temperature range of around 55-58 degrees and 55-75% humidity. A vapor barrier maintains the correct environment in your cellar and prevents moisture from forming inside your custom wine cellar. The walls, ceiling, door, and flooring must be well insulated.
When the cool air escapes your wine cellar, and the warm air enters it, the cooling efficiency of your wine refrigeration system will be disrupted. Air leakage will result in temperature fluctuations and varying humidity levels. Mold can grow on the cork and contaminate the wine. It can also damage the structural integrity of your wine racks.
When this happens, your wines will spoil and go to waste. One of the adverse effects of incorrect or lack of insulation is the breakdown of your wine cellar refrigeration system. Unstable conditions will force the cooling unit to work hard. When it breaks down, you will have to either pay for the repair or spend for its replacement.
Closed-Cell Spray Foam: Why it is the Best Type of Wine Cellar Insulation
We use and recommend closed-cell spray foam insulation because it can act both as an insulator and a vapor barrier. Moreover, it has higher insulation R-value compared to plastic sheeting. The wine cooling system will be more efficient if there is better insulation in the wine room.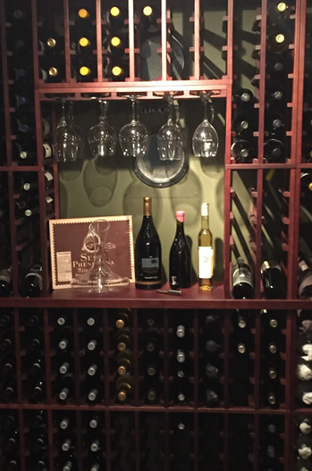 Wine Cellar Styles: Consult with a Reliable Custom Wine Cellar Builder in Richmond, Virginia
You may opt to have a transitional, modern, or transitional style wine cellar. However, you must keep in mind that if you want to ensure that all of your needs are met, you must work with a trusted builder like Harvest Custom Wine Cellars and Saunas. We build wine rooms with form and function in mind.
Traditional Wine Cellars
Traditional wine cellars (also known as classic wine cellars) tend to incorporate warm and natural tones and materials including woods, stones, and cork. The earth tones add a relaxing ambiance to the wine cellar.
Wooden wine racks are commonly used in building traditional wine cellars. You can expect to see stained or unstained racks made of Walnut, Mahogany, Knotty Alder, Oak, Redwood, or Beech in this type of wine cellar.  The flooring may be stone, ceramic, tile, or cork and often exudes a warm, welcoming atmosphere.
Our trusted manufacturers of wooden wine racks are IronWine Cellars and Kessick Wine Racks.


Modern Wine Cellars
In recent years, modern wine cellars have become increasingly popular. These contemporary wine cellars often incorporate frameless glass doors and shallow wine walls for a sleek look.
Given the emphasis on trim and minimalist accents, expect to see less 'natural' materials like wood and stone in a modern wine cellar. Modern wine racks are generally made of metal and occasionally acrylic.
VintageView, IronWine Cellars, and Kessick Wine Racks have been providing us with metal wine storage systems for many years.
Transitional Wine Cellars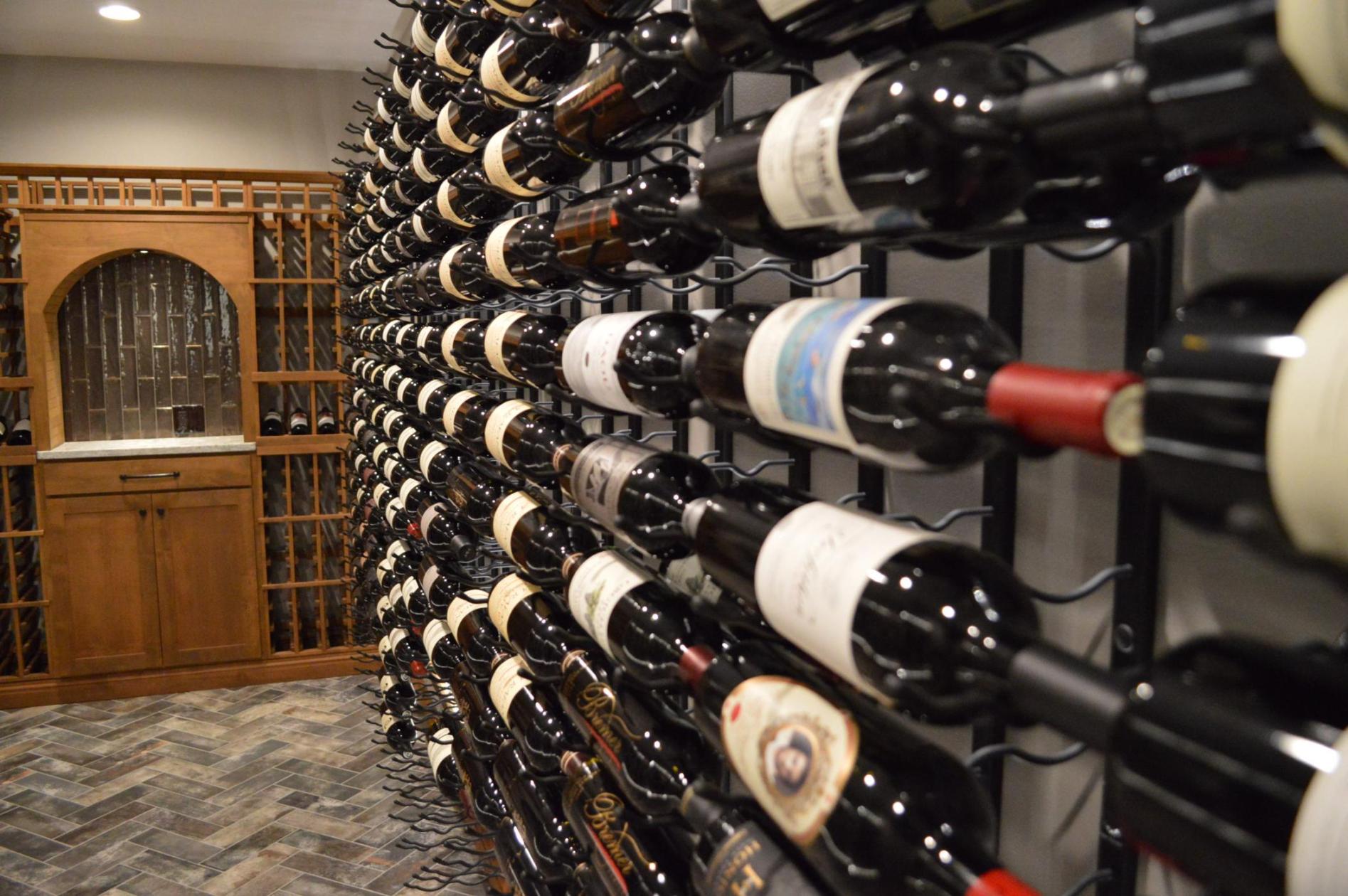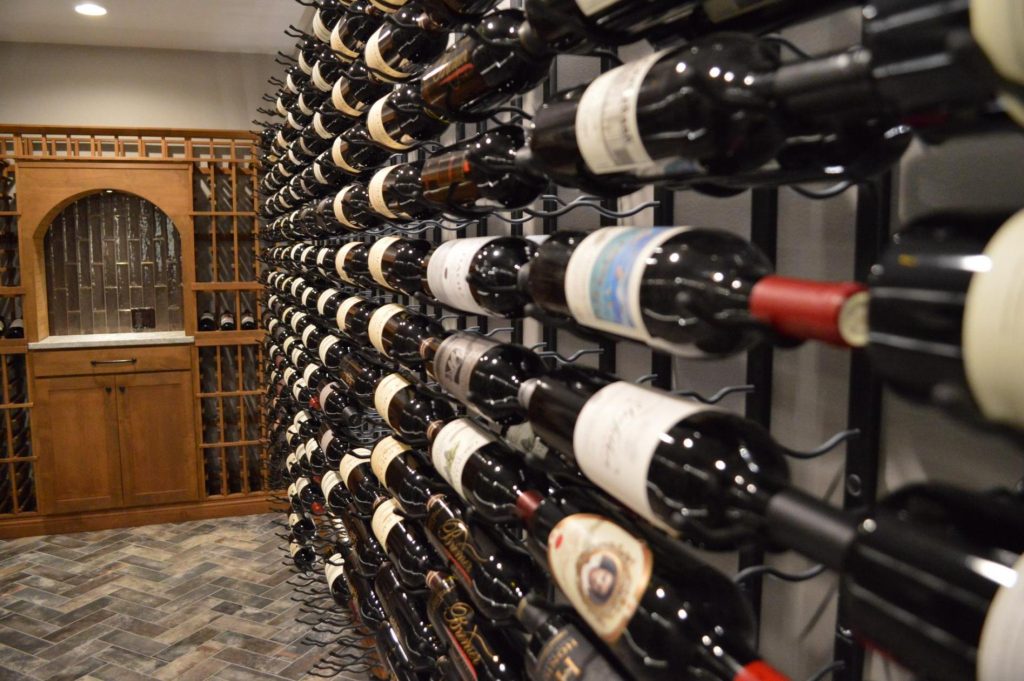 Transitional wine cellars are a combination of traditional wood and stone, modern glass, and metal. This type of wine room has been increasing in popularity in the construction industry. Combining traditional and contemporary designs helps us create a wine storage and display area that stands out from the rest.
Custom Wine Cellar Gallery
Visit our  wine cellar gallery for inspiration and to see the many jobs we have completed around Richmond, Charlottesville, and Baltimore. Our residential wine cellar builds include wine display areas in traditional modern and transitional styles.
What to Do Next
A custom wine cellar is an exciting one of a kind investment! If you would like to build your own custom wine cellar that fits your specific design needs give us a call!
Whether you are in Virginia, Washington D.C., Maryland, or North Carolina, if you are considering your own residential custom wine cellar or commercial wine storage display, we can equip you with all the information that you will need to make a decision. Click here to request a free quote for your custom wine cellars or call  (804) 467- 5816
Harvest Custom Wine Cellars and Saunas Service Areas for Wine Cellar Construction
We are a full service wine cellar builder and have local specialists in Richmond, Charlottesville, Northern Virginia, Washington D.C., Baltimore, Hampton, Newport News, Charlotte and more!
Call Harvest Custom Wine Cellars at (804) 467- 5816 and we will help you design and create your perfect cellar.