Wine Cellar Construction in Washington, D.C: How Our Experts Do it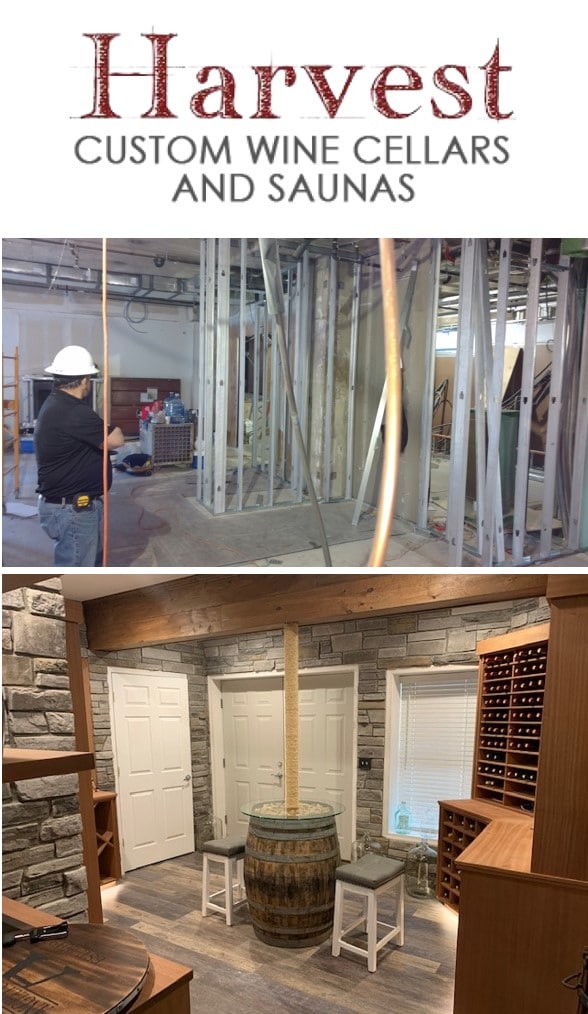 Wine requires optimum wine storage conditions to preserve and enhance its true bouquet. Therefore, it is best to work with an expert in wine cellar construction. At Harvest Custom Wine Cellars, we have been building stylish wine rooms for residential and commercial applications in Washington, D.C. We always make sure that every wine cellar is constructed correctly using high-quality components.  
Wine Cellar Construction: What You Must Know 
Building a refrigerated wine cellar requires knowledge, skills, and expertise. At Harvest Custom Wine Cellars, we understand that building wine rooms correctly has a significant impact on the aging process of the wines. Therefore, it is crucial to work with a trusted builder who has extensive knowledge in designing and installing climate-controlled wine cellars.   
For many years, our team has been helping homeowners and owners of businesses that sell wine create a wine storage room that will preserve their wines safely for many years and display them beautifully. 
Procedures We Follow to Ensure that Every Wine Cellar Construction Project is Done Correctly
Our skilled team always follows standard procedures in transforming spaces into exceptional wine cellars. Careful planning is the key to achieving the look and functionality of a wine cellar.
These steps include assessing the client's needs, creating a 3-dimensional design, preparing the wine room, installing the wine cooling system, wine racks, and lighting.  
Assessment Stage: Interview and On-Site Visit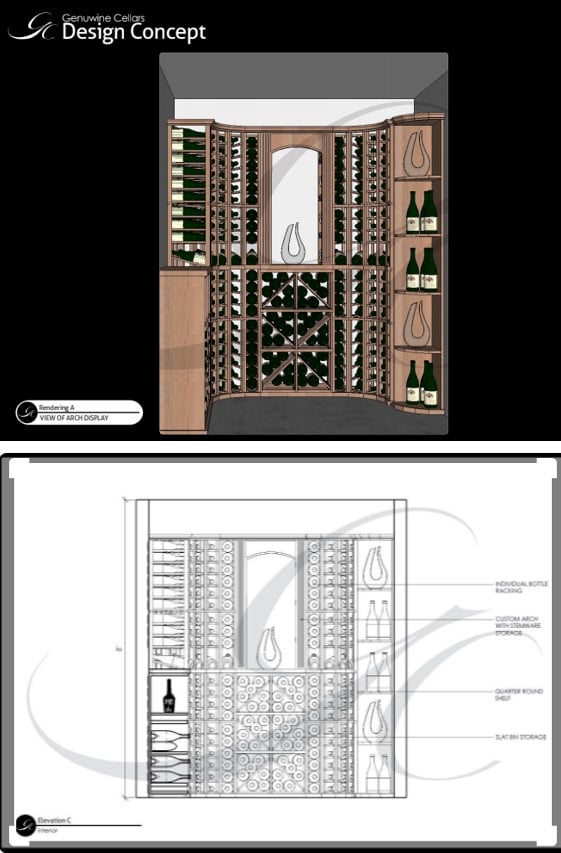 The assessment stage is a crucial step in wine cellar construction. As a master builder in Washington, D.C., and Mclean, Virginia, we perform this step with keen attention to detail because we always want to provide the perfect wine storage solution for every client.   
We have to get the answers to these important questions to help us create a beautiful and safe wine storage facility: 
How big is the room and where is it located?

 

How many bottles will the owner intend to store and display in the wine cellar?

 

What is the ambiance or mood that the client wants to achieve?  

 

What style of wine cellar does the client want? 

 

Do you want traditional or minimalist features?

 

What is the existing theme of the home or commercial establishment? 

 

What are the heat sources near the wine room?

 

What is the allotted budget for the project? 

 
Failure to perform the assessment correctly can result in disappointments and costly mistakes.  We can conduct a phone interview to gather relevant information necessary to complete wine cellar construction projects in the Washington, D.C. area. However, visiting the site is the best way to assess your needs because it will allow us to see the actual space that has to be converted into a wine cellar.  
Creating the Wine Cellar Design
In every wine cellar construction project we work on, whether in the Washington, D.C area or McLean, Virginia, we offer a no-obligation 3D design that will help us visualize the completed wine room. The CAD images show the various elevations of the wine room, racking styles, dimensions, and bottle capacities. We will send our design proposal to you. You can make changes to the design, and then we will again submit the drawings to you. Once approved, we will start the construction process.  
Keep in mind that we can customize the design according to your preferences. You can add the features that you want to make your wine cellar eye-catching and unique.  
Preparing the Wine Room for the Installation of the Refrigeration Unit, Racking, Flooring, Door, and Lighting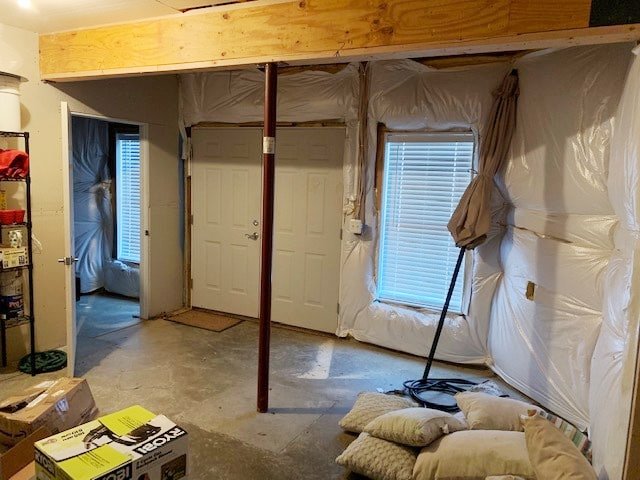 In wine cellar construction, your chosen builder should understand the role of correct preparation of the room before installing the wine cooling system, wine racks, door, flooring, and lighting.  
Part of the room preparation is framing it, plumbing, and installing the electrical wiring, insulation, and vapor barrier. As a  professional in wine cellar construction in Washington, D.C., we always see to it that the walls, ceiling, door, and flooring are well sealed. A refrigerated wine cellar will function efficiently if the correct wine room insulation and vapor barrier are installed. 
Vapor Barrier: Why is it Needed in Building a Wine Cellar?
In addition to insulation, a vapor barrier also plays a vital role in keeping the ideal environment in your wine cellar. The function of a vapor barrier is to separate the warm environment of the wine room from the cold environment inside a refrigerated wine cellar.   
What is the Importance of Insulation in Wine Cellar Construction in Washington, D.C.? 
We have to create an airtight seal in wine cellars because it contributes to preserving the quality of the wines. The walls, ceiling, door, and flooring must be insulated to help regulate the conditions inside the wine cellar.  
Insulating a wine room must be done correctly by a knowledgeable builder to ensure that the wine cooling unit can function effectively and efficiently. When done correctly, this process will prevent the cool air from going out of the cellar and the warm air from getting in.  
A lack of or the absence of insulation will also cause costly problems in the future. Your wine cooling unit will be forced to work harder to achieve the optimum conditions needed for the aging process of your wines. An overworked refrigeration system will easily break down, causing you to spend on the repair or replacement of the unit. Moreover, it will also result in higher energy bills.  
At Harvest Custom Wine Cellars, we always make sure that wine cellar insulation is done correctly because we care for our clients and their collections. The most efficient and cost-effective type of insulation is polyurethane closed-cell spray foam insulation.  
It has a compact cell structure, which allows it to expand and seal even the tiniest gaps in the walls and ceiling. We recommend it for shallow cavities. When done correctly, the pollen and dust cannot get into the wine cellar. The high insulation value of closed-cell spray foam insulation makes it a favorite choice in wine cellar construction in Washington, D.C.
It is a bit more expensive than any type of insulation. However, it is recommended by master wine cellar builders because of the following reasons:  
It can act as both an insulator and a vapor barrier. You do not have to spend separately on a vapor barrier. 

 

It will help lengthen the lifespan of your wine cooling unit because it has a higher insulation value and is proven the most efficient of all types of insulation. 

 

It will lower your energy consumption because it helps prevents our wine cooling unit from working too hard. 

 

It will require a smaller size wine refrigeration system. 

 

Its installation does not require any PVC piping, saving you on the material and equipment costs.  

 
Installing the Wine Cooling Unit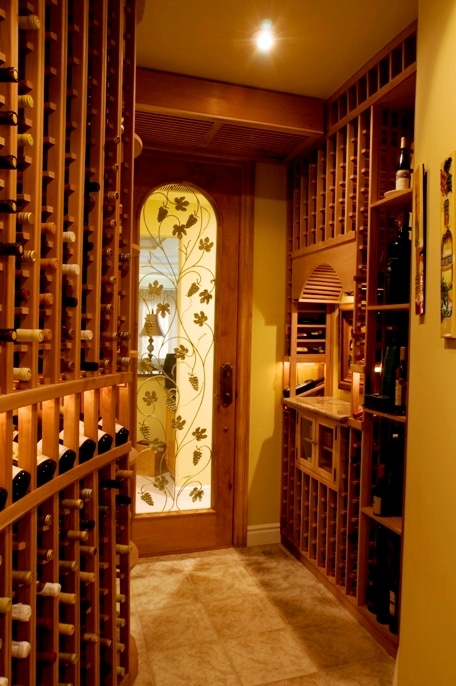 When the room is ready, we will install the wine cooling system. We will perform a heat load calculation to help us determine the correct size and type of refrigeration unit needed for your wine cellar.    
Wine Cellar Door Installation
Our doors are made from high-grade materials to withstand the high humidity in climate-controlled wine cellars. Moreover, we also equip them with sealing components to achieve the ideal wine storage conditions in wine cellars. We install weather stripping on all the edges of the door to prevent air leakage. 
Work with a Wine Cellar Construction Expert in Washington, D.C.
Our team in Washington, D.C., is composed of wine cellar construction experts who have extensive knowledge and experience in building stylish and safe wine rooms. If you have any questions, please call us at (804) 467-5816!