Rosewood Hotel Wine Cellar – Breaking Down The Contemporary Design
The Historic Design of Rosewood Hotel Wine Cellar!
The Historic Design of Rosewood Hotel Wine Cellar!
The Design Inspiration Behind the Astounding Wine Cellar in the Rosewood Hotel in Georgetown
There's a lot to see in the Georgetown area in Washington, D.C. — from the federal-style architecture to the Waterfront Park and the popular C&O Canal — it's a place full of history and memories that have been carried from generation to generation. And while the location is full of lively activities and sights to take in, there's a new restaurant and wine bar where you can relax, enjoy, and have a good bottle of wine with friends or the folks out there – Wolfgang Puck's new restaurant in the majestic Rosewood Hotel.
Inside Georgetown's Rosewood Hotel, you'll find the astonishing glass-covered wine cellar made for restaurant CUT by Wolfgang Puck. While most commercial wine cellars today attract you with modern design elements, the historical and cultural influences of the town have played a major role in building the wine storage that's made to impress for several generations.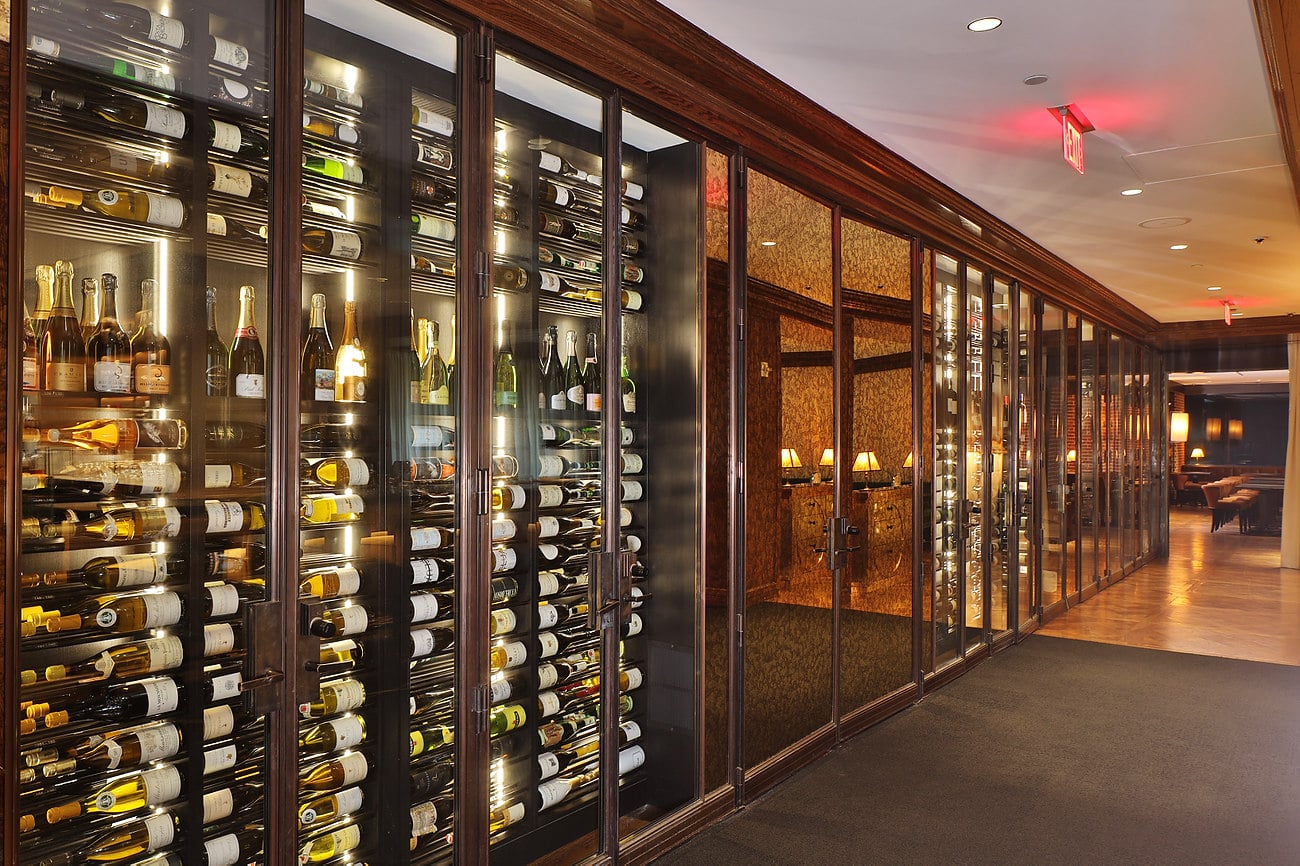 Who Is Behind the Majestic Design of Rosewood Hotel's Wine Cellar?
Beautifully-crafted commercial wine storage, such as this wine cellar, isn't built overnight. It takes time, skills, and most of all — a group of collaborative minds. Ed Safran, Project Manager, and Tim Wright, Owner and Designer at Harvest Wine Cellars, along with his hardworking team, worked and collaborated to deliver one of the unique-looking wine cellars you'll ever see in your life.
Being unique is not the only outstanding feature of this commercial wine cellar. The team had to brainstorm on how they could effectively utilize a limited area of over 50 feet in length, feature dazzling wine racking and display, sufficient storage for a luxurious wine bottle collection and deliver that lasting first impression appeal.
What Are the Main Features of This Stunning Commercial Wine Cellar?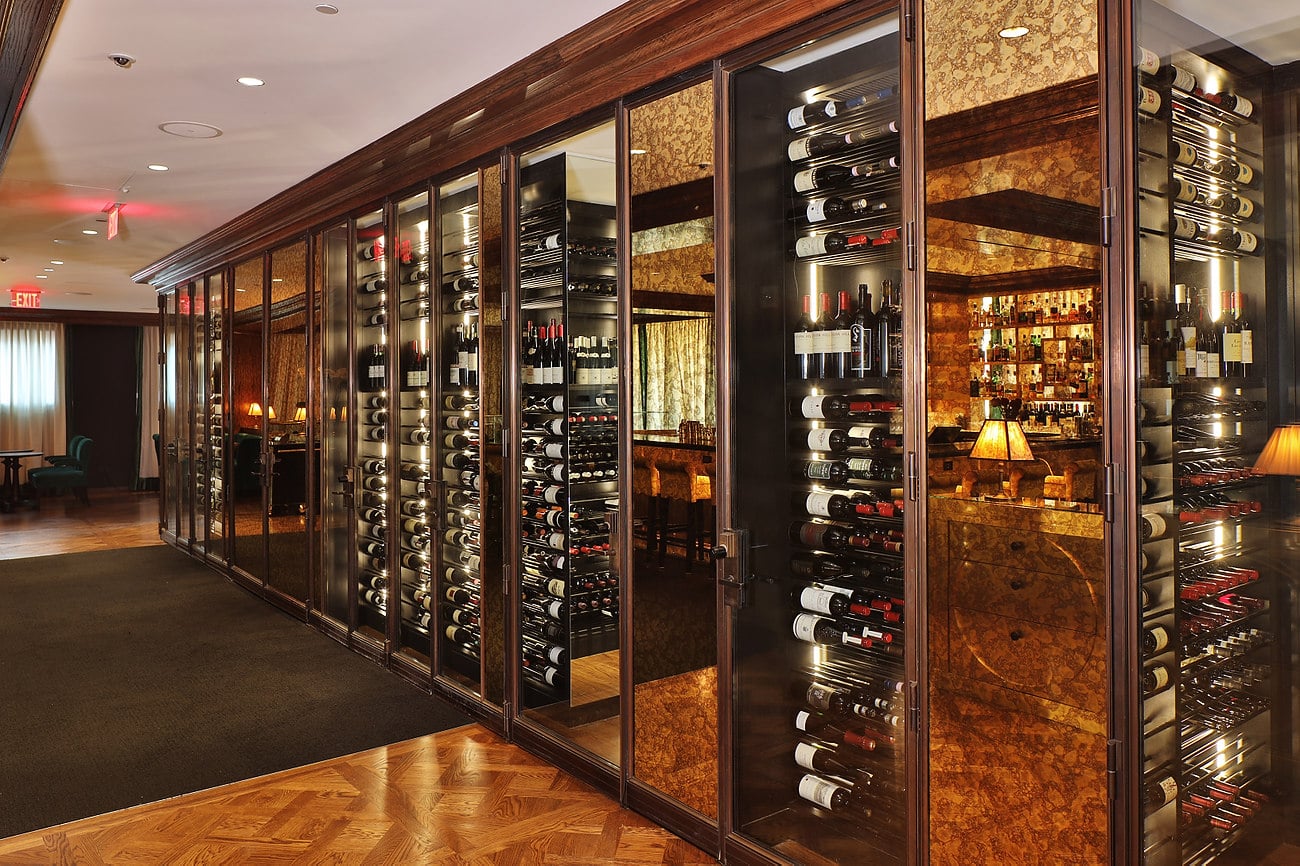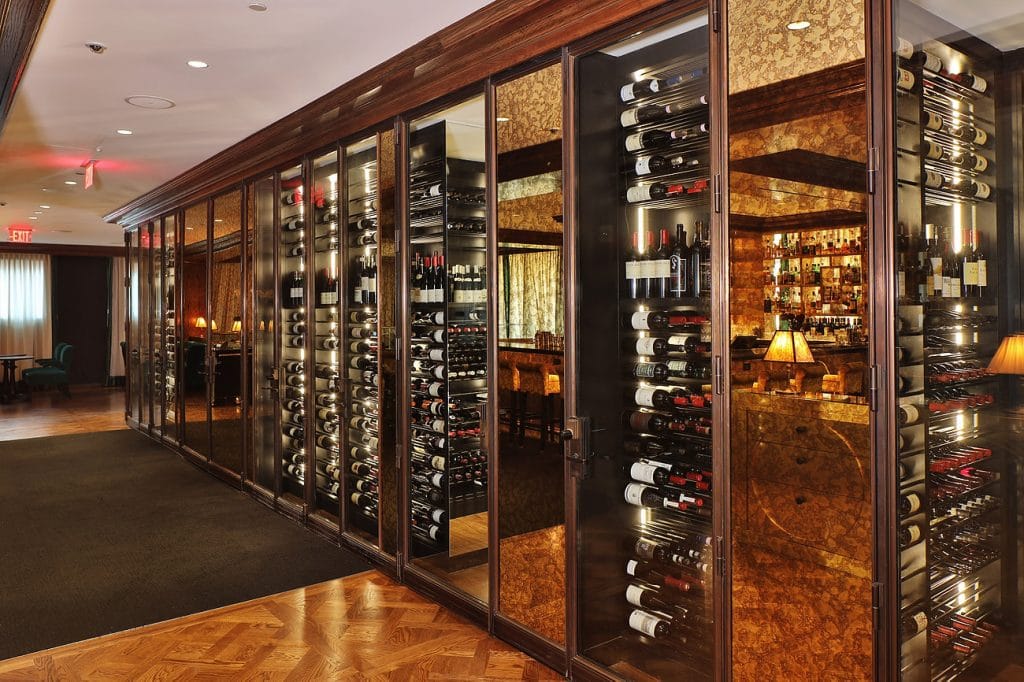 As you can see from the provided photos and videos, this wine cellar is dominated by glass elements. Apart from adding a modern appeal, the use of glass allows for patrons to admire the beauty, elegance, and sophistication of each part; down to the material used for building. And speaking of material, we went with Sapele Mahogany as the main wood of choice for the wine racks. The popular wood material that's been used for a lot of creative ideas has been hand-stained and perfectly blends well with the overall theme.
The Black Microderm-stained wine racks are grouped into several sections or zones. Using the available space effectively, the team was able to provide wine storage that can store and cool over 3000 bottles! And each zone shows different types of wine collection from different perspectives — featuring label-forward horizontal racking, cork-forward, and upright storage orientation for storing all sizes. With the different styles of storing area, there's never a boring part.
To be specific, the wine storage is divided into nine zones or sections. Each zone has a wine rack that's 41 feet in height. And to be able to fit in over 3000 bottles, Harvest went with the Parallel Wine Rack Series. When the team took over the project, Tim ensured not only to store tons of bottles but also to preserve the contemporary theme Wolfgang Puck wanted. And the easy-to-assemble wine rack series lets them have that flexibility. But to be able to produce that elegant yet chill vibe that most high-end hotels display, the wine racks were paired with stainless steel rods. To blend with the overall theme, each rod was hand-stained to its finest state. Furthermore, every single one of the metal rods, as well as other partition, was labelled for easy bottle reference. You probably noticed that most of the champagne collection is stored upright in this beautiful wine cellar. That's only one of the flexibilities that Harvest arranged for Wolfgang. Depending on their preference, they can easily change the way their wine collection is stored and classified.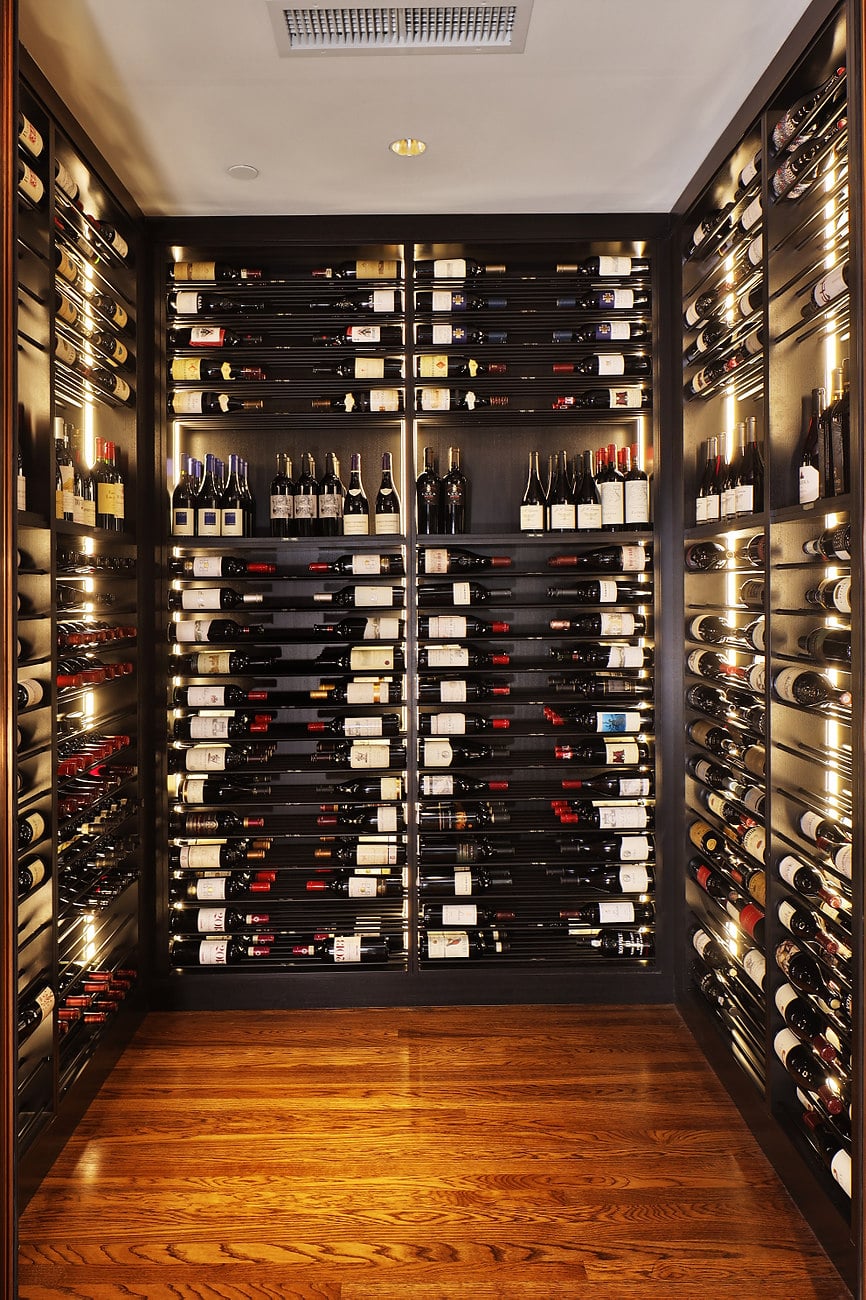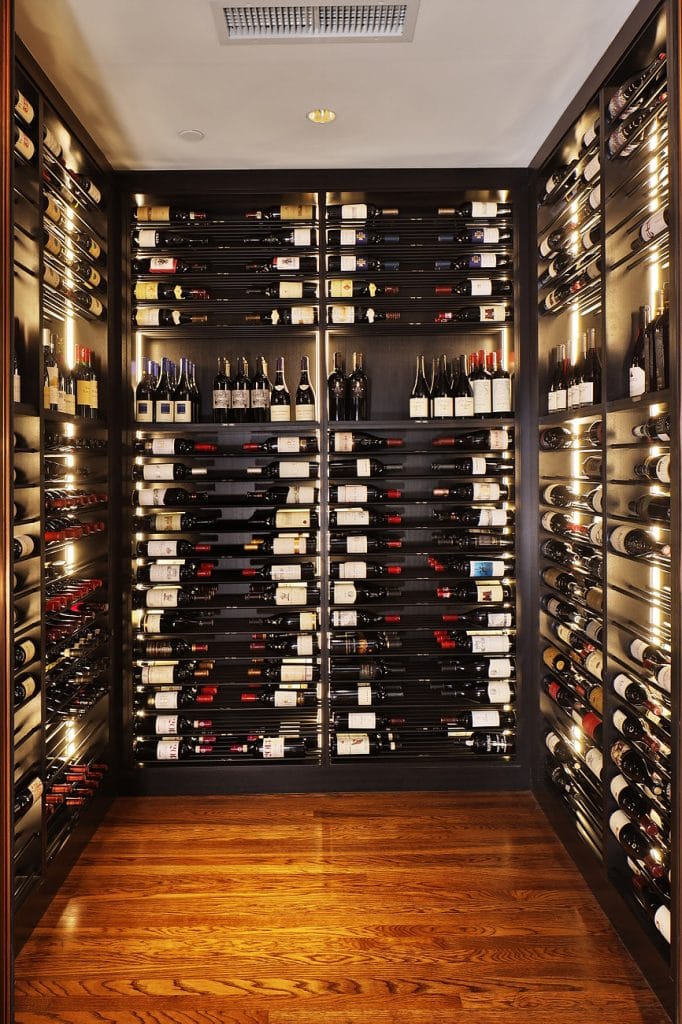 As much as we love showcasing exquisite wines and preserving them to their best state, outer appearance and aesthetics are also major factors to consider in order to encourage patrons to wine and dine. And the best way to exhibit the handsome side of wine bottles is by completing the look with LED ribbon lighting. What can easily separate regular wine storage to a commercial one is the proper use of lighting. Having a regular bulb usually does the work, but the strategical placement of LEDs makes it look professional.
Originally, the architectural plan suggested horizontally-installed lighting. However, the vertical approach Harvest thought of felt like trendier and more purposeful. Instead of simply illuminating the bottles, the vertically-placed lighting guides the eyes of the viewers; all the way to the topmost part of the wine racks. As such, no small detail is left out. Moreover, the hand-stained wine racks are also highlighted; making them appear taller and longer. While the vertical placement showcases the bottle more effectively, the use of two long strips for each wine rack made the installation process easier and quicker. On top of all that, LED consumes less power than other alternatives, such as halogen and incandescent. It's an inexpensive investment that can drastically improve the entire mood of creative art, which, in this case, is Wolfgang Puck's wine cellar in the Rosewood Hotel.
What Makes the Rosewood Hotel Wine Cellar Special?
There's a lot of things that can make a commercial wine cellar special. In the case of our Rosewood Hotel client, it's keeping the tradition of the neighborhood alive. The classic yet modernized wine cellar is heavily influenced by the traditional appearance and aspect of Georgetown. Each part of the design is made with a purpose. No space was wasted during the building process. Every element played a role in developing an exquisite wine cellar that when combined, offers an experience that you won't forget.

You Can Also Build a Unique Wine Cellar Just Like the Rosewood Hotel.
We at Harvest take pride in every project that we take. We make sure that our commercial (and residential) wine cellars, as requested by our clients, will always be awe-inspiring works of art. If you're ready to build a masterpiece with us, you can call us today in the Richmond area at (804) 467-5816 or in the Baltimore area at (443) 552-5084. Or click here to reach out to our designers for a free quote for your custom wine storage system. We're waiting for you!