Eye-Popping Custom Wine Cellar in Richmond, Virginia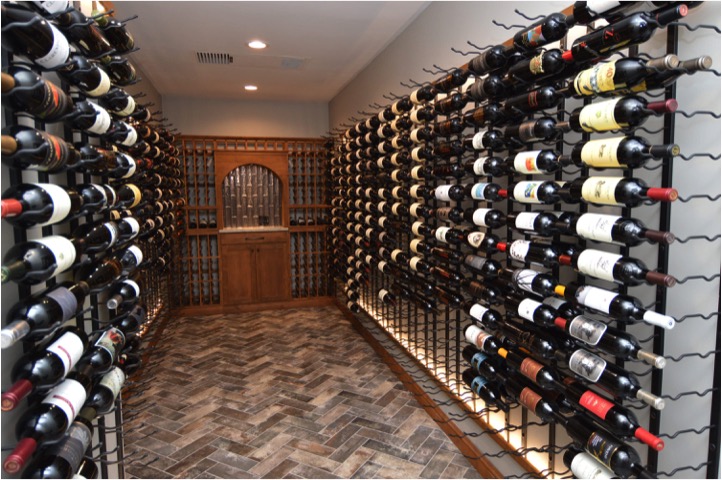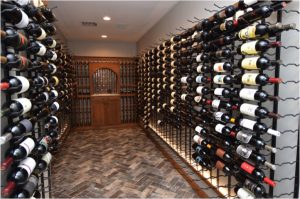 A serious wine collector in Richmond, Virginia, sought the help of Harvest Custom Wine Cellars and Saunas in building a refrigerated wine room for his growing collection. Working with the client was a great experience. The gorgeous wine rack design and elegant flooring will amaze you.  
An Eye-Catching Custom Wine Cellar Design Created for a Homeowner in Richmond, Virginia
Some people collect more and more wines but are not willing to invest in a climate-controlled wine cellar. A stable environment is essential in the graceful aging of your wines. Both the functionality and aesthetic appeal of your wine cellar greatly depends on the racking design, flooring, and wine cooling system installed in it. When starting your dream wine cellar project, it is best that you consult an experienced builder like Harvest Custom Wine Cellars and Saunas. 
Browsing the internet for cellar design ideas is a great place to start with your wine cellar build because you can explain your personal style as well as what features you would love to have in your cellar.  
Custom Richmond, VA Wine Cellars for Your Residence
Custom Wine Cellars Richmond, VA
Starting the Wine Cellar Design Process
For this wine cellar project in Richmond, Virginia, the homeowners contacted Harvest Custom Wine Cellars and Saunas after finding an image of a cellar they loved online. It was their goal to have the perfect climate controlled storage space for their wine collection to help age them properly. Having this image as a starting point, we were able to customize the cellar design to fit their specific storage needs.  
At Harvest Custom Wine Cellars and Saunas, we provide free CAD drawings for those who work with us. Our 3-dimensional designs include different elevations of the wine cellar, room dimensions, racking styles, and bottle capacities. Working with the client, especially during the design phase, was a great experience.  
He knew what he wanted and was very quick to make changes to ideas that we proposed. We made just a few changes to the original design we created before starting the construction stage.   
Check out our wine cellar project gallery for more beautiful custom cellar design ideas.
Requirements for Building an Elegant Wine Cellar in Richmond, Virginia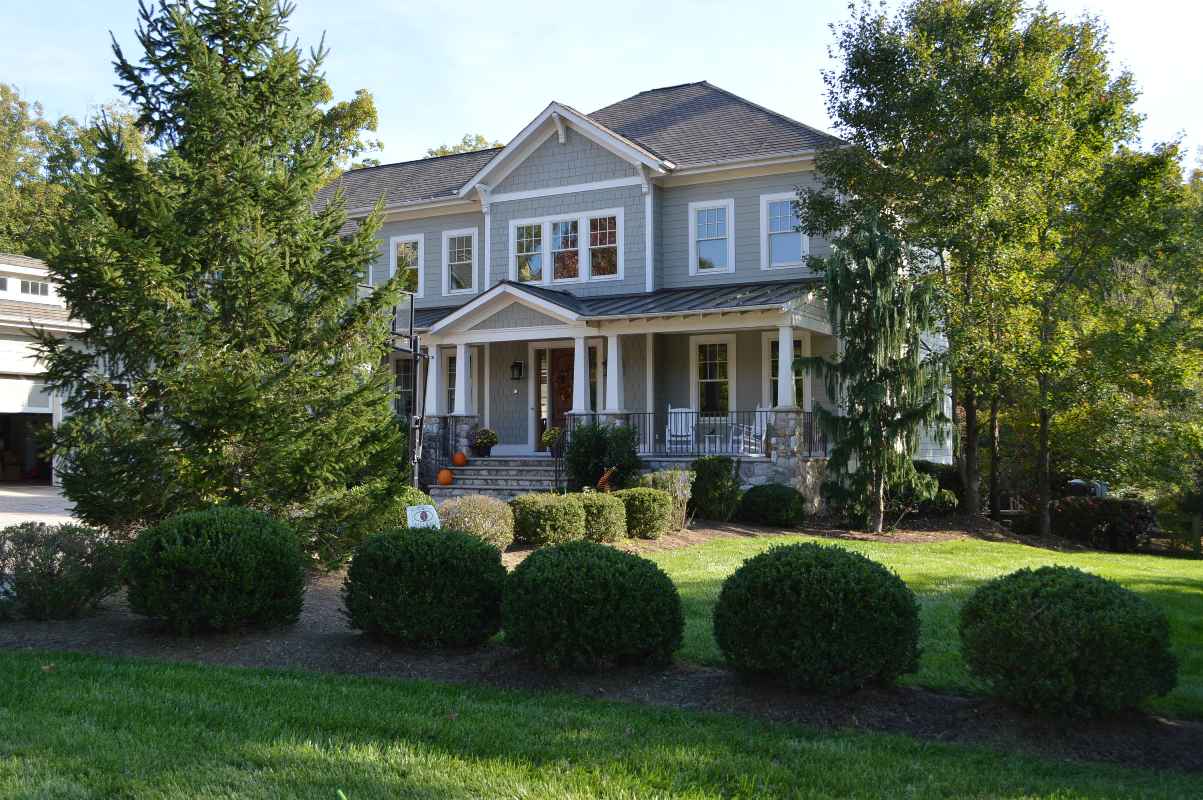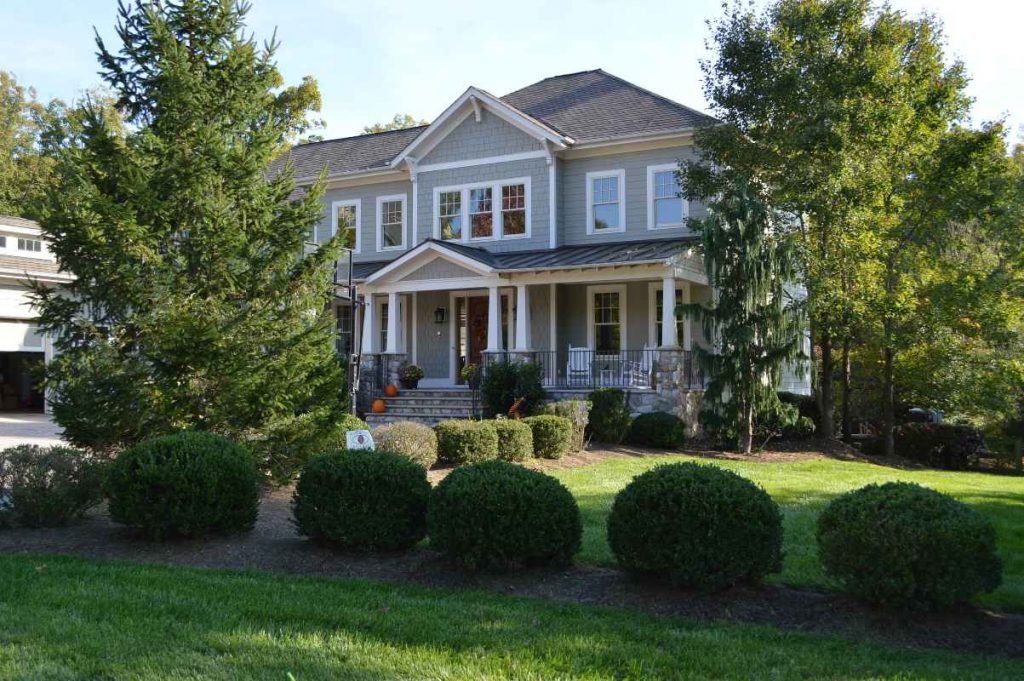 The homeowners enjoy collecting wine from California, Oregon and other wonderful wine regions in the United States. They are also a part of various wine clubs, so their collection is continuing to grow. It was imperative that we made the best use of the space in this cellar to allow for their desired bottle count of around 2,000.
Utilizing Metal and Wood for the Wine Racks: a Smart Way to Maximize the Capacity of the Room and Achieve a Unique Appearance
When designing a wine cellar, we always make sure that we choose the most suitable racking design for your needs. A careful assessment helps us determine the best type of wine storage system for our client's needs. For this particular project, we combined metal and wood to create a striking display. We also made sure that we maximized the storage capacity of the room.  


Metal Wine Rack Features Incorporated into the Design of this Wine Cellar in Richmond, Virginia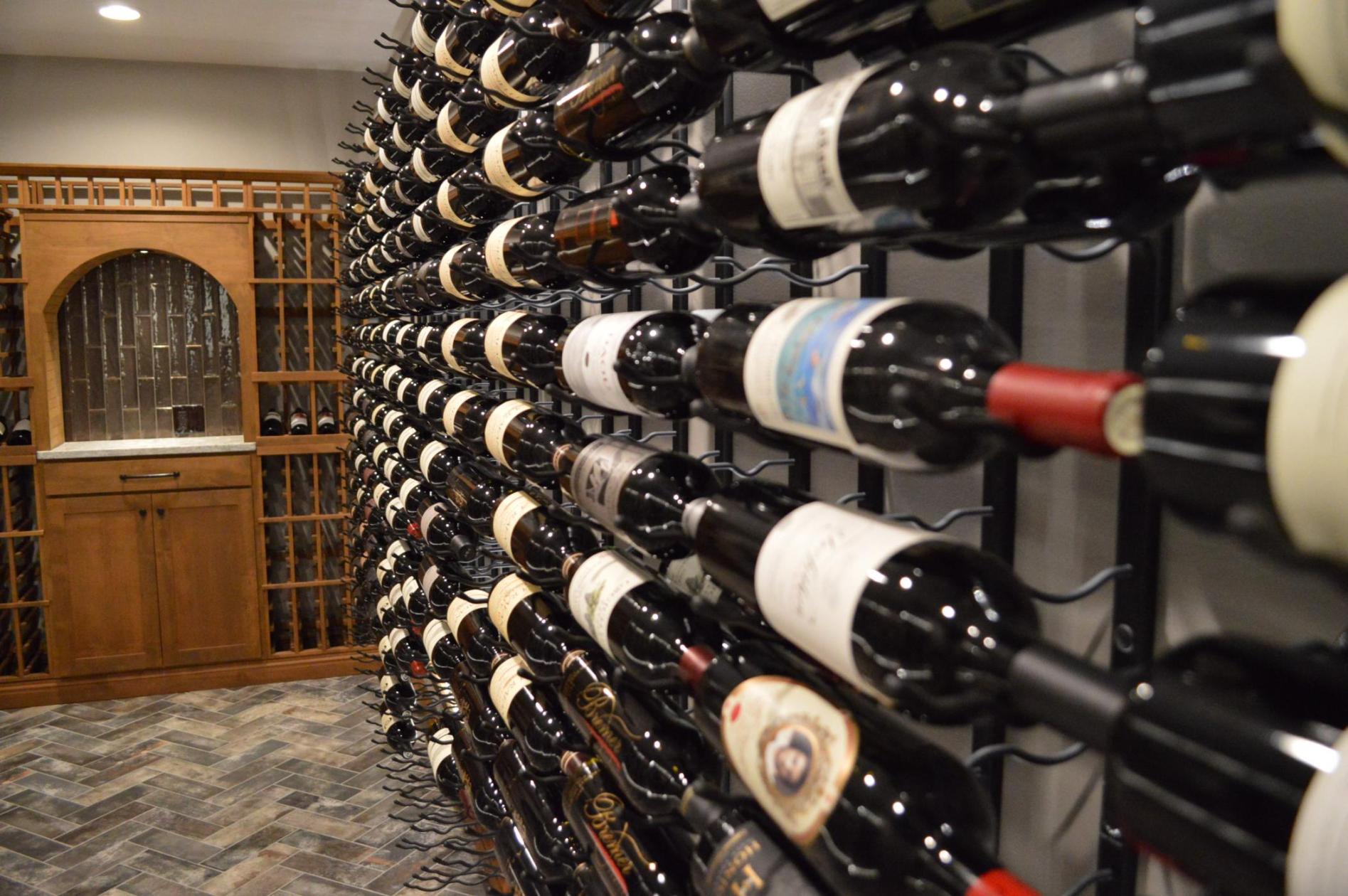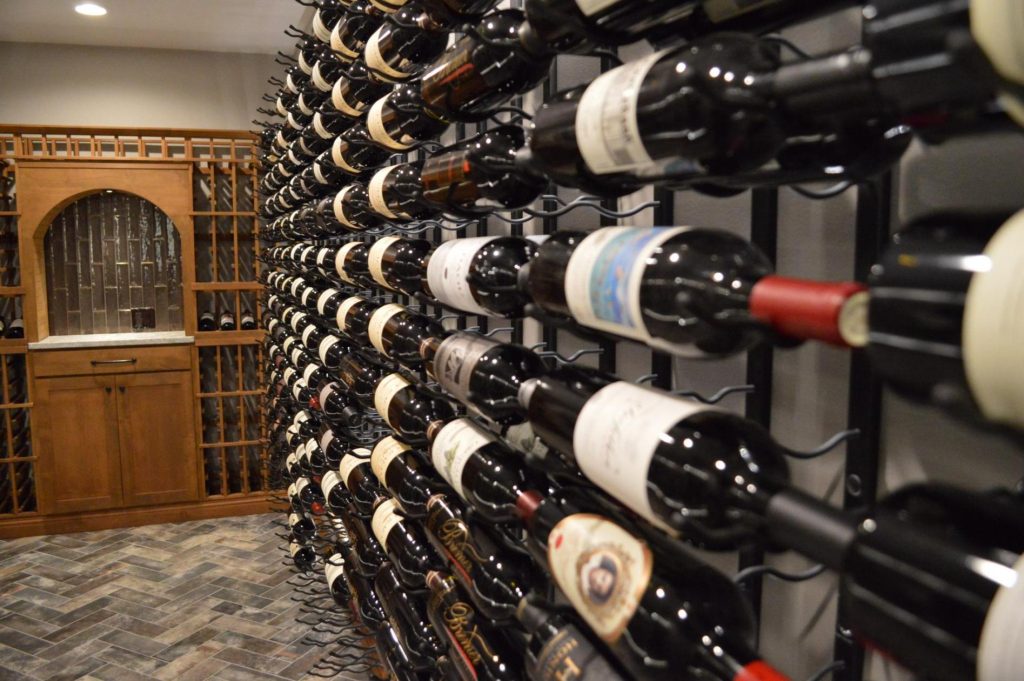 Metal wine racks are in demand in building modern wine cellars. They are sleek, space-efficient, and easy to maintain. For this wine cellar project in Richmond, we installed metal wine racks on the left and right walls.  
Manufactured by VintageView, this triple deep of wine storage system allows extra storage for the homeowners' collection. Moreover, having these classy wine racks enables the cellar to have a modern meets traditional style.  
The homeowner elected to have the metal horizontal display wine racking so it would be easy to view the labels and keep track of their wine collection. The label-forward display orientation of the VintageView wine racks eliminates the need to flip the bottle to see the name and description of the wine. We installed valances above and below to highlight the metal wine rack display dramatically.
Wooden Component: Classic Arched Wine Rack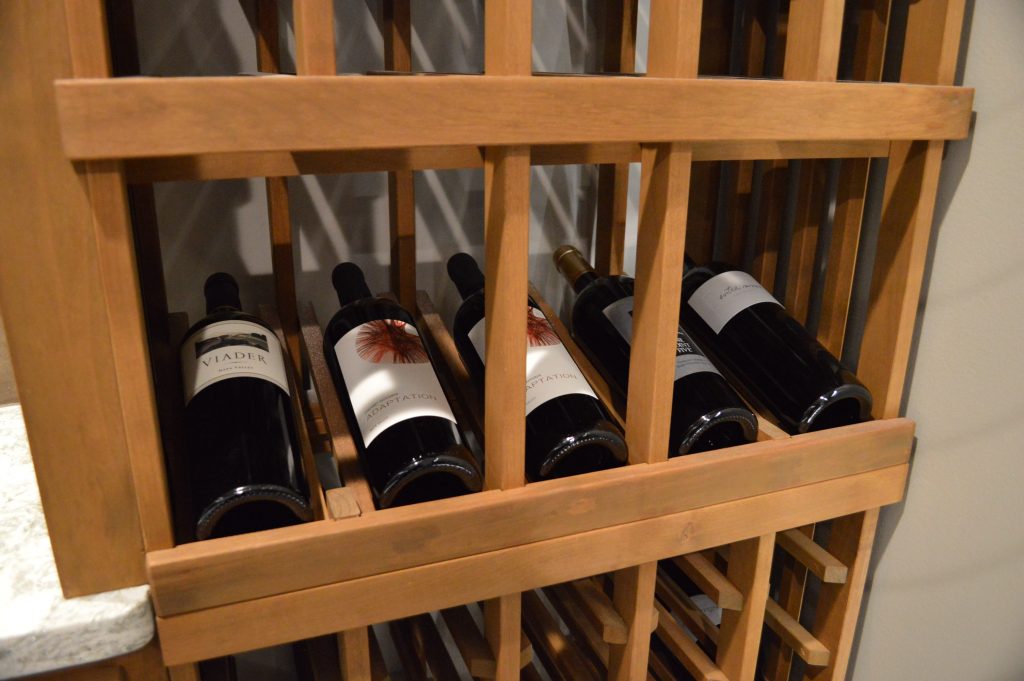 Wood is also a favorite material in wine cellar construction. It adds warmth and relaxing ambiance to any space. For this particular project, we installed the arched niche (the wooden component of the wine cellar) to the design to allow even more customization. The wooden racking is from IronWine Cellars, one of the top-notch providers of wine storage systems in Virginia and many regions in America.  
The arched display comes with a tabletop to provide a space for decanting, serving, and tasting wines. Both sides of the arch consist of individual wine racks and a high-reveal display row. The display row pitches the bottles at an angle to keep the cork in contact with the wine. It keeps the cork moist, preventing it from shrinking and getting brittle. 
At the bottom section, we added a drawer and a double-door cabinet. These features provide a storage space for the client's accessories like decanters, napkins, stemware, can openers, and a lot more. 
For a lustrous look, we applied an alder wheat stain with an unlacquered finish on the wood. The niche, along with the metal wine racking, can hold around 1,680 bottles. 
WhisperKOOL Cooling System:  an Ideal Choice for Cooling this Stylish Wine Cellar in Richmond
The refrigeration system is an essential component in building a wine cellar. It must be chosen with the help of an expert. At Harvest Custom Wine Cellars and Saunas, our technical team has extensive knowledge in wine cellar cooling and installation.   
For this custom wine cellar project in Richmond, Virginia, finding a suitable climate-control system was a bit difficult because the room was concealed. We utilized a WhisperKOOL Series 8000, which is a ceiling mount unit. Since there was not a great way to duct out of this wine cellar, we placed the condenser unit outside. The line set comes into the evaporator and sits in the ceiling. 
If we had used a wall-mounted system in this design, we could have lost some of our racking capability. Having a ceiling mounted system was the best decision for this design to allow the cellar to hold a larger bottle count. 
CLICK HERE to learn more about cooling units. 
Chic Wine Cellar Flooring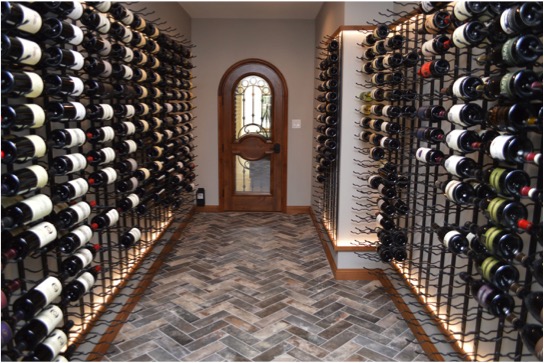 When designing a wine cellar, the flooring should not be ignored. Just like the racking, cooling unit, and lighting, it has a significant impact on the overall appeal that you are trying to achieve in your wine cellar in Richmond.  
There are many flooring options to choose from. For this particular client, we installed a herringbone style tile. The zigzag pattern and varying hues add character to the wine room 
Let Us Customize the Perfect Wine Cellar Design for Your home in Richmond, Virginia.
With so many options out there for customizing wine cellars, it can be hard to determine the best features for your space. If you are unsure of where to start your project, Harvest Custom Wine Cellars and Saunas can take you through each step in the wine cellar build process.  
Call us at (804) 467-5816 today to start your custom wine cellar design in Richmond, Virginia.
>>> Check out our recent wine cellar build project in Williamsburg, VA.