Working with Master Wine Cellar Builders in Washington, D.C.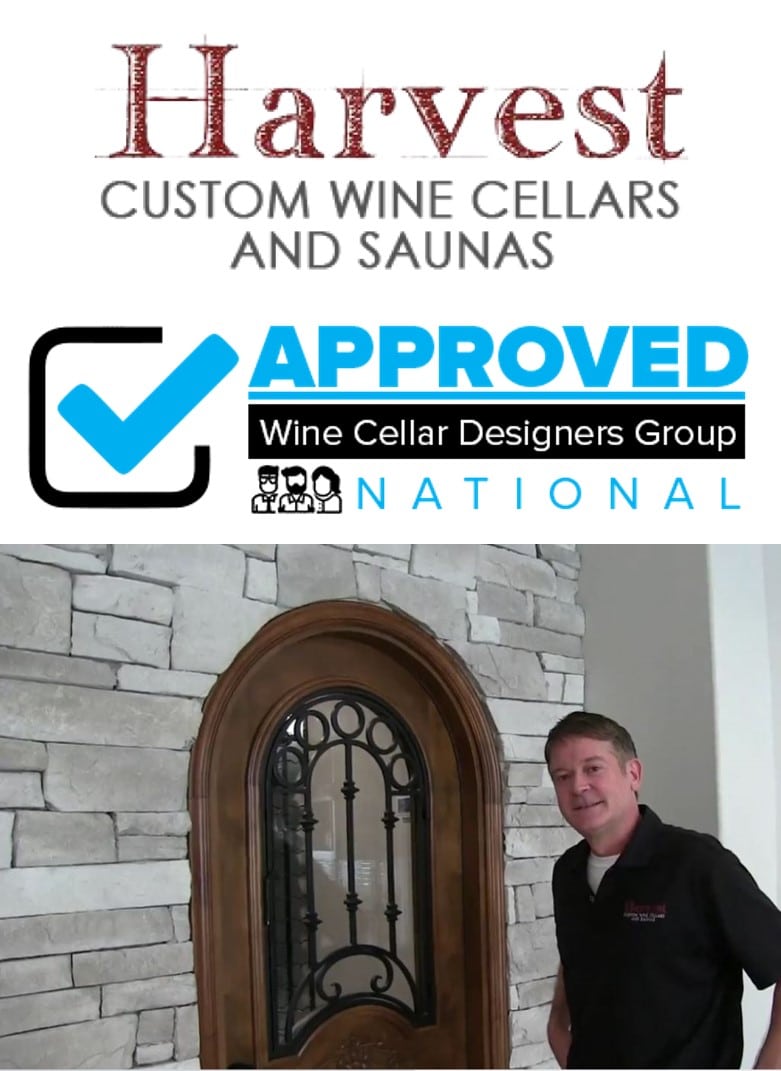 You can prevent problems and regrets in the future by making sure that your wine cellar is built by a professional. One of the most reliable wine cellar builders in the Washington, D.C. area, is Harvest Custom Wine Cellars. Our team has been providing wine storage solutions to owners of residential properties and commercial establishments for many years. Find out how to choose the best builder for your project and the positive impacts of working with experts.   
Harvest Custom Wine Cellars: Why Should You Choose Us Over Other Wine Cellar Builders in Virginia?
With many wine cellar builders in the Washington, D.C. area, including Bethesda, Maryland; McLean, Virginia, and other cities, it is crucial to choose a professional builder or contractor. Why should you hire an experienced and knowledgeable company? The benefits are almost countless when you work with Harvest Custom Wine Cellars.   
Our team has been offering innovative wine storage solutions for many years. Our extensive experience has helped us to improve continuously and create the perfect wine cellar for every client. We have proven our reliability by utilizing high quality components, constructing the wine rooms correctly, sizing the wine cooling system appropriately, and installing all the components properly.  
We want to gain customer loyalty and prove our expertise as one of the most sought-after wine cellar builders in the D.C. area. Whether you want a residential or commercial wine display, we always make sure that the aesthetic, functional, and financial requirements of our clients are met.  
Extensive Knowledge and Expertise in Building Wine Cellars 
Harvest Custom Wine Cellars is a team composed of creative designers, skilled installers, and trained HVAC technicians. With extensive knowledge and experience in building refrigerated wine rooms, we are proud to be part of several wine cellar construction projects and for exceeding our client's expectations.  
We understand the crucial role of correct wine room preparation for wine cellars that need the installation of a wine cooling system. We also do proper sizing and installation of wine refrigeration units to prevent wine storage issues.  
We Provide the Perfect Solution for Every Budget
For many years, we have been offering innovative wine storage solutions for every budget. One of the vital steps that our Washington, D.C. wine cellar builders do is assess the needs and requirements of each client. We have to determine the budget that you are willing to spend for the construction of your dream wine cellar. 
This step is useful for creating the perfect design layout and determine the most suitable material for your wine room. We will recommend options we think will meet your needs. However, if you have other choices and special requests, we will grant them as long as your options will cause no issues.   
Our Completed Wine Cellar Projects We Have Completed in Virginia
We have had clients in Virginia, who trusted us over other wine cellar builders in the area. We made sure that all of their aesthetic and functional requirements were met.
Williamsburg, Virginia Home Wine Cellar Build Out Project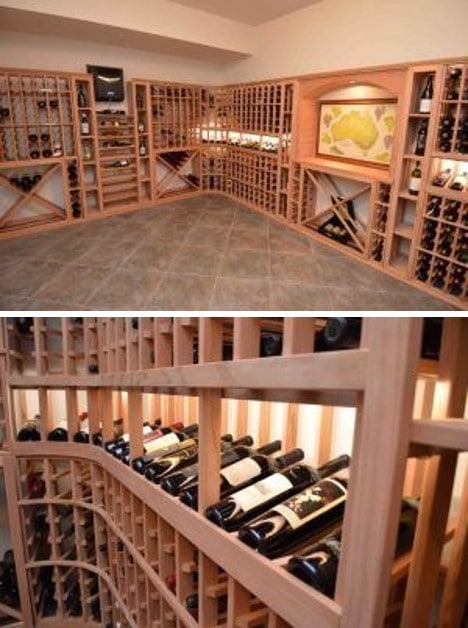 A wine collector in Williamsburg, Virginia, sought our help in transforming a small space into a beautiful home wine cellar. The room measures 15 feet long, 12 feet wide, and 9 feet high.
The client has a map that he wanted to incorporate into the design. The map reminds him of his favorite trip to the Australian Vineyard, and he wanted it to be part of the focal wall of his wine cellar. The map is the backdrop of an arch display with a tabletop. Below it is a lattice X-bin.
The racking design also includes individual wine racks, horizontal display, vertical display, and display rows that pitch the bottles at an angle. The owner chose unfinished Redwood for his wine racks, supplied by IronWine Cellars. The total capacity of the wine rack system is a little more than a thousand bottles.
Transitional Home Wine Cellar in Richmond, Virginia
A wine lover contacted Harvest Custom Wine Cellars because he needed help with his wine cellar construction project in Richmond, Virginia. We had to design the wine room to accommodate a growing collection. The owner sent us an inspiration photo he found online.
Our team installed metal and wood components to create a transitional wine cellar. The triple-deep metal wine racks can be found on the left and right walls. These contemporary wine racks from VintageView, display the bottles in a label-forward configuration.
We installed the wood component on the back wall. These wood wine racks from IronWine Cellars consist of an arch display with a tabletop at the top section, surrounded by individual wine racks. Below the tabletop is a cabinetry consisting of a double-door cabinet and a drawer.
A Residential Wine Cellar Constructed for Wine and Whiskey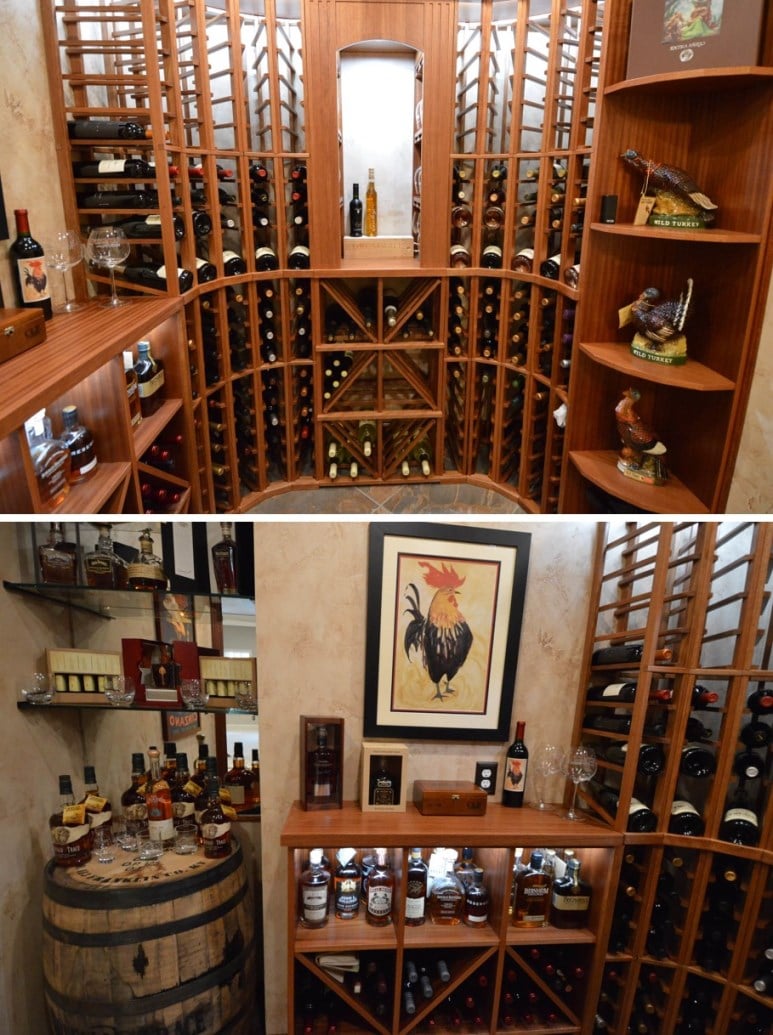 In this wine cellar construction project, we created a design for our client's collection consisting of wine and whiskey. The focal point of this residential wine room is the tall arch display with storage for wine glasses on both sides. We added curved-corner wine racks to create a smooth transition from one wall to another.
The racking to the right of the arch display is a quarter-round display rack intended for the client's accessories. We incorporated square bins and diamond bins for the owner's Bourbon collection.
How Our Wine Cellar Builders in Clean Virginia Create Beautiful and Efficient Designs
Designing a wine cellar requires skills, creativity, and knowledge. You must work with a professional because many factors have to be considered to come up with an aesthetically pleasing and safe design. The main goal is to create a safe wine storage facility for every collection. Secondary to this is to make sure that the wine cellar design is well thought out. 
What are these factors? Please see the list below.  
The Location and Size of Your Wine Cellar 
Why do wine cellar builders in Washington, D.C. need to know the location and size of your wine room where the build-out will take place? It will help us know the heat sources near it, which has an impact on the size and type of the wine cooling unit to be used.  
Your Purpose of Building Your Own Wine Cellar
During the interview process, we always ask our clients what their purpose is for building a wine cellar for their home or business. For homeowners, we want to know if their primary goal is to create a wine room mainly for storage, display, or both. Knowing their purpose will help us create a wine cellar design that suits their needs.   
Your Aesthetic Preferences
We also need to know your aesthetic requirements. What style of wine cellar do you want? You may choose between traditional, contemporary, or transitional (a mix of traditional and contemporary elements). Getting this relevant information from you will help us to decide the right style and type of material for your racking and other elements that we have to incorporate to achieve the mood or ambiance that you want for your wine cellar.   
Your Budget
Another critical factor that our wine cellar builders in Mclean, Virginia, have to take into account is your budget. We want to create a stylish and functional wine room without going beyond your budget. We offer economical wine storage solutions without compromising quality and beauty.  
Work with Our Master Washington, D.C. Wine Cellar Builders

Our wine cellar builders in the Washington, D.C. area are reliable, experienced, and knowledgeable in designing and installing refrigerated wine rooms. We have the perfect wine storage solution for residential and commercial wine cellars.  
If you need help and want to talk to a specialist, please call Harvest Custom Wine Cellars at (804) 467-5816!