Helo: Providers of Quality Sauna and Steam Solutions
Shaped by 100+ years of passion and dedication to providing custom steam bath solutions, Helo Sauna is one of the world's leading sauna manufacturers. From its roots in Wyborg, Finland, it has proudly expanded its reach to North America, anchoring its central operations in Cokato, Minnesota. 
What sets Helo Saunas apart is they don't only build, deliver, and install sauna and steam rooms, but they also help you create ADA-compliant designs while ensuring the best bathing experience for users. Additionally, for those who are planning to venture into their first sauna, steam, or infrared sauna project, they provide a free training course that's easily accessible online.  

Your One-Stop-Shop for Traditional and Modern Saunas
Traditional saunas are the original types of saunas that make use of natural materials to create a self-contained environment for health and wellness. Wood, hot stone, and water come together to produce heat that flushes out toxins from our bodies. You can control the amount of steam in traditional saunas by manually pouring water into the hot stones.  
If you prefer a more convenient way of producing steam, Helo supplies residential and commercial steam generators with touchscreen panels to control the amount of steam inside the room. No more worrying about manually pouring water every time it gets too hot! 
For people who favor dry saunas, infrared saunas (or infrasaunas) are recommended as they produce the same health-beneficial heat without the steam. 
Helo Products
Helo offers a variety of pre-cut products you can use to customize your residential or commercial sauna. To start, you need to determine what type of sauna you want (traditional or modern) and how many people you anticipate using the sauna. Once you've laid those out, we'll need to identify: 
The measurements of your available space

 

Your specific preferences in terms of design and heater/control packages

 

The expected budget needed

 
Sauna Rooms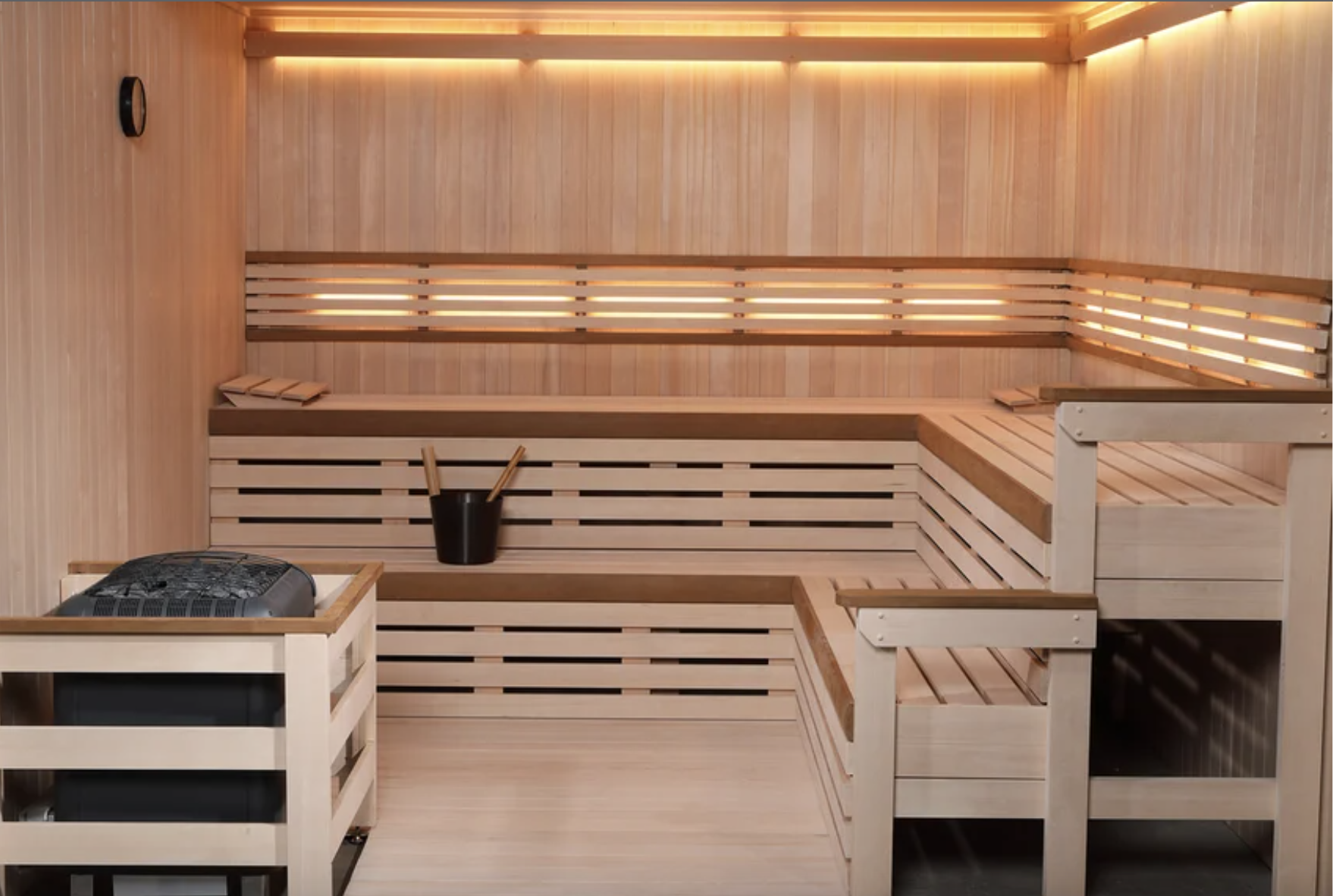 For traditional sauna rooms, Helo offers three types of custom-cut packages designed for permanent installation and one type of panel-built/freestanding sauna. Each package generally includes:  
Foil vapor barrier

 

Canadian Hemlock or Western Red Cedar custom-cut for T&G-style installation

 

Pre-assembled backrests, headrests, benches, duckboard or mat flooring

 

Lights

 

Pre-hung door (options: all-glass, hemlock, or etched glass door)

 

Interior trims

 

Heater, heater guards, control, and stones

 

Bucket and ladle

 

Thermometer

 
Helo's Four Types of Saunas:
Helo's pre-cut saunas are designed to be installed over framed, insulated walls. If you prefer ready-to-assemble, freestanding saunas, Helo provides panel-built saunas.  
Helo Premier Custom Cut Sauna

 
The Premier Sauna comes with a deluxe 6-bar backrest with an integral LED lighting system. The upper and lower benches are easily removable for cleaning convenience. It also comes with a Rento bucket and ladle and two headrests as additional accessories.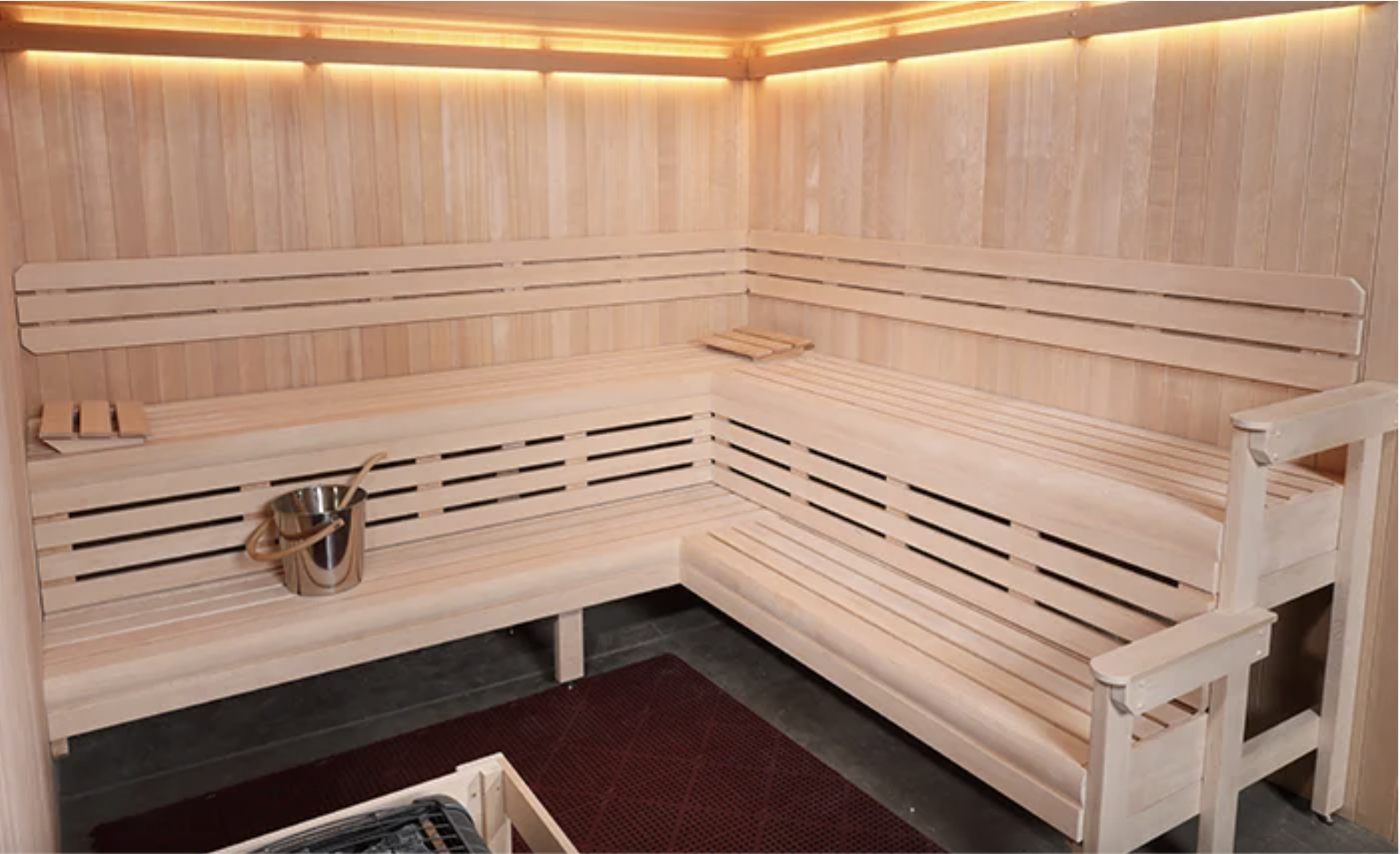 Helo Supreme Custom Cut Sauna

 
Compared to the Premier type, the Helo Supreme comes with a 3-bar backrest. The backrests don't include an integral LED light system, but lights are still included on a valance near the ceiling. Under-the-bench spaces are easily cleanable with removable bench tops, and the package includes a deluxe 3-bar heater guard that's not included in the Premier package. For the accessories, the Supreme comes with a deluxe stainless steel pail and ladle and two headrests like the Premier.  
Helo Classic Custom Cut Sauna

 
The Classic package is Helo's standard commercial sauna. It features a 2-bar backrest and a 3-bar heater guard similar to the Supreme Sauna. Instead of a 7″ thermometer that comes with the Supreme and Premier Packages, the Classic offers a 5″ thermometer and standard wall lights (not integrated into the backrests and valance). If you prefer the simplest and budget-friendly design, Helo's Classic is a worthwhile investment! 
If you're looking for an outdoor sauna, Helo's panel-built modular saunas are ready to be assembled with waterproof materials. The panels are fully insulated with T&G interiors and exteriors. Plywood exteriors are optional and can be used to hide walls.  

Customizable Parts and Upgrades
Since each sauna package is pre-cut, they can be integrated into any angle, curve, or odd space. We will have to visit your space to determine specific dimensions. To personalize your design, you have the option to upgrade the following components: 
Headrests

 

Backrests (choose from seven types of backrest designs)

 

Lighting (option to use low-voltage lights)

 

Bench fronts (option for bullnose design)

 

Direction Tops (long or short)

 

Bench Tops (1×4 or 2×4)

 

Platforms

 

Door (all-glass door, hemlock door, or etched glass door)

 

Bench skirts (add on)

 

Single or Two-Tone design

 
Steam Generators and Boilers
For electricity-generated steam, Helo offers over 31 steam generators that cater to residential (or light commercial) steam rooms and heavy-duty commercial steam rooms.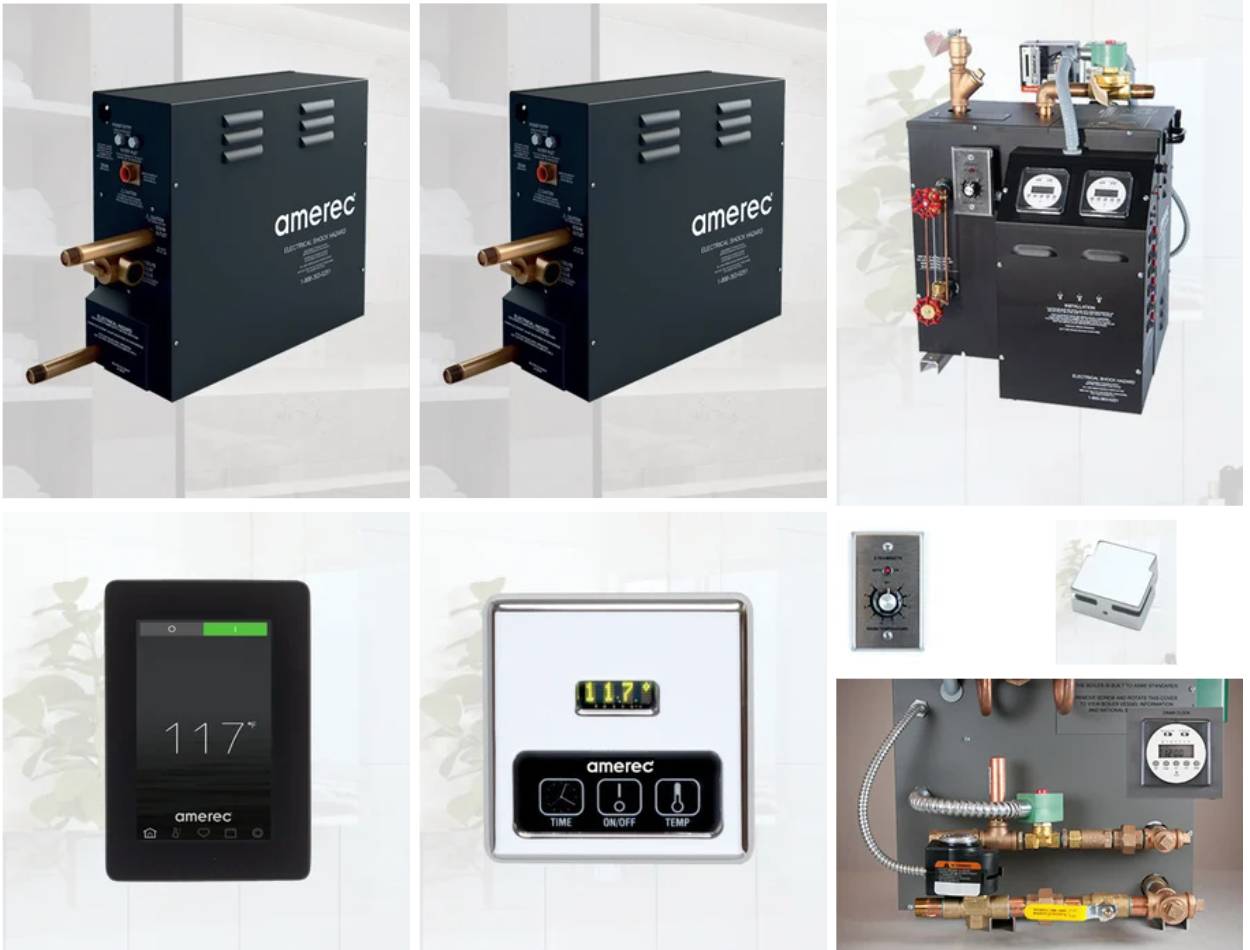 The AX Series caters to steam baths between 60 cu. ft. To 350 cu. ft. Popularly used for commercial day spas, the generators can be connected to cater to baths larger than 350 cu. ft.  This line delivers a consistent flow of soft steam and maintains a tank water temperature just below boiling point. It comes with an Elite touchscreen control that can be mounted inside or outside the steam room and remotely controlled through the AmerecControl App.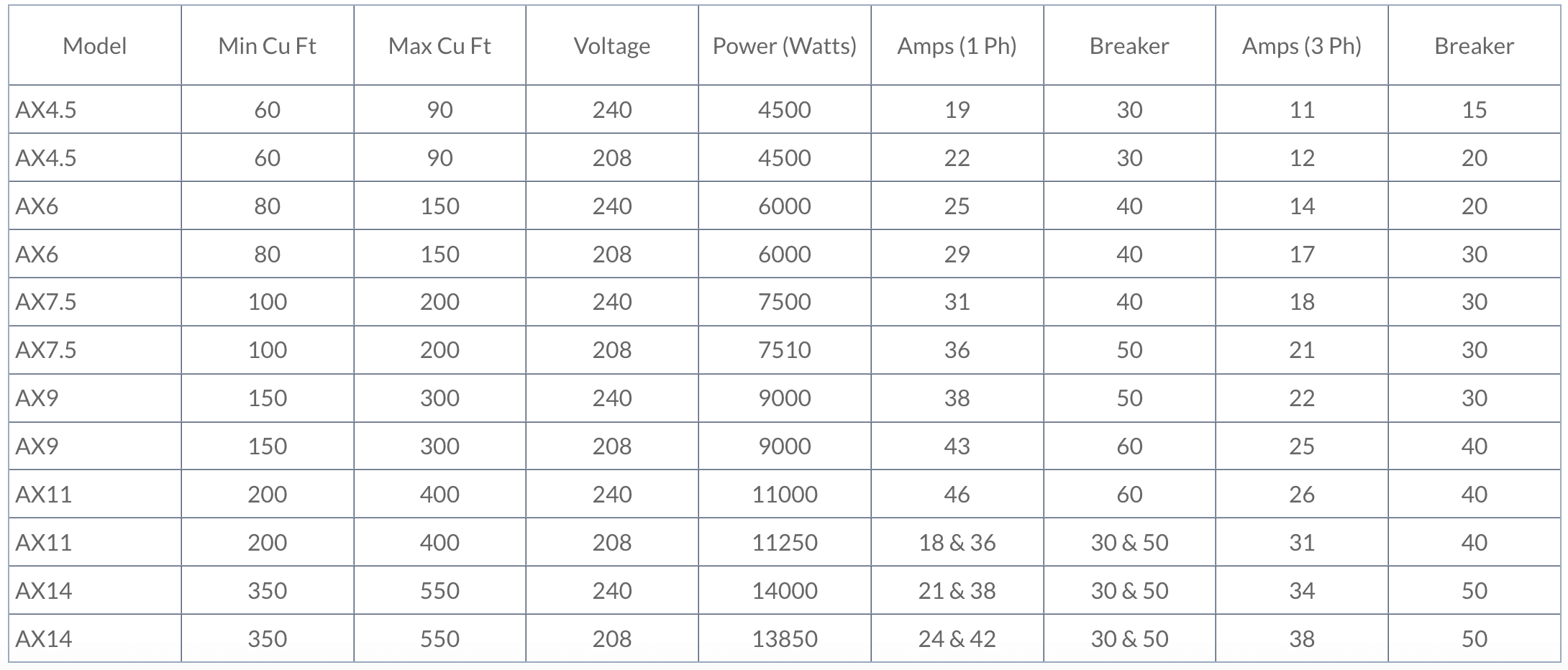 Like the AX Series, the AK line also produces a consistent stream of soft steam. It starts with full power to immediately heat up the room, then automatically reduces the power by 1/3 or 2/3 to keep the temperature at safe levels. AK generators are purposely designed for home use, and you can install them in your shower or dedicated steam room. Instead of an Elite Touch Control, AK Generators come with a KT6- Digital Control with a built-in temperature sensor. The time duration is adjustable up to 60 minutes, and it must be installed inside the steam room. The AK Line caters to rooms 60 cu. ft. and beyond.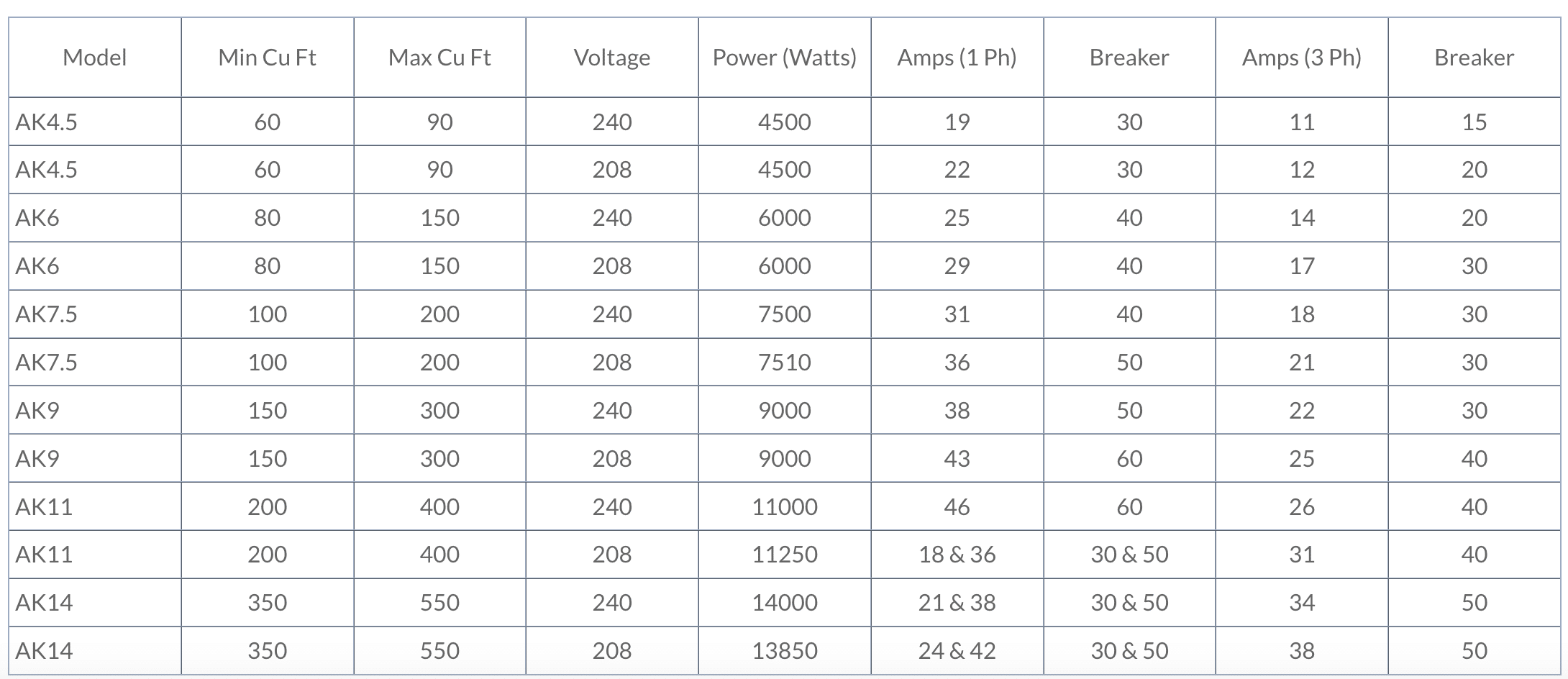 AI boilers stand as the preferred steam generators for expansive commercial steam rooms. The boilers are controlled by low-voltage on/off switches and designed for hands-off operation. It also comes with a 3-level water system and an efficient drain and flush system that automatically drains on a daily basis (to prevent sludge and scales). 

Infrared Rooms
 You might have come across infrared saunas along the way, and most of them, we bet, are pre-manufactured. Helo's Infrared and InfraSaunas are different as they are designed and pre-cut to fit your space. 
The company's groundbreaking InfraSauna® (I/S) is one of the first of its kind in the industry. This ETL safety-listed product line presents a range of exceptional features, including: 
Transform your framed walls into a custom Infrared sauna.

 

Seamlessly convert your current sauna into an InfraSauna® or an Infrared-only setup.

 

Experience the advanced Designer-SL2 Heater paired with SaunaLogic2 Control and Mobile App, providing unrivaled control and convenience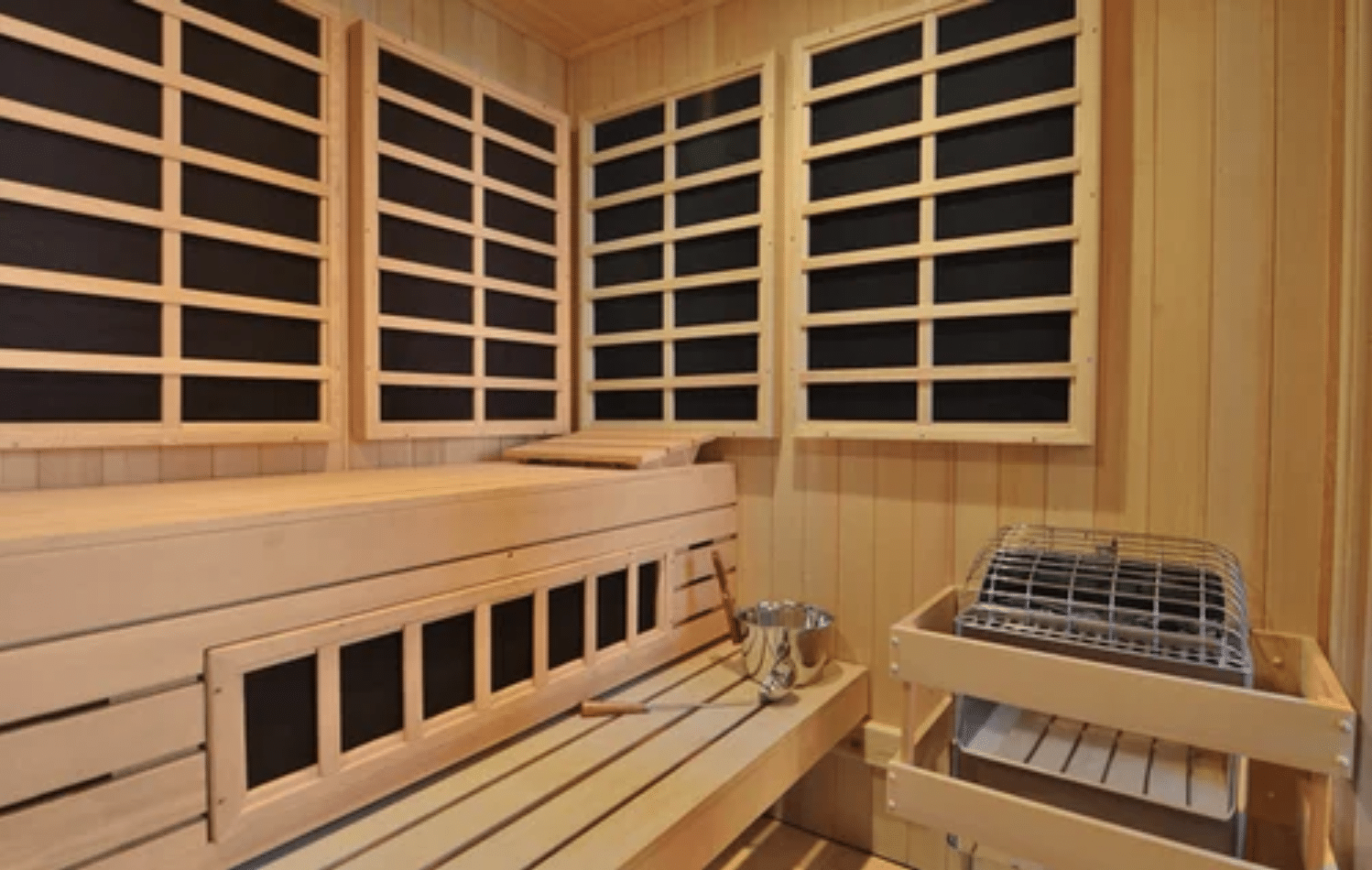 You can also opt for a custom-designed modular/prefab InfraSauna® or IR-only option to suit your unique needs.  
The structural components of a Helo's InfraSauna® are similar to the Helo Traditional Pre-Cut and Modular Saunas. The main modification here, though, is instead of using stone and heaters to produce heat, infrared panels are installed behind the T&G panels to produce dry heat.  
With Helo's InfraSauna®, innovation meets safety and versatility, allowing you to enjoy the benefits of both traditional sauna (wood structure) and infrared technology in a customized and convenient package. 
Strengthen Your Health and Wellness Lifestyle With Helo. Inquire With Us Now!
Elevate your wellness experience with Helo's exceptional range of Traditional Saunas, Steam Generators, and Infraaunas. Harvest Wine Cellars and Saunas, your trusted partner, is here to guide you through this transformative journey. Whether you seek the soothing warmth of a traditional sauna, the invigorating benefits of steam generators, or the gentle heat of an InfraSauna, we have you covered. 
Take the first step towards enhancing your well-being by contacting our team today. We are ready to assist you in selecting the perfect Helo products that align with your needs and desires. 
 Call us now at +1 (804) 467 – 5816 or +1 (443) 552 – 5084, and let Harvest Wine Cellars and Saunas help you embark on a remarkable wellness journey!