VintageView Metal Wine Racks: Add Style and Functionality to Your Custom Wine Cellar in Baltimore, Maryland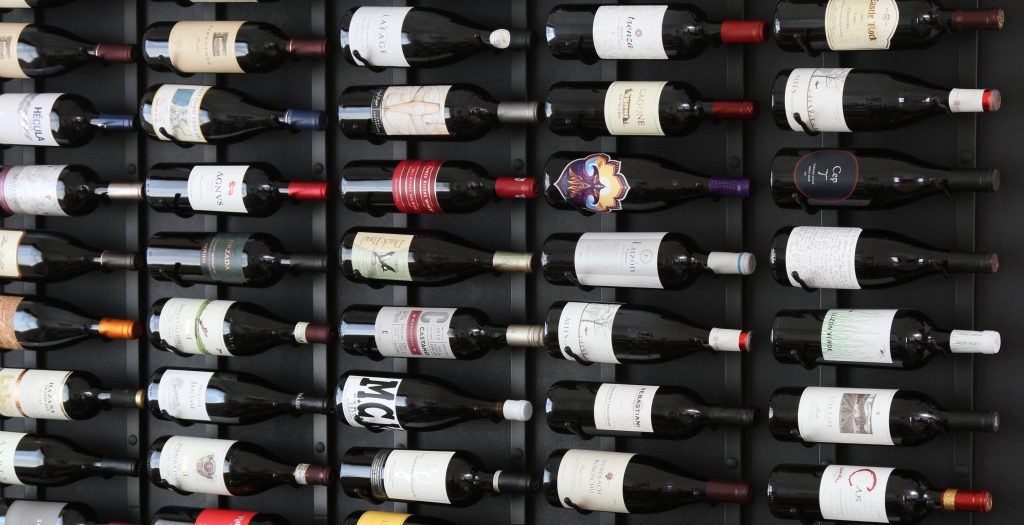 Wine racking is one of the most important features in a wine cellar. You must be careful when choosing wine racks because they can make or break the overall design of your wine cellar. The three factors that you must consider when purchasing wine racks are: style, functionality, and flexibility. As one of the area's premier wine room builders, Harvest Custom Wine Cellars and Saunas offers high-end wine rack systems for residential and commercial custom wine cellars. We're proud to offer modern metal wine racks from VintageView.
Eye-Catching VintageView Metal Wine Rack Systems Custom Wine Cellars
The main reason owners of residential and commercial establishments invest in a refrigerated wine room is proper wine storage. Next to this is the desire to display their valuable collections in a spectacular way. A stylish and unique wine rack design offers many benefits.
For homeowners, an eye-catching wine display will impress guests and will increase the value of their home and provide a beautiful place for entertaining friends. There is nothing more relaxing and fun than sipping your favorite wine in a cellar with an exceptional design. Choosing VintageView metal wine racks for the custom wine cellar in your home will help you achieve exactly that.
In a hospitality setup, a beautiful presentation of the wines you sell will have a significant impact on your sales. It will encourage clients to check out your wines and may result in a purchase. A gorgeous wine cellar will also enhance your customer's dining experience, making them want to go back to your restaurant, hotel, or bar.
VintageView Metal Wine Racks: Why Choose Them?
Although wood is still is a favorite of wine collectors who love a classic appeal in their wine room, metal is increasing in demand in wine room construction. At Harvest Wine Cellars and Saunas, we offer a variety of metal VintageView wine racks. Their wine rack systems offer many benefits, both aesthetically and functionally.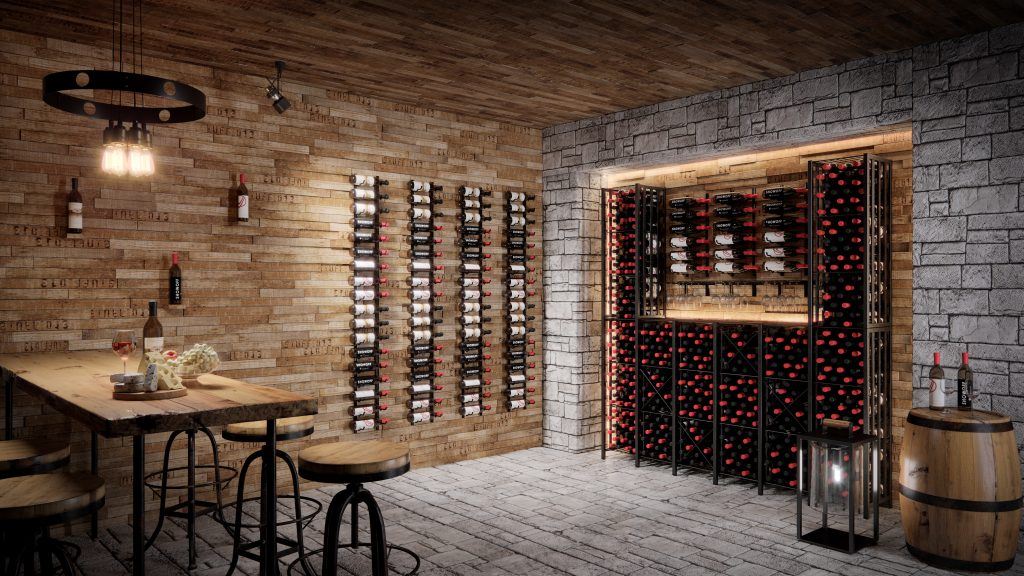 Choosing VintageView Wine Racks for Residential and Commercial Custom Wine Cellar in Baltimore, Maryland Offers Endless Design and Installation Flexibility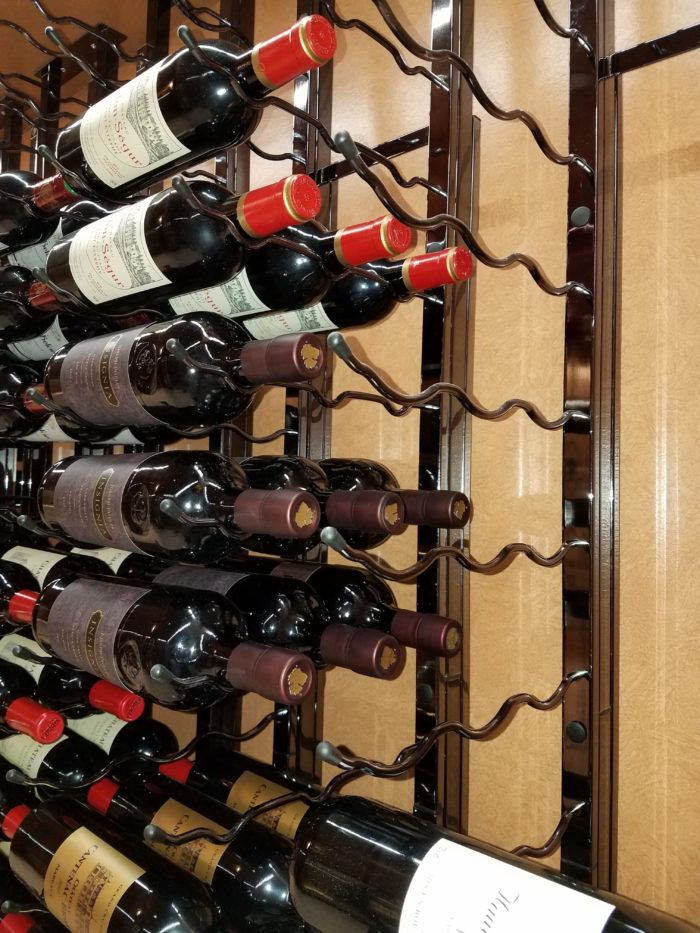 Metal is a lightweight material, making it ideal for building minimalist wine cellars. They offer limitless designs and offers installation flexibility. Our VintageView metal wine racks can be mounted on the wall to eliminate the use of floor space. Placing them in the tiny corners of a room is easier compared to wooden wine racks.
Racking Style Options
There are two kinds of metal wine rack systems: pre-made and custom wine racks. Pre-made wine racks are wine storage units that are readily built. They are available in various heights, widths, and styles. They are less expensive than custom wine racks. However, pre-made wine racks will not fit perfectly in the space under the stairs or any irregular shaped wine room.
If you want your wine racks to fit snugly in your space, better opt for custom wine racks. A customized racking system will allow you to incorporate your own style and preference into the design. Adding a personalized touch will add value to your home. It will also entice guests in your commercial establishment, resulting to more wine sales.
VintageView Custom Wine Cellar Racks are Designed to Match the Existing Décor of Your Home or Commercial Establishment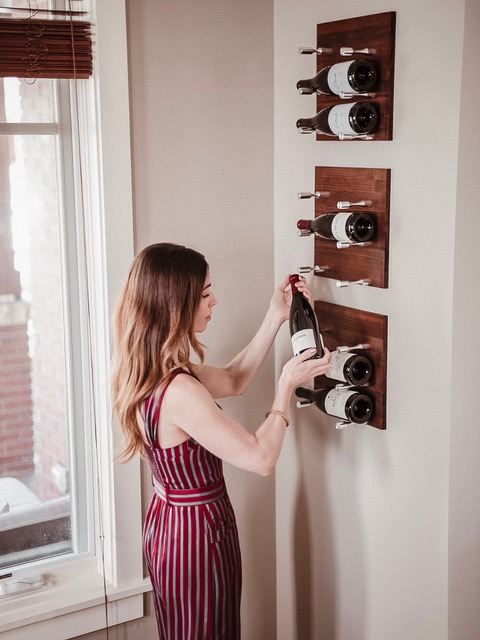 Whether you have a traditional or modern home, metal wine racks will complement your existing décor. For example, if you have wooden components in the kitchen, building a wine cellar with metal racks will complement them.
Keep in mind that you have to work with an experienced and creative builder to achieve the overall appeal that you desire. At Harvest Custom Wine Cellars and Saunas, we work closely with our clients to meet all of their needs and requirements.
Can Fit Small Wine Rooms and Maximize Storage Capacity
Metal wine racks are suitable for limited spaces. They can fit easily in the tiny corners of a room, maximizing the storage capacity of your cellar. If you do not want your racking to occupy floor space, this type of racking is the best option. You may choose to mount the unit on the wall to achieve this.
Convenience in Browsing
When designing wine rack systems, one of our goals is to provide convenience in browsing. Our VintageView wine racks are configured with a label forward orientation where the bottles are stored with the labels facing out.
We want our clients to find their favorite vintage quickly. In hospitality establishments, the customers will be able to locate a specific bottle of wine, which will enhance their dining experience. If the waiter has to get the wine from the racking, there will be a shorter waiting time. This will increasingly have a positive impact on your business' reputation.
Moreover, the label-forward bottle orientation will save your wine collection from damage. How? Because you do not have to pull out or flip the bottle to read the description. Doing so will disturb the sediments, which will alter the overall bouquet and texture of the wine.
Types of VintageView Metal Wine Racks Ideal for Custom Wine Cellars Recommended by Baltimore, Maryland Experts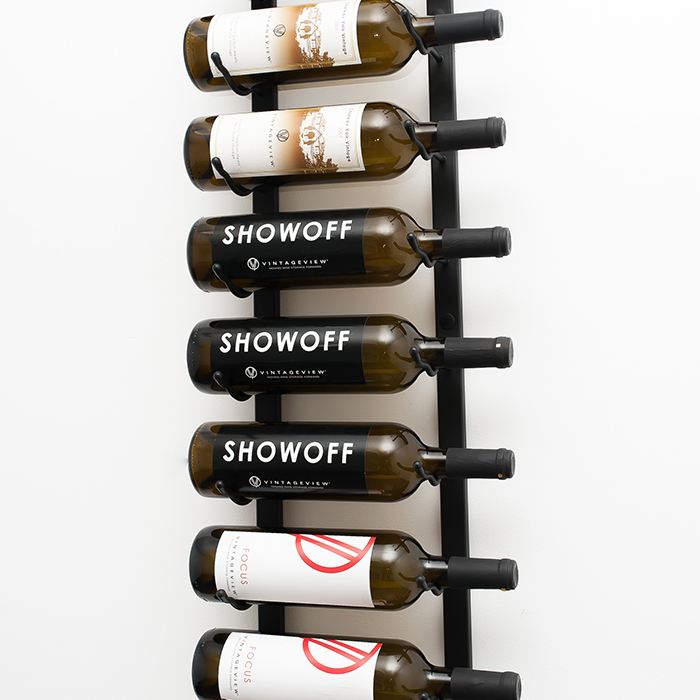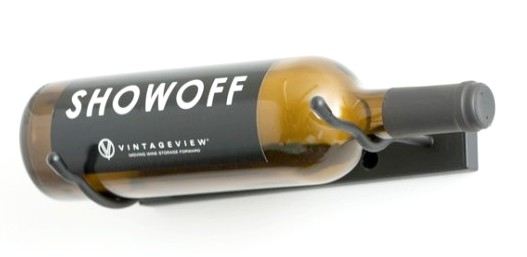 With many types of racking systems, it is best to work with a wine st
orage expert to ensure that you do not regret your choice in the future. The VintageView metal wine racks that we offer come in various styles to meet the unique needs of each client. They are available in wall-mounted and freestanding units.
Wall-Mounted Metal Wine Racks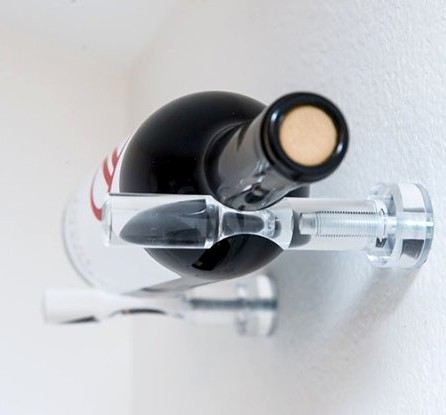 Do you have a growing wine collection and aren't sure what the best way to store and display them is? Bring your boring walls to life with VintageView's wall-mounted wine racks. These storage units are available in steel and aluminum. The mounting systems allow the wine racks to be installed on almost any surface including concrete, wood, and drywall.
Our wall-mounted wine racks are available in different styles: Peg and Columns Wall Series. We will help you determine the best option for your needs.
The Peg Series or Vino Series consists of Vino Rails, Vino Pins 2-Bottle Kit (2-bottle deep), Vino Pins Metal Wine Peg, Vino Pins Acrylic, Vino Pins Magnum, Vino Pins 3-Bottle Kit (3-bottle deep). The Columns Wall Series include the units in various heights: 1-foot, 2 feet, 3 feet, and 4 feet, the Magnum/Champagne Bottle Wine Rack, and the Big Bottle Wall Series, Wall Series Single, and Le Rustique.
You may opt for VintageView's Floating Wall Wine Rack Kit (2-sided) if you want to create an eye-catching display up against the walls. The bottles will appear as if they are floating in the air. Bottle depths are available in sing, double, and triple.
Freestanding Metal Wine Racks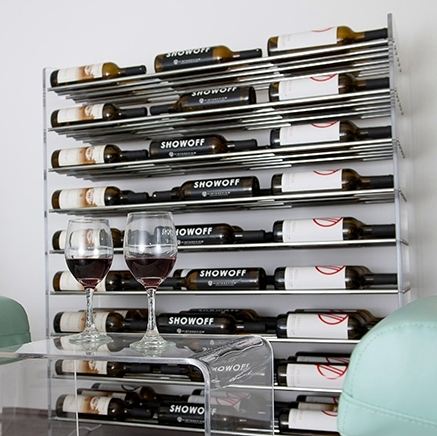 VintageView's freestanding wine rack systems allow you to install chic wine storage unit almost anywhere in your home, restaurant, hotel, bar, or wine store. For residential storage, installing Vintageview wine racks is an excellent way to converting any space in your home into your very own custom wine cellar. Also known as the Evolution Series, these wine racks are available in metal and acrylic.
There are different options for Evolution Series freestanding wine rack systems:
Evolution Tabletop 3-Bottle Wine Rack

One (Metal and Acrylic Tabletop Wine Rack)

Mini 6-Bottle Tabletop Metal Wine Rack

180-Bottle Island Display Rack 3

234-Bottle Island Display Rack 4

288-Bottle Island Display Rack 7

378-Bottle Island Display Rack 7 DLX

Bottle Island Display Rack Endcap

Bottle Island Display Rack (single sided)

Point of Purchase Display Rack 

Evolution Metal and Acrylic Wine Case


Case & Crate, which us another type of VintageView's freestanding wine racks, is also available in many styles:
Case & Crate Bin Short

Case & Crate Bin Tall Kit 

Case & Crate Bin Tall Kit 

Case & Crate Locker Tall 
Our Specialists Will Build a Stylish Custom Wine Cellar for You Using VintageView Wine Rack Systems
With many metal wine rack systems available on the market today, you'll want to consult an expert who understands your desire for an attractive and functional wine display and storage area. Are you ready to look at racking options for your custom wine cellar? We're ready to help. Contact us today at our Richmond office at (804) 467-5816 or our Baltimore office at (443) 552-5084 and speak with one of our design and build experts.