Impressive Modern Wine Cellars As Home Showpiece in Richmond, Virginia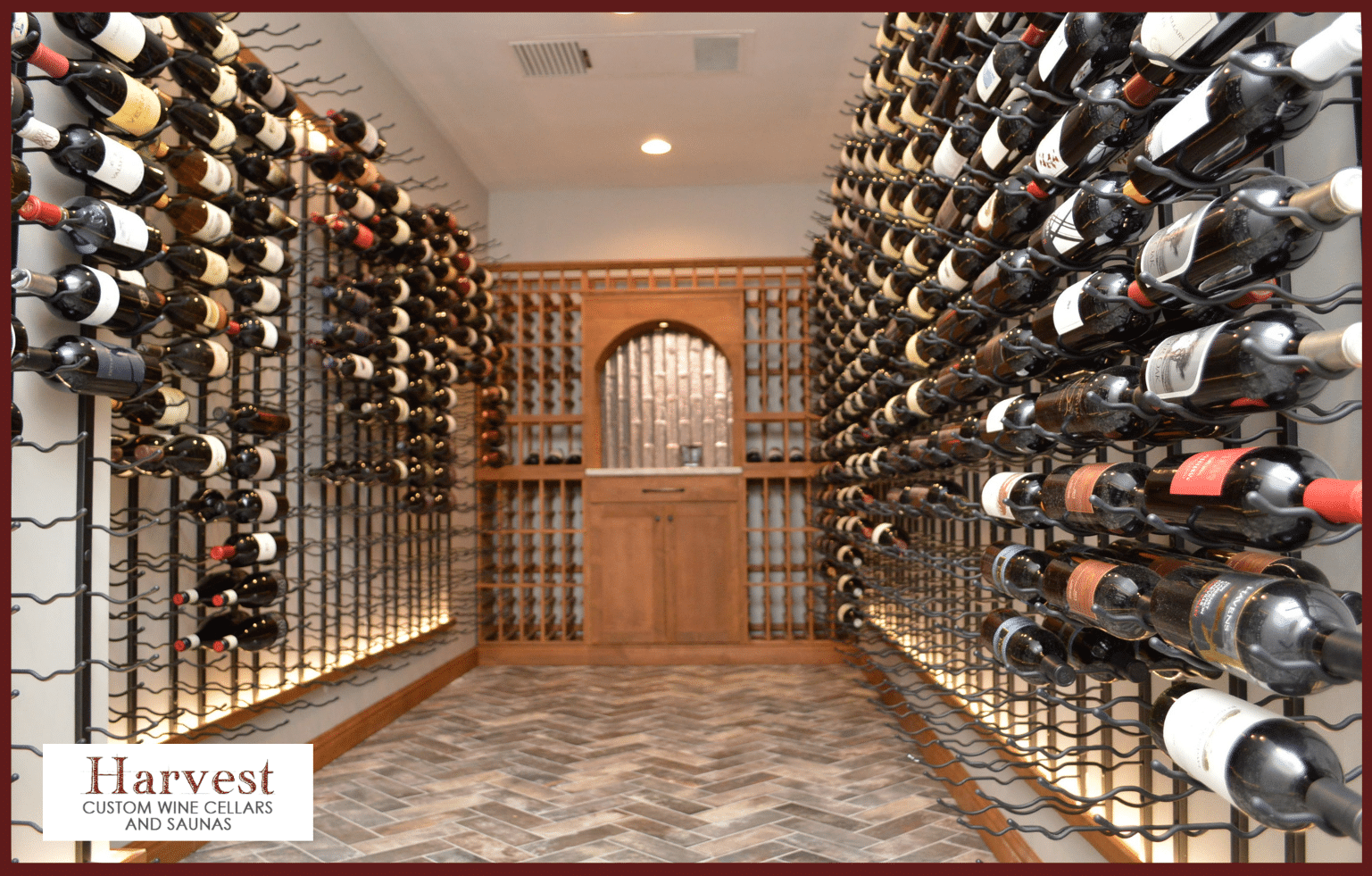 If you are a wine lover, you will aim for a structure that can provide the right temperature and humidity for aging your wines. Surely, you can find plenty of inspirational designs on Houzz and Pinterest, but only wine cellar experts can help you achieve your perfect customized modern wine cellars.
What about having modern wine cellars style that is a fusion of various designs? We, at Harvest Custom Wine Cellars and Saunas, aim for that exactly! A combination of different inspirations helped us conceptualize this gorgeous residential wine cellar project according to the client's personal style and preference.
Hopefully, as we walk you through this private wine room in Richmond, Virginia with its unique metal wine racks and wine cellar doors features, you will consider having one for your home!
How We Came Up on this Modern Wine Cellar Design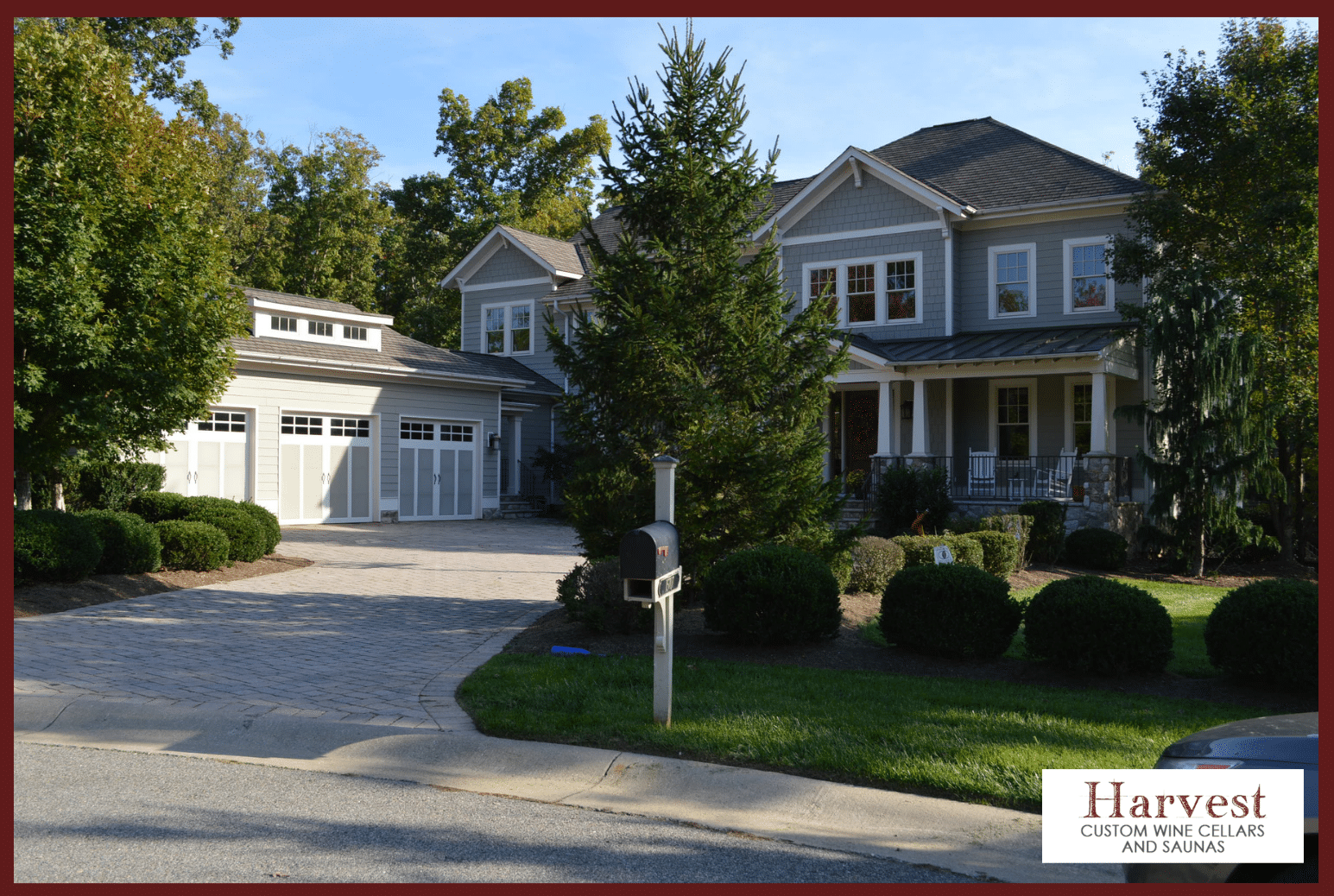 Our team of designers met with the homeowner in for his custom wine cellars project in Richmond, Virginia. He found an image of an ideal wine cellar online which he became his inspiration to build in his home. He requested our help from Harvest Custom Wine Cellars. An unused room in his dining room was converted into modern wine cellars based on his request. We also had a thorough consultation with him for this Swartzwelder project so that we could create a complete set of 3-dimensional sketches for the proposed design.
We created several concepts with a combination of modern and traditional elements. As soon as he approved the design, we began preparing the room for the construction of his dream wine cellar.
The plan was to build a 264" x 79" wine cellar space. To achieve this, our contractors had to vacate and install all the equipment needed to build a wine cellar in the unused room found in the dining area. We tackled our designs including different elevations of the wine cellar, room dimensions, racking styles, and bottle capacities. We then began framing the room according to the design blueprint. Our builders applied a vapor barrier and proper insulation as well.
Take a look at our 3-dimensional design in different perspectives.
A Closer Look to the Key Features of this Elegant Home Wine Display
An Elegant Home Interior Featuring the Wine Cellar Door Leading to the Private Wine RoomThe residential modern wine cellars we built for this Swartzwelder project in Richmond, Virginia were designed to accommodate up to 1,680 bottles. We know and understand that it must help seal your wine cellar and must be made of high-quality material for superior durability. Custom Wine Cellars San Diego cares for your precious wine displays. Here are the highlights of this elegant wine room customized by our designers: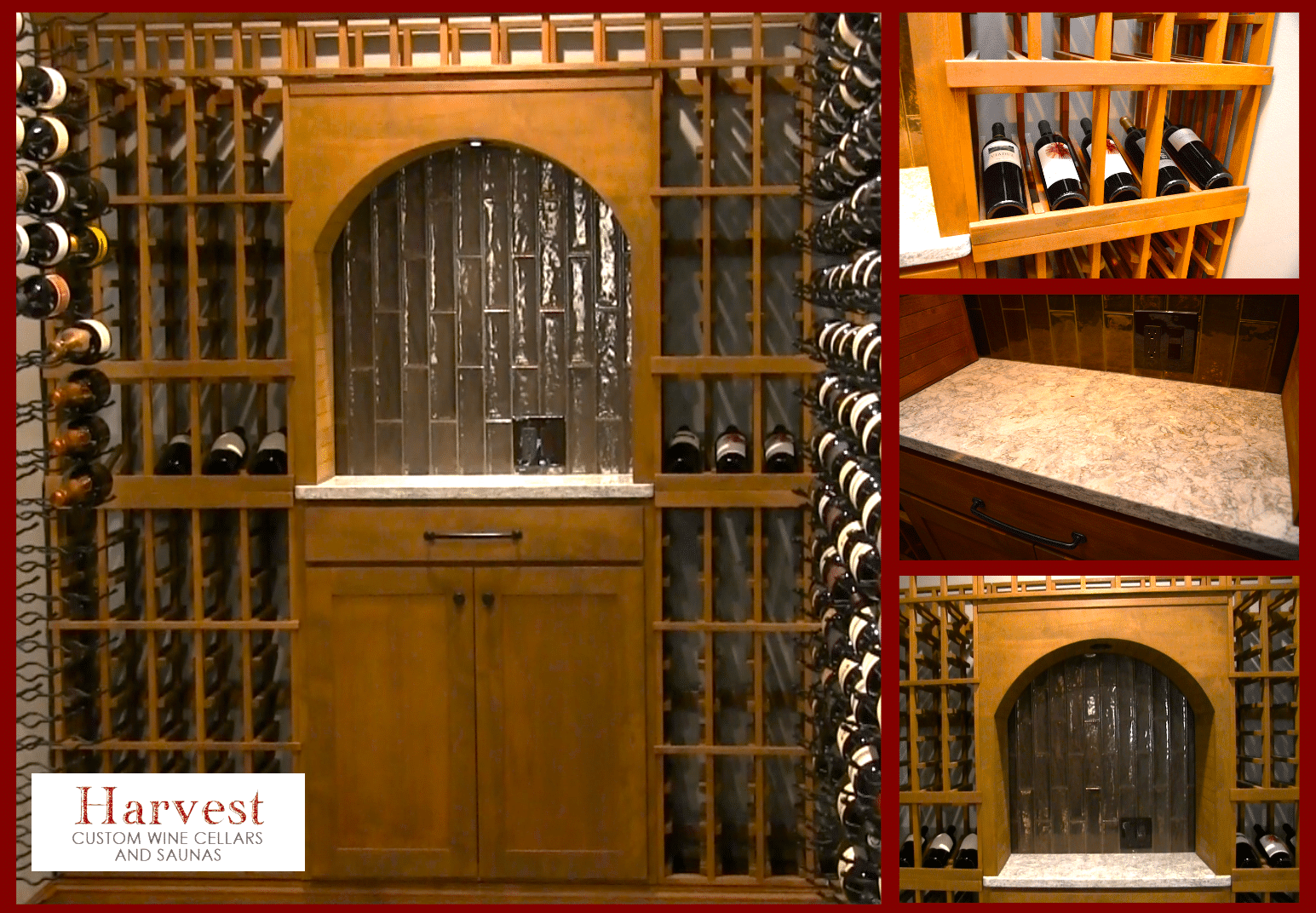 VintageView's Metal Wine Racks and IronWine Cellar's Wooden Wine Racking System
An impressive wine display was achieved in these modern wine cellars in Virginia. We fused wine racks made of metal and wood in our concept of rustic wine storage that can hold up to 1680 wine bottles.
A wooden wine rack was installed as a set of single-bottle storage racks. It has a high-reveal display row made by IronWine Cellars. A stunning arched tabletop with hidden LED lighting illumination directly across from the door was installed. The client's crystal wine glasses are displayed on stemware racks in this installation. Standard-sized bottles fit beneath the tabletop. On both sides of the arch, more of the single storage racks were put in place. The arched display was designed with a tabletop to provide a space for decanting, serving, and tasting wines. This centerpiece gave a matching elegance and rustic vibe to the whole cellar.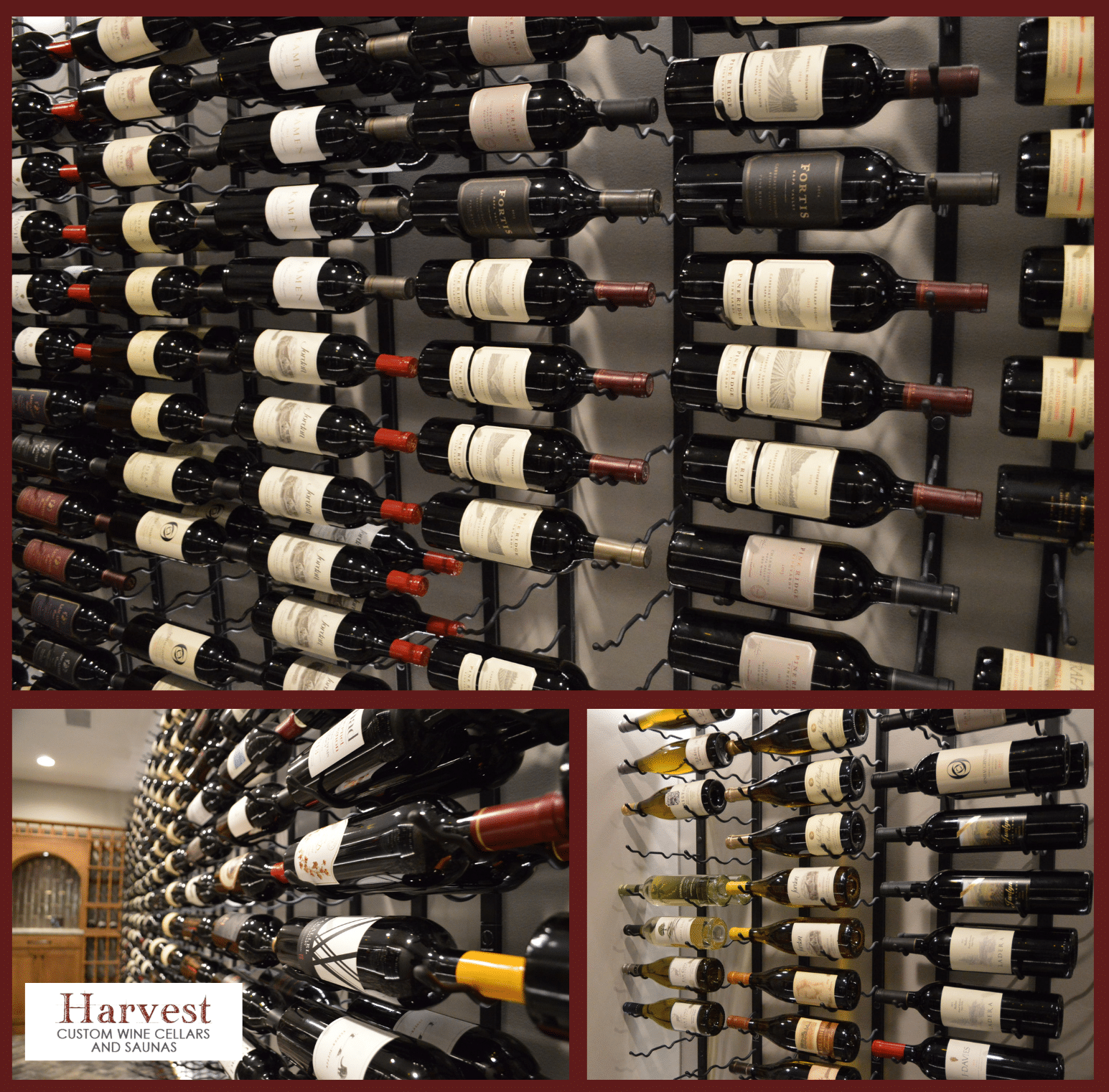 Meanwhile, the label forward displays using metal wine racks were also mounted across the walls. This assortment of racking styles made the cellar look very interesting. To optimize the number of bottles that might fit in the wine wall, we installed VintageView's three-deep metal storage racks on the left and right sections. The bottles' label-forward orientation makes it simple to browse the wines. Knowing the brands and other wine information would not need turning the bottle over. This assortment of racking styles made the cellar look very interesting.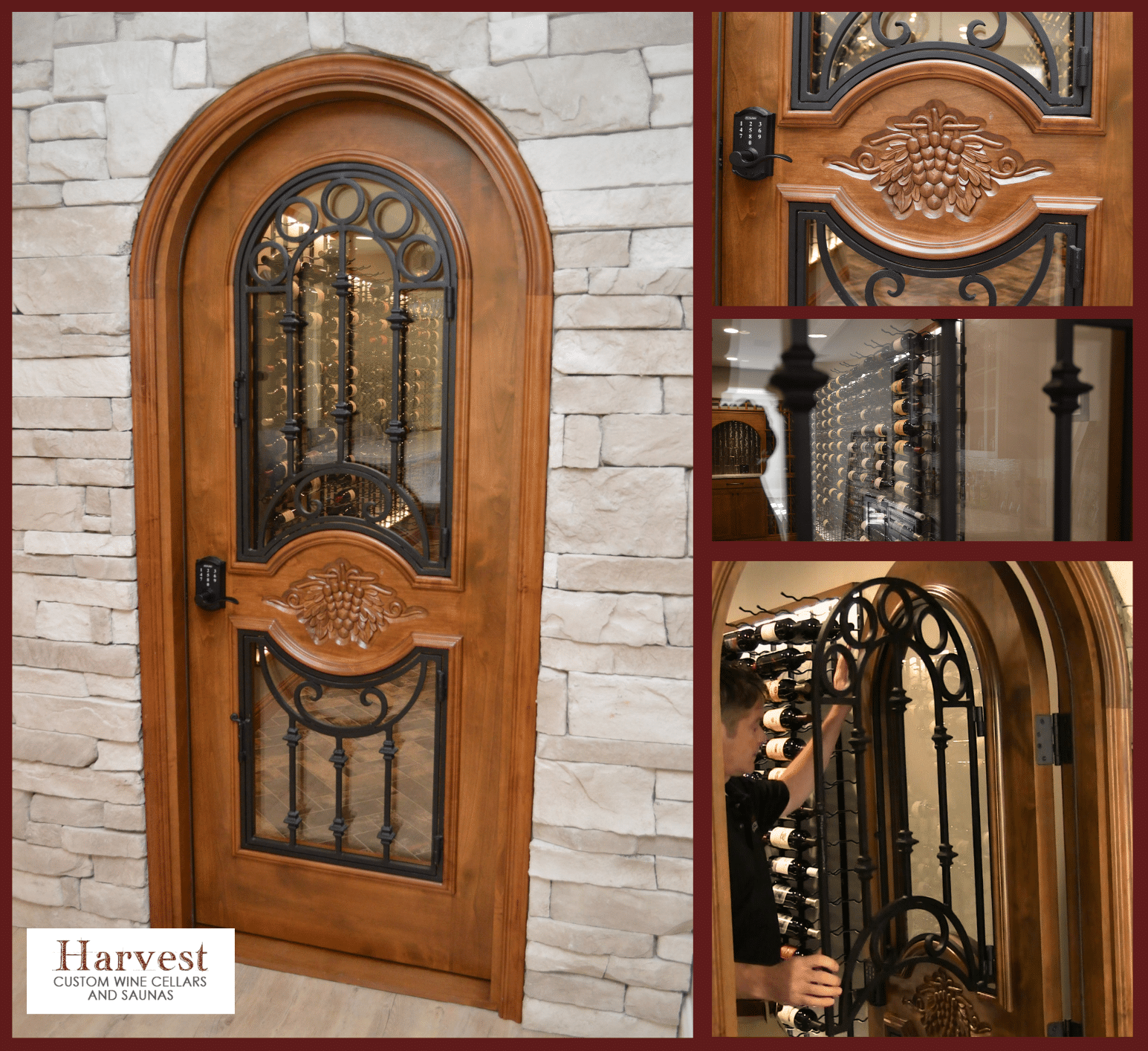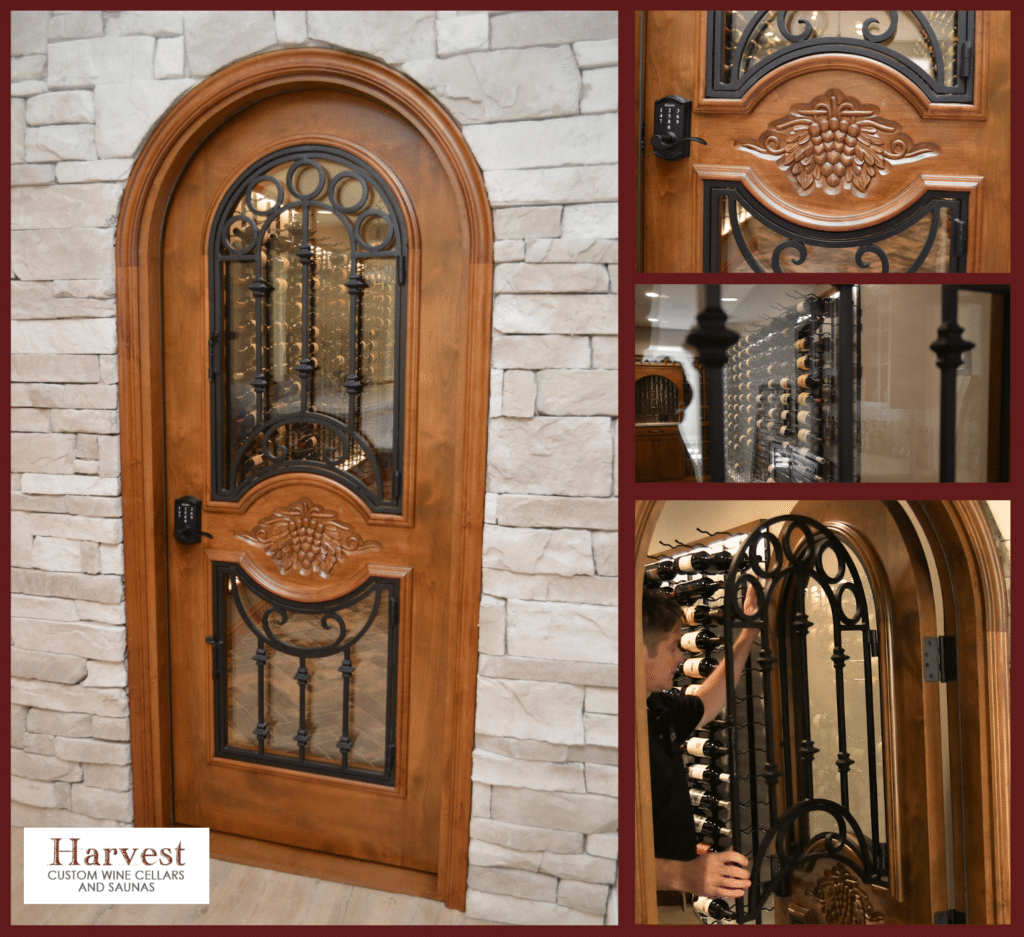 This IronWine Cellar's Door with Unique Features for Your Room's Proper Protection
As an entrance to your wine cellar, you'll primarily see the wine cellar doors.  It's the gateway into your elegant wine collections in your private space. This door was designed by IronWine Cellars with a Coto-style and rustic look, making it a sophisticated and vintage entryway.
For this wine room, we used a wrought iron door. We incorporated intricate design with a contemporary approach. It was made of clear Alder wood. It was designed with double-pane insulated glass with outer metal protection which mirrors the arch and tabletops from the inside of the cellar.
Aside from its aesthetic value, this unique door has been programmed with advanced technology. It has a channel that was pre-fabricated and a keypad locking system. There was a button that secured a tight seal when shut. This ensured the climate-controlled condition for the wine collections inside the modern wine cellars.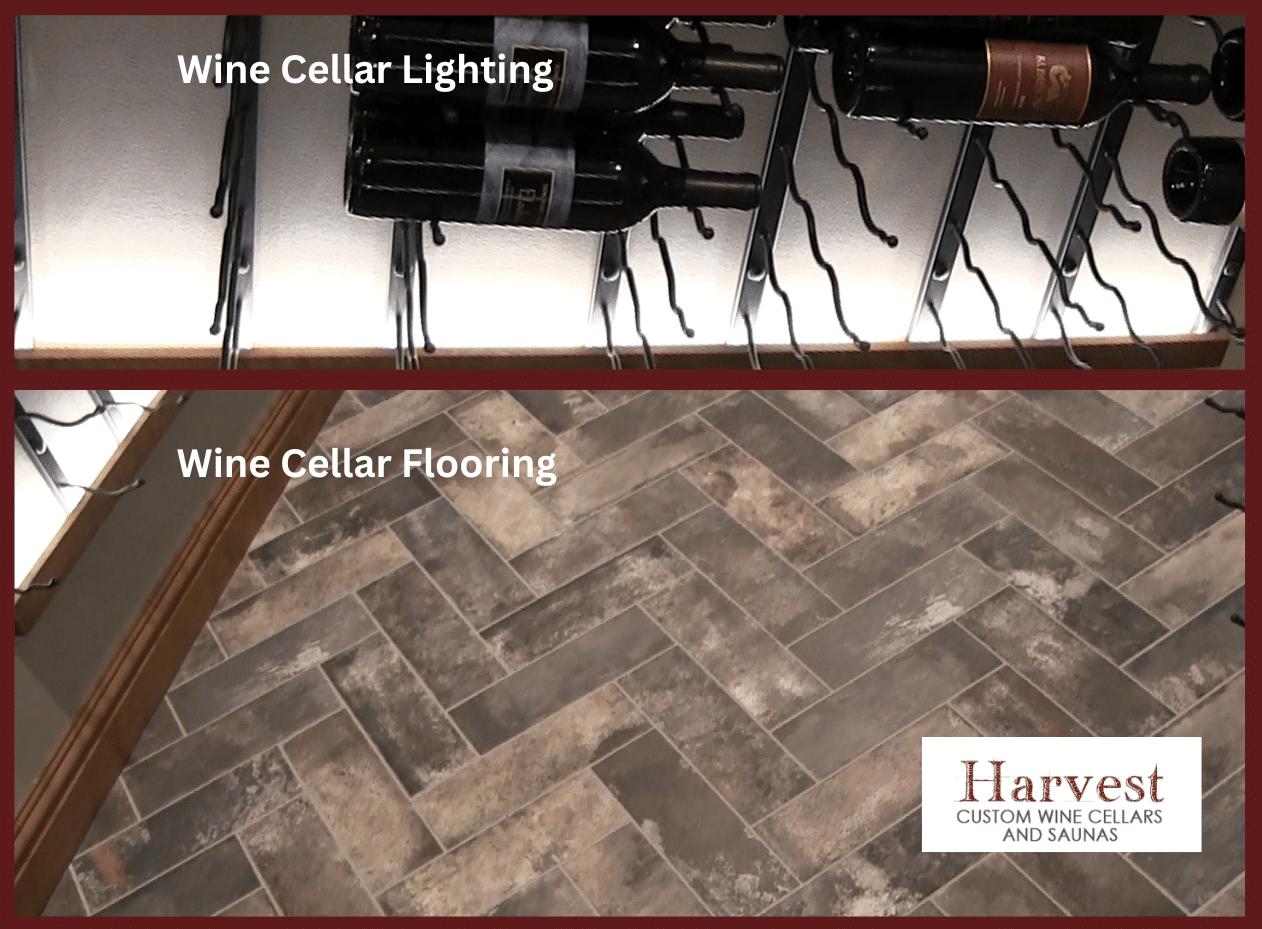 The Stylish Wine Cellar Flooring and Lighting: Elements Adding Values to the Modern Wine Cellars
The flooring was made of porcelain tiles. They have made diagonal alternate projections. A visual delight is provided by the metal wine racks on the side walls. The rustic appearance is completed by the wrought iron door and the wooden shelves at the middle. Wine cellar flooring in Virginia home wine cellars almost have the same approach.
Meanwhile, a gorgeous LED lighting system was installed along the display row of metal wine racks to provide dramatic illumination for the prized wines. There were also installed lights along the wooden wine racks highlighting the beauty of tabletops and arches.
Introducing the Perfect Cooling Unit for Your Wine Room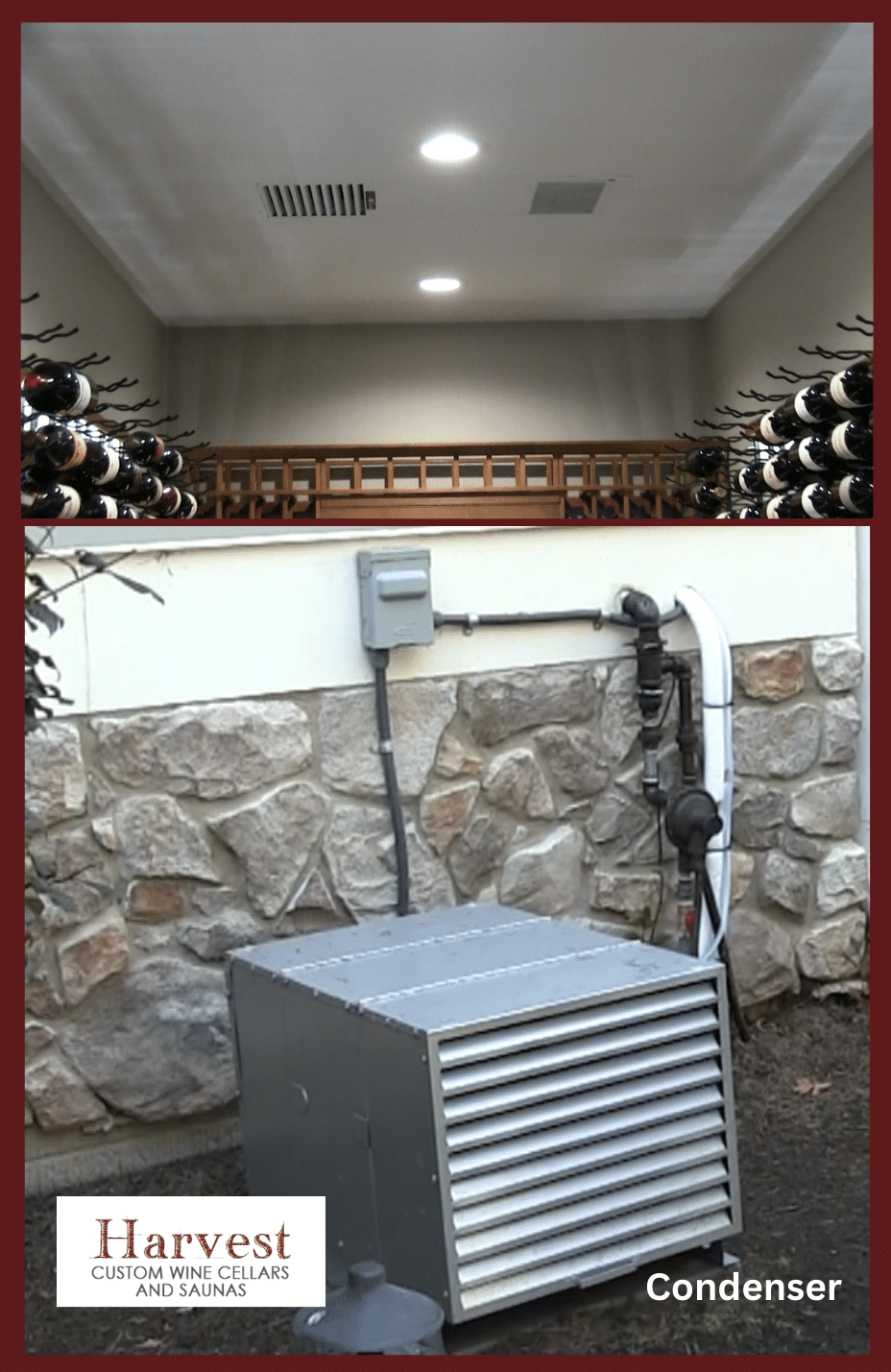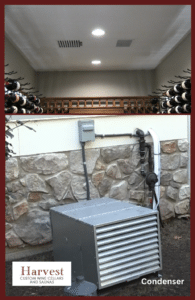 One challenge of installing the cooling system was choosing the right refrigeration system to maintain the cool temperature of wines. Our team collaborated with WhisperKOOL to create a customized cooling system that could fit within modern wine cellars.
Deciding what cooling system would work best in your wine cellar depends on the project specifications. For this wine room project, the expert HVAC technician in our team recommended WhisperKOOL Series 8000. This was the proper cooling unit to install because WhisperKOOL Series 8000 allows the cellar to hold a larger bottle count. It is a split type that made the evaporator and condensing unit separate from each other.
Overall, the WhisperKOOL cooling system installed for the wine is both practical and efficient. You can only see the evaporator in the wine cellar, while the condenser was located outside the house.
The system aids in improving the home wine cellar's insulation capacity. The contemporary wine room was centrally located in the house. It is not exposed to direct sunlight. So, we used the ductless ceiling mount cooling unit inside the ceiling to keep it hidden and for easy repair.
A Quick, Elegant Walk Around the Modern Wine Cellars and How It Was Built
A Quick, Elegant Walk Around the Modern Wine Cellars and How It Was Built
Consult Us at Harvest Custom Wine Cellars and Get Started with your Wine Cellar Project!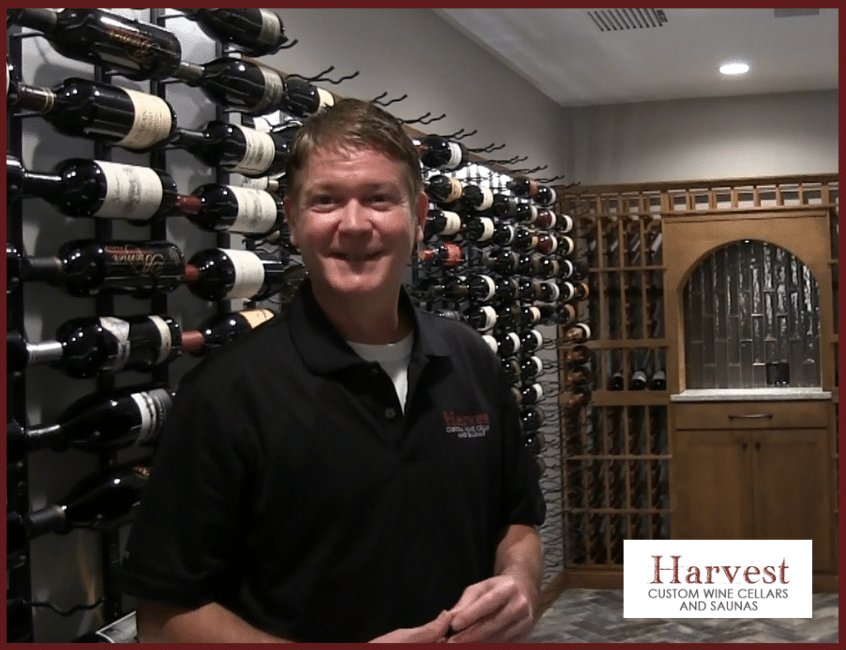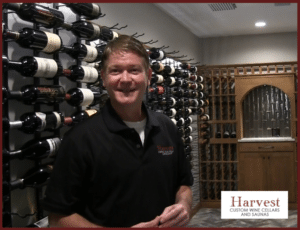 Since modern wine cellars have become more and more popular over the years, skilled wine cellar builders have been able to take ideas from their clients and turn them into breathtaking, practical pieces of art. Variations in wine cellar design that have never been conceivable before are now possible. Harvest Custom Wine Cellars and Saunas is an established contractor you can rely on for these kinds of projects.
Whether you are in Richmond, Virginia Beach, Williamsburg, Charlottesville, Fairfax, Louden County, or Washington, DC., we are here to help you achieve modern wine cellars in your residential space!
Call us at (804) 467-5816 or (443) 552-5084, or click here to connect with our wine cellar specialists today!