Wine Cellar Inspiration: Work with an Expert in Wine Cellar Design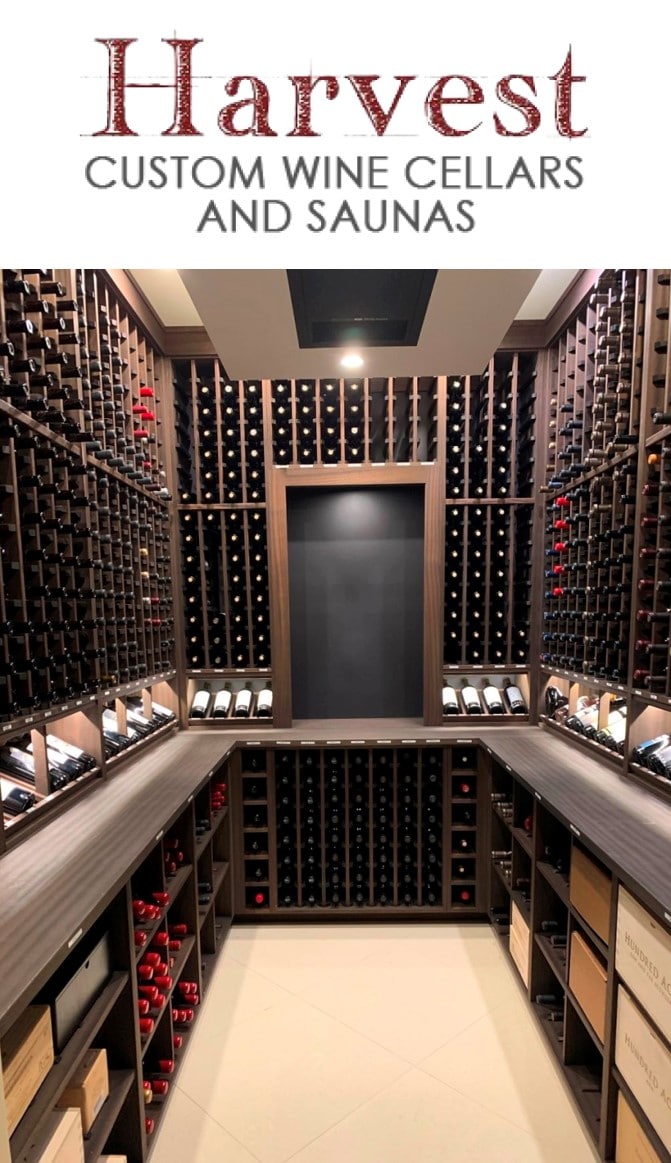 This article is an in-depth look at wine cellar design inspiration and how Harvest Wine Cellars and Saunas created this stunning custom wine cellar for a valued client. You can read more about how the wine cellar was designed and built here.

Harvest Custom Wine Cellars has years of experience helping homeowners design their dream wine cellars with form and function in mind. Designing wine rooms is not an overnight process. It requires time, effort, a thorough understanding of the client's requirements, and a well-thought-out plan to create the perfect layout for each project. In one of our projects, we our client in Maryland presented images as her wine cellar design inspiration. Find out how we helped bring her dream wine cellar into reality.  
How We Helped a Client Build Her Dream Wine Cellar Using Images for Design Inspiration
At Harvest Custom Wine Cellars, we make sure that all of our designers and builders are skilled, well trained, and have extensive knowledge in designing wine rooms. Our creativity and expertise helped us gain the trust of wine collectors and owners of wine business. If you are looking for a wine cellar design inspiration for your home or business, you are in the right place! 
Our team has created exceptional wine cellars using high-quality components. Every client has unique requirements. We have to follow the correct process to ensure that the design we create will bring any room to a higher level.   
For Harvest Custom Wine Cellars, there are two significant aspects that we consider when designing inspirational wine cellars. One of these is the aesthetic appeal. One of the desirable features of a home is a wine cellar built with stylish features. Your collection deserves to be displayed with visual appeal.   
Another factor that we consider when designing wine rooms is functionality. At Harvest Custom Wine Cellars, we understand the vital role of following the construction standards in ensuring that every wine storage facility we build can function efficiently. In one of our recent projects, a wine lover in Maryland sought our help for her project.  
The Client's Wine Cellar Design Inspiration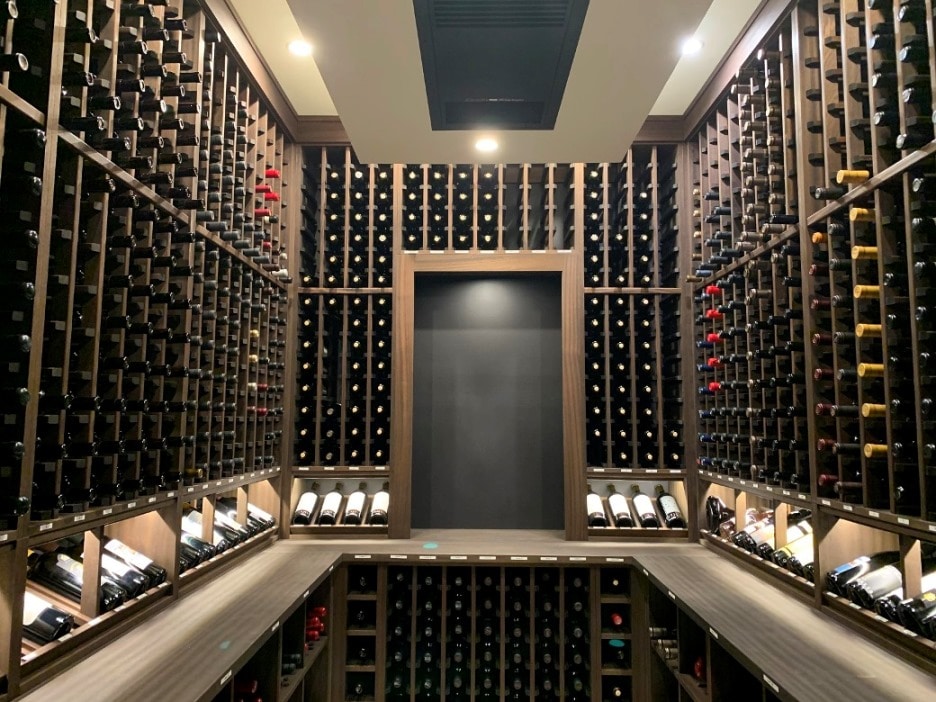 Originally, the homeowner wanted a traditional wine cellar. She showed us a photo of her design inspiration and what her wine room would look like if she goes with this style. However, the final design changed because she informed us that she wanted minimal features and clean lines in her wine room.  
She found another design inspiration photo of a transitional wine cellar that looked more minimalist. We used some of the features of that wine room to achieve the look that the client wanted for her home wine cellar. 
When designing wine racks, builders should consider the size of the space, the number of bottles their clients want to store, and their aesthetic needs and wants.  
In this project, the wine cellar design inspiration photo helped the architect of this project create the perfect layout of the wine racks. We worked closely with him to ensure that everything would be in place. The CAD drawing showed the completed wine cellar. After a thorough assessment, we made some changes, including the placement of the wine cooling unit.  
We had to utilize a room with a width of 7.7 feet and a depth of 9.25 feet. Originally, the wine cellar refrigeration system chosen by the architect was a self-contained unit, which would occupy racking space. We recommended a ceiling mount unit, which was a suitable option for this wine cellar. In the final design, the wine storage capacity of the racking was increased because we eliminated the use of racking space.  
Wine Cellar Racks on the Sidewalls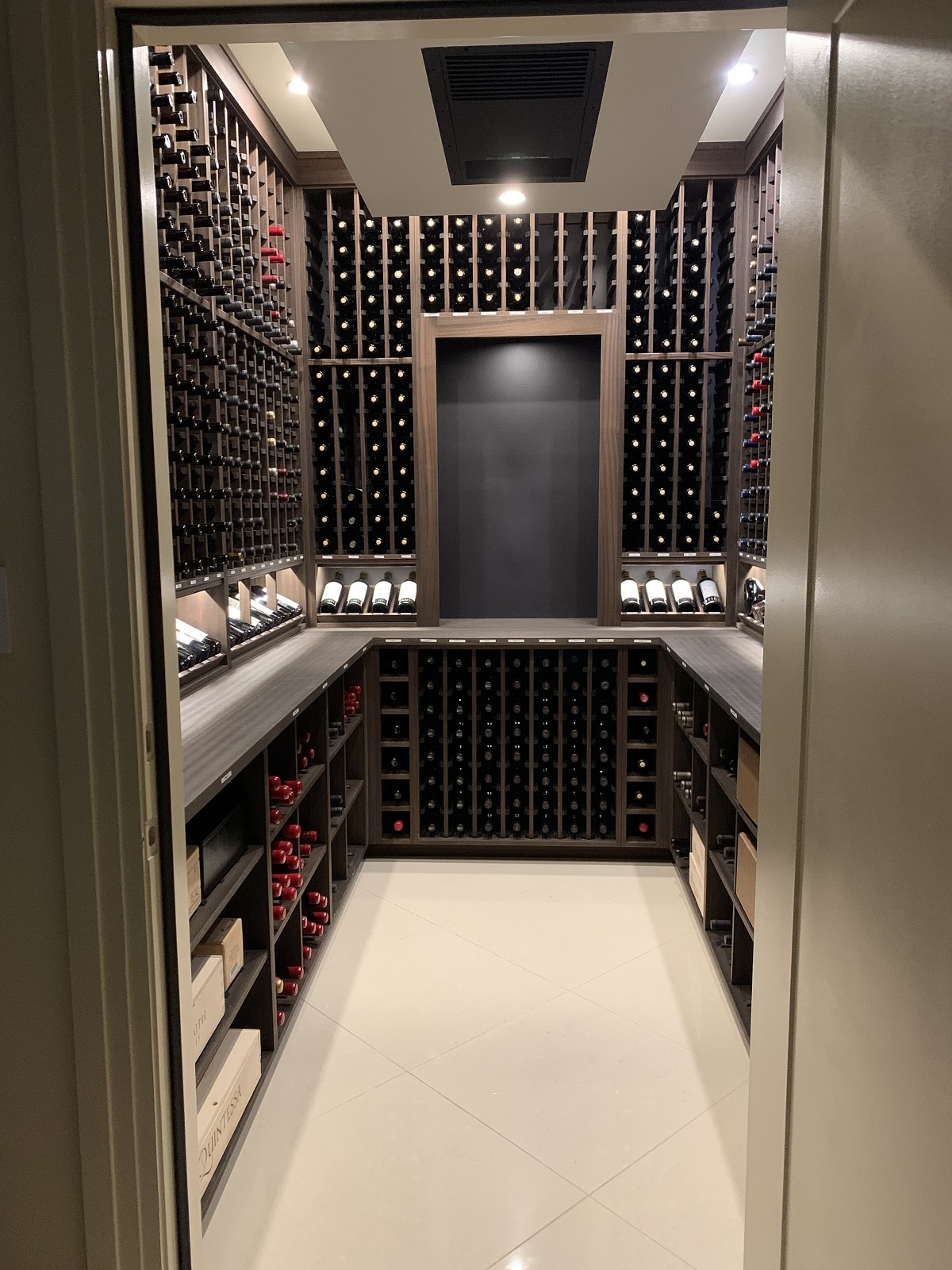 The wine racks at the bottom section of this beautiful wine cellar are double deep. The client requested to include rectangular bins in her wine cellar design, as seen in the inspiration photo she presented to us. We installed twelve bins on the sidewalls. The client uses some of these as rectangular bins as rectangular bins where the bottles are stored with the cap facing out. Other bins are used for storing the wood cases.  
Each wall consists of a tabletop to allow for decanting and serving wines. The client can also display some of her bottles vertically on the tabletop. 
You will find display rows above the tabletop installed on the sidewalls. Each display row is divided into sections to make the inventory system easier, allowing the owner to monitor and organize her beautiful collection conveniently. Depending on her preference, she can store the bottles according to region or variety.  
The display rows are intended to pitch the bottles at an angle to keep the cork in contact with the wine. We wanted to highlight the bottles so we added an LED rope lighting system above the display rows. The top section consists of individual wine storage racks that store the bottles at a neck-forward orientation.  
Wine Racks on the Back Wall
The back wall is the focal point of this transitional wine cellar we built in Maryland. The square opening with a tabletop is included in the design. We placed it at the top section of this wall. It is surrounded by single bottle storage racks, and below it are openings for large format bottles such as magnums.   
Other Features of a Wine Cellar Racks Designed Using an Inspiration Photo
The client chose a flat crown molding instead of 3-5-inch molding to achieve a more contemporary look. The material for the racking has a significant impact on the overall appeal of a wine room. In this project, we used Sapele Mahogany, a type of wood known for its superior strength, beautiful grain patterns, and high resistance to high humid conditions like in refrigerated wine cellars. For a richer look, we applied Espresso stain and Satin finish.  
Wine Cellar Refrigeration System
In the final design, the wine cooling system chosen by the architect was a wall-mount unit intended to be installed within the racking. We changed it into a ceiling mount unit, considering the size and location of the wine room. 
Tim of Harvest Custom Wine Cellars is a cooling representative of Wine Guardian, WhisperKOOL, and other major wine cellar cooling system manufacturers. He performed a heat load calculation for the proper sizing of the wine cooling unit. This method is crucial because it helps determine the correct size of the equipment suitable to a particular wine cellar.  
After determining the BTUs required of the wine cooling unit installation, we decided to utilize one of WhisperKOOL's ceiling mount units — the CM8000 model. We mounted the unit to the ceiling. This type of wine refrigeration system saved about 30 bottles.    
Start Building Your Dream Wine Cellar with a Design Inspiration Photo
Build your dream wine cellar with Harvest Custom Wine Cellars. Like the owner in this project we completed in Maryland, you can choose your design inspiration photo from the web or magazines. If you have any questions, please talk to our specialists today at 804-467-5816.