Traditional Home Wine Rooms: A Design with an Intelligent Combination of Wood and Glass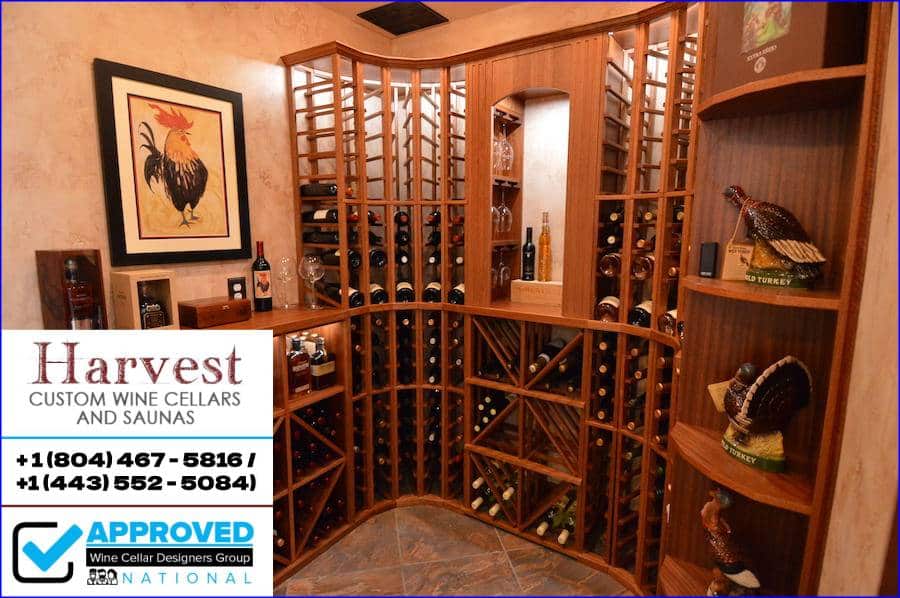 Experience exquisite wine cellar design with custom-made home wine rooms of exceptional quality. For this particular project, we have crafted a stunning conventional wine cellar that exudes elegance and luxury. Featuring a generously sized storage area and a flexible wine racking system, your precious bottles are secure and stylishly displayed. The wooden components look great and offer top-notch insulation that guarantees steady humidity and temperature levels. 
Moreover, the wine room boasts glass display shelves and one repurposed wine barrel, perfect for flaunting exceptional wine collections. These cozy and refined home wine cellar ideas showcase an unwavering attention to detail, while maintaining a timeless appeal. 
Learn more about this wine cellar and see how we can create the perfect one that reflects your style and enhances your wine-drinking experience! 
Create Home Wine Rooms with a Captivating Design Like This!
In this home, guests will be instantly captivated by the alluring wooden door polished in pristine white as they approach the wine cellar. Its elegant appearance is a perfect match for the off-white walls, impeccably blending in with the house's overall aesthetic. Beyond being just an entryway, this wine cellar door sets the mood for the whole experience. Its mindful design squarely reflects the homeowner's refined taste, admiration for traditional style, and regard to detail.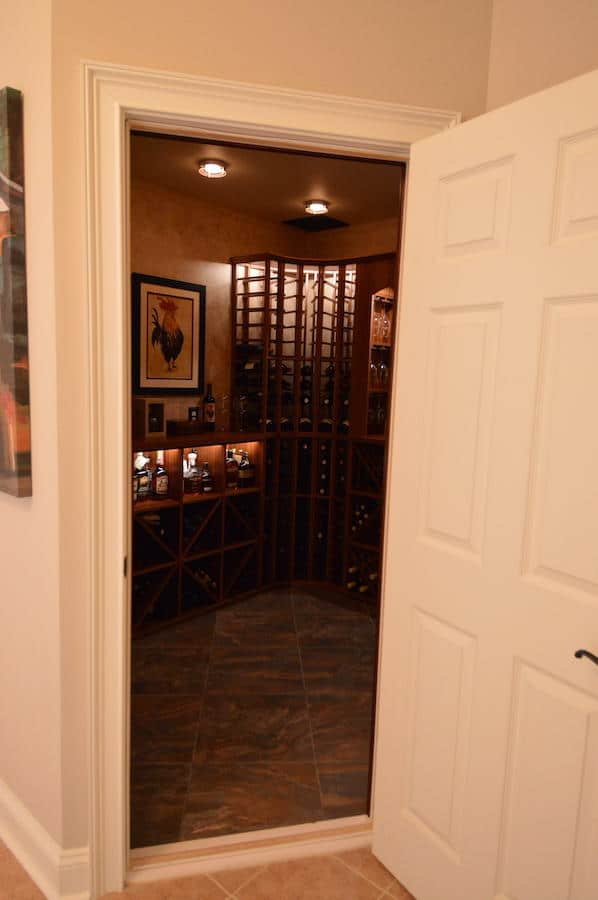 As you make your way through to the wine cellar, you'll be greeted by a warm, inviting glow emanating from the lighting situated above the doorway. This creates an ambiance of comfort and hospitality that makes one eager to explore the space. Stepping inside, you'll be immediately drawn to the vintage-themed home wine cellar floor that harmonizes effortlessly with the wooden wine racks and cozy LED lighting. Together, these design elements create an exquisite synergy that accentuates the wine cellar's traditional character, providing a truly captivating experience for anyone who sets foot inside. 
Turning Wine Barrels into a Stylish and Functional Decanting and Serving Solution
On the right side of the residential custom wine cellar, a stunning column of wine display racks awaits to showcase your wine bottles in a vertical position, while also providing ample space to store wine glasses, porcelain figures, wine creates, and other cherished items. Moving to the left, you'll find a brilliant repurposing of a wooden wine barrel placed vertically, cleverly serving as one of the decanting tables. Yes, there is more than one decanting space! 
This innovative idea of a used wine barrel adds character to this home wine room's classic design and offers a supplementary surface for pouring your favorite wines. Above the used wine barrel, we installed triple rows of glass shelves which could feature this owner's rare collection and displays. 
The glass display shelves create an open and airy feel, allowing light to easily scatter, ensuring each item is clearly noticeable and gracefully presented. Each detail had been thoughtfully considered in this vintage wine cellar design, resulting in a truly exceptional space to showcase this owner's most prized wine possessions. 
Wooden Wine Racking with a Naturally Flowing, Seamless Design
The wooden wine room's racking plan provides several benefits for the client. The wooden shelving is incredibly versatile, with a variety of options to accommodate any type of wine bottle. The wine racks also offer generous storage space, providing you with a place to store a considerable number of wine bottles in one convenient location. The arch counter in the central wine racking system adds to its functionality by presenting another dedicated area to pour out the drinks. 
The wine racking system exudes elegance as it flows seamlessly from the curved corner of the central wine rack to the left-side wall. This creates a beautifully rustic design that unites different sections of this home wine room. The left wall wine rack is exceptionally designed with its own wider decanting table, featuring a spacious countertop that surpasses the first one located at the center.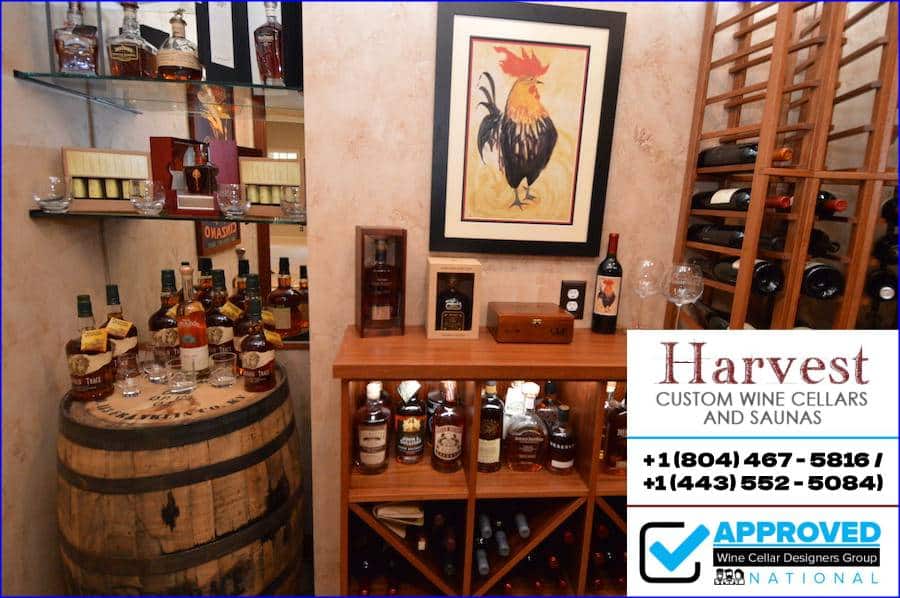 With a combination of horizontal and diagonal shelves, the left portion of the wine rack system offers sufficient storage space for bottles of all sizes. These shelves are expertly made from premium-quality wood, ensuring durability and strength to support even the heaviest of wine bottles. Additionally, the wine racks include a roomy tabletop, providing a comfortable area for the owner to decant his favorite wines. Again, that's one of three decanting tables in a relatively small wine cellar! 
When it comes to vintage home wine cellar designs, rest assured that your collection is w the best hands with these exceptional features. 
Uniquely Designed Wine Cellars: Combining Traditional X-Bins and Versatile Wooden Wine Rack Shelves
At the heart of the wine cellar stands the magnificent central wooden wine racking system, exuding an air of elegance and grandeur that captivates the senses. Meticulously crafted from high-quality wood, the wine racking system features a classic design that emanates sophistication and charm. 
The central wine racks are designed with a series of spacious horizontal shelves that can accommodate wine bottles of varying sizes, providing ample storage space for even the most extensive collections. Moreover, the arch-shaped countertop serves as a functional centerpiece, featuring two sides where wine glasses can be held upside down for easy access to the wine bottles during decanting.  
The wine cellar racking system is a wine collector's dream, with features that are both practical and visually stunning. The sturdy wooden shelves are designed to keep wine bottles secure and in place, reducing the risk of any accidental spills or breakages. What's more, the racking system features robust wooden panels that improve insulation, ensuring that the temperature and humidity levels in the wine cellar remain consistent.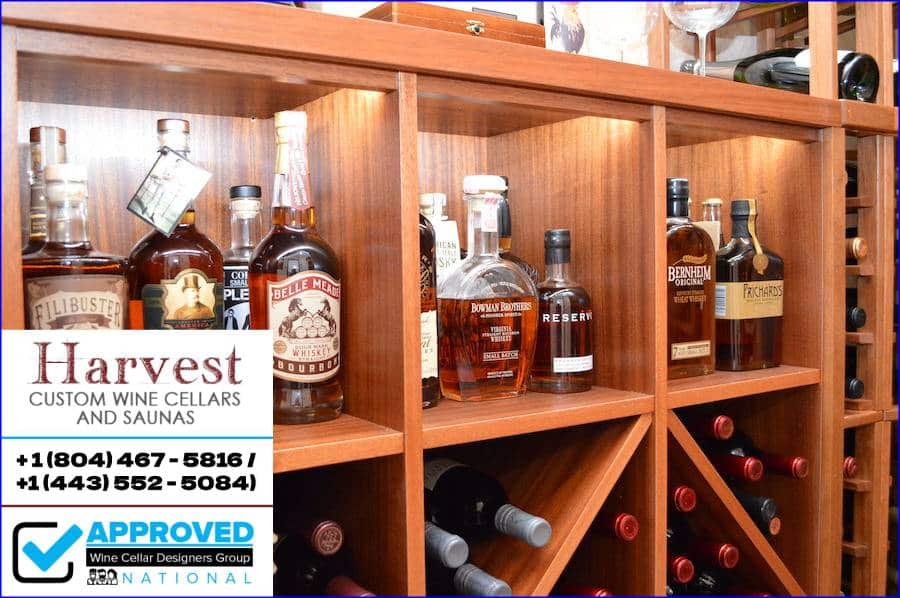 An exciting feature of this home wine cellar is the inclusion of wooden x-bin wine racks, which offer a unique and distinctive look. The three rows of wooden bins can each hold up to three bottles of wine, providing ample storage space while optimizing the use of the available area. The X-shaped design of the bins ensures that the wine bottles remain in a horizontal position, keeping the corks moist and preventing them from drying out. The x-bins also add to the wine cellar's aesthetic appeal, creating a beautiful and eye-catching display of the wine collection. 
Tailored Wine Cellar Solutions with Harvest Wine Cellars and Saunas
With an unwavering commitment to quality and customer satisfaction, Harvest Wine Cellars and Saunas is a premier wine cellar design company specializing in creating custom solutions tailored to your unique tastes and requirements. Our team of experts works closely with clients like you to understand your specific needs, preferences, and goals, ensuring that every detail of your vision is brought to life.  
Communication and transparency are at the forefront of our process, and we maintain open lines of communication to ensure that you are involved every step of the way. To learn more about how we can bring your dream home wine rooms to life, contact us today at +1 (804) 467 – 5816 (Richmond) or +1 (443) 552 – 5084 (Baltimore).