Luxurious Home Wine Cellars designed by Experts in Washington, DC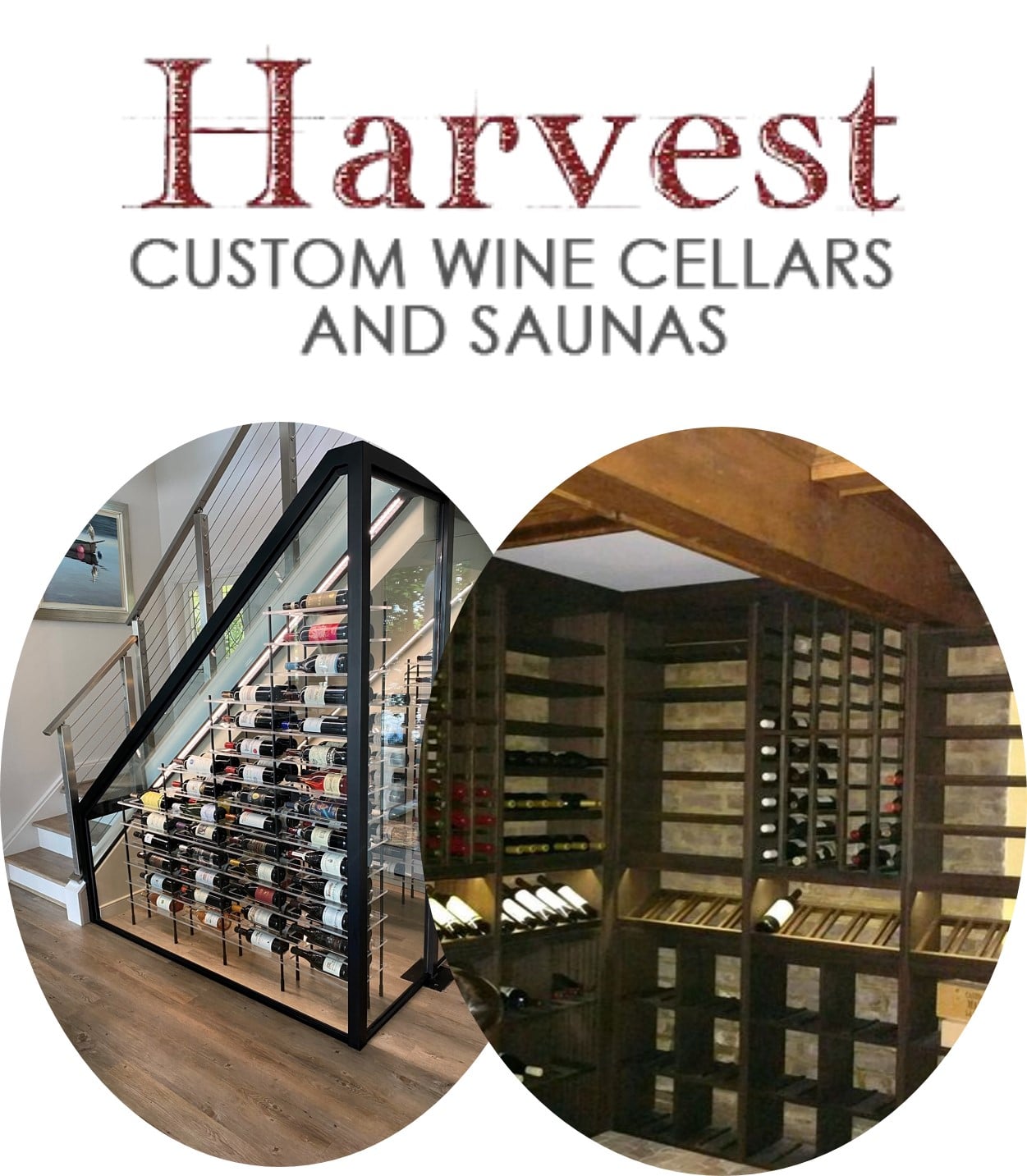 Harvest Custom Wine Cellars is an expert builder in Washington, D.C. We are known for designing and building home wine cellars with stylish features. We work with professional builders, architects, and contractors to create luxurious-looking wine rooms without breaking the bank. If you need inspiration for your next project, please check out some of our completed wine rooms. 
Building Budget-Savvy Home Wine Cellars with Luxurious Features  
Interior designs with luxurious features are increasing in popularity. A well-designed wine storage display will enhance the aesthetic and resale value of your property. 
At Harvest Custom Wine Cellars, we build exceptional home wine cellars based on the client's budget. As one of the professional builders in the Washington D.C. area, including Bethesda, McLean, and more. We always ensure that our customers are happy with their wine cellar. There are many ways to build elegant wine rooms without having to break the bank.  
Installing Stylish Kit Wine Racks 
At Harvest Custom Wine Cellars, we offer economical wine storage solutions to budget-savvy wine collectors. We design elegant wine racks to create luxurious wine displays. Our kit wine racks are ready-made wine storage units available in various styles and sizes. You may combine them with custom racking to achieve the look that you want.  
Our kit wine racks are stackable, making it easier for the owner to expand without having to modifying the whole racking. These wine racks include:  
Waterfall display racks

 

Individual wine racks 

 

Diamond bins

 

Quarter-round display racks 

 

Arch with tabletop 

 

Rectangular bins

 
Utilizing an Unused Space in Your Home
You do not need a large room to build a functional wine cellar for your collection. We have built home wine cellars in a basement, unused closet, under the stairs, and garage. Since the basement has a colder temperature compared to other areas in your home, it is conducive to wine storage. You will need a smaller size wine cooling unit.   
Do you have a closet that you do not use? Why not convert it into a residential wine cellar? We have transformed small closets into eye-catching wine rooms. Other spaces ideal for building home wine cellars are under the stairs and garage. We recommend metal wine racks for small and narrow spaces.  
Budget-Savvy Home Wine Cellars with Stylish Features Built by Harvest Custom Wine Cellars  
With many years of experience in the wine cellar construction industry, we have created different styles of wine storage facilities. Learn more about the features of these home wine cellars.    
Home Wine Cellar with a Wine Storage System Designed for Wine and Whiskey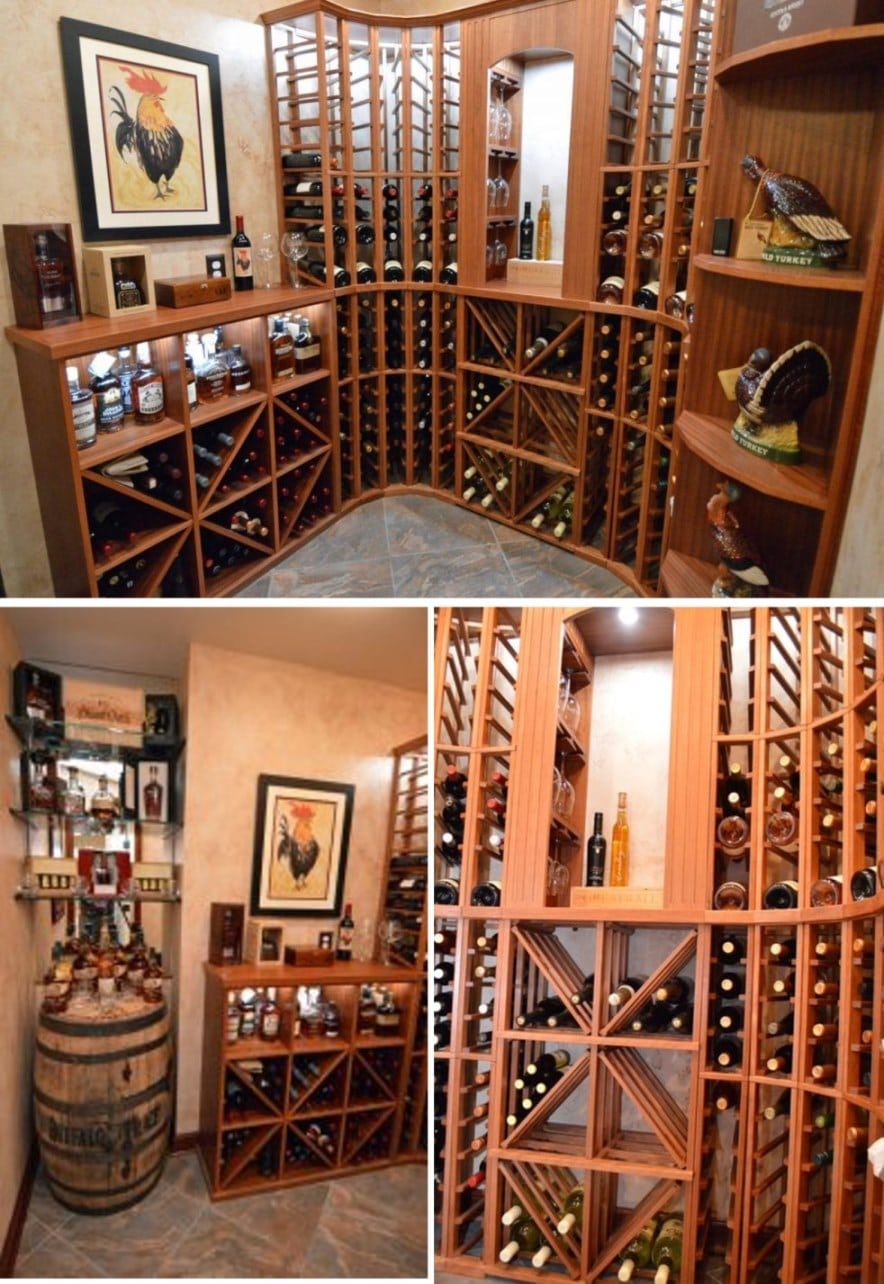 As an experienced builder of home wine cellars in Washington D.C., we enjoy finding creative solutions to the challenges we encounter on every project. We are happy to be part of this project, where the owner wanted a custom wine cellar for his wine and whiskey collection.  
We created a wine rack system to accommodate these bottles. We included a curved-corner wine rack kit with bottle openings for individual storage intended for standard bottles. At the bottom section, you will find diamond bins for storing wines in bulk. We also added a quarter-round display for the end racking on the right wall. It can be used for displaying wine accessories, ornaments, or wine bottles.  
For the client's whiskey collection, we incorporated rectangular storage shelves on the left wall. We installed a lighting system above this section to highlight his bourbons.  
The focal point of this home wine cellar is the custom arch with stemware storage on both sides. A tabletop runs in the middle of the racking to provide space for decanting and serving wines.  
Click here to see the full details of this home wine room project!
A Custom Wine Cellar for a Home in Richmond, Virginia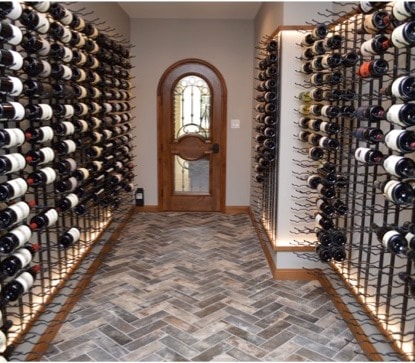 We have completed many home wine cellars in Virginia, but this one in Richmond is unique because of its features. In this project, the owners found an inspiration photo from the web. We used the image for creating 3-dimensional drawings. He made a few changes to our proposed design layout, and when it was finalized, we started the construction process. We combined metal and wood to create a transitional wine cellar.        
We installed triple deep metal wine racks from VintageView on the left and right walls. With a label-forward orientation, it would be easier to view the labels. There is no need to flip the bottle to see the wine description.  
On the back wall, we installed the wood components, consisting of a classic arched wine rack. It was supplied by Genuwine Cellars. The arch comes with a tabletop and is surrounded by individual wine racks. We also included display rows that pitch the bottles at an angle. The wooden wine racks are made from Cambara Mahogany, a type of wood known for its natural tones, high durability, and high resistance to humid conditions.   
To add more visual impact to this wine cellar, the client decided to add a display and storage table made from a reclaimed wine barrel, which he bought from a beach house.   
The flooring we used in this residential wine cellar is made of herringbone-style tiles. The zigzag pattern looks perfect with wood and metal elements.   
Own One of the Most Elegant Home Wine Cellars in Washington, D.C.
Harvest Custom Wine Cellars is composed of knowledgeable, experienced, and creative builders of home wine cellars. If you are planning to convert a space into a functional and stylish wine room, we have economical wine storage solutions for budget-savvy wine collectors.  
You may talk to our specialist at (804) 467-5816!