Walkthrough and Tour of a Rustic Virginia Home Wine Cellar
Custom-designed wine cellars take wine storage to a whole new level. Instead of the boring modular kits, custom wine cellar allow flexibility in design. With Harvest Custom Wine Cellars and Saunas, wine enthusiasts can run wild with their imagination and our team of expert builders can construct the wine room of their dreams. We recently took a tour in one of our team's proudest projects: a rustic home wine cellar in Virginia! 
Custom-Designed Wine Cellars – Breathing New Life to Wine Storage
A wine collector in Virginia recently hired Harvest Custom Wine Cellars and Saunas to design and build a rustic wine storage space in his new home. In his previous house, he had a wine cellar, but it was built with only homemade kit racking. When he moved to his new house, he wanted to have a wine room that had better design, and that's why he hired our team to create a custom wine cellar for him base on his storage needs and requirements.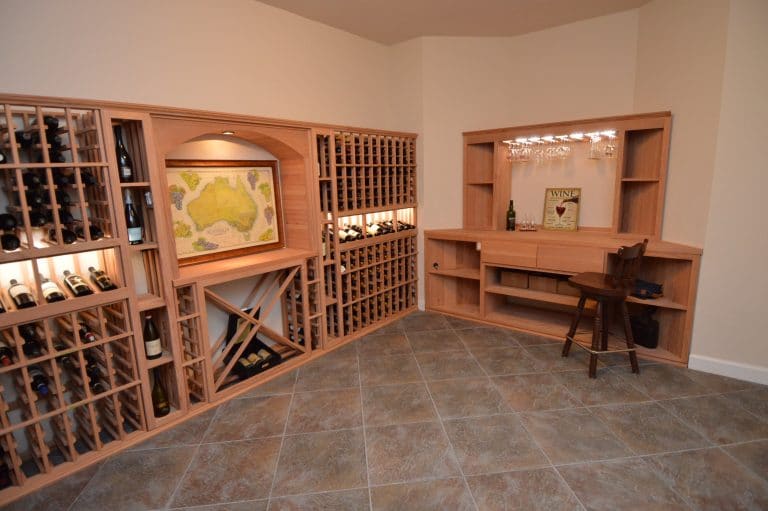 Rustic Home Wine Cellar Tour – Walkthrough This Beautiful Wine Storage Room in Virginia
It is the standard operating procedure of our master builders to gather the dimensions of the room where the wine cellar will be built. Then, our design specialists prepared concept drawings for the client's approval. We also provided a range of options of construction materials, so that the client could choose racks that fit his style preference and budget. As soon as the client approved the design and materials to use, we began the construction. This majestic rustic home cellar that our team built could house approximately 2000 wine bottles.
Walkthrough & Tour of Beautiful Virginia Home Wine Cellar | Harvest Wine Cellars & Saunas
Choice of Wood Species for this Rustic Residential Wine Cellar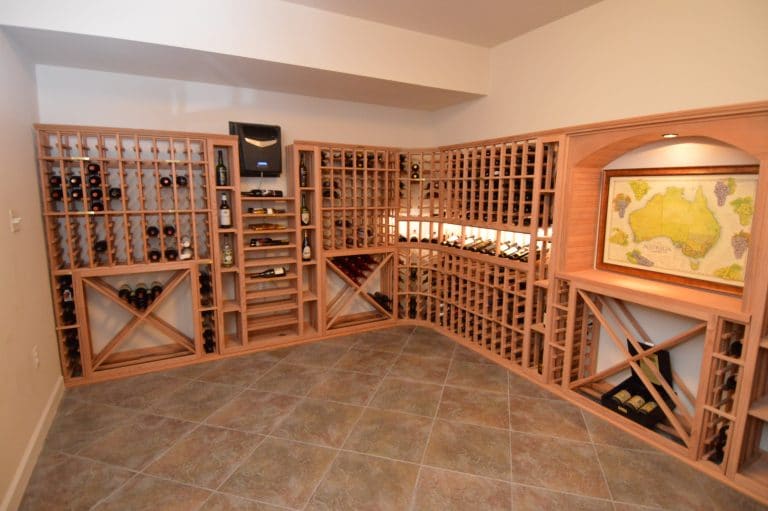 There are various types of wood species on the market for building wine racks. The kind of wood will affect not only the style of the storage facility, but also determine its durability and longevity. As for this Virginia home wine cellar, the client chose Redwood Heartwood, which is one of the strongest and most beautiful wood species for climate-controlled storage spaces. Redwood Heartwood is highly resistant to mold and mildew, and it can withstand moisture and humid temperatures. Some people would apply a lacquer finish on this type of wood to darken and make more vibrant its colors, but the client chose to keep it unfinished because he liked the natural texture and color of this wood species.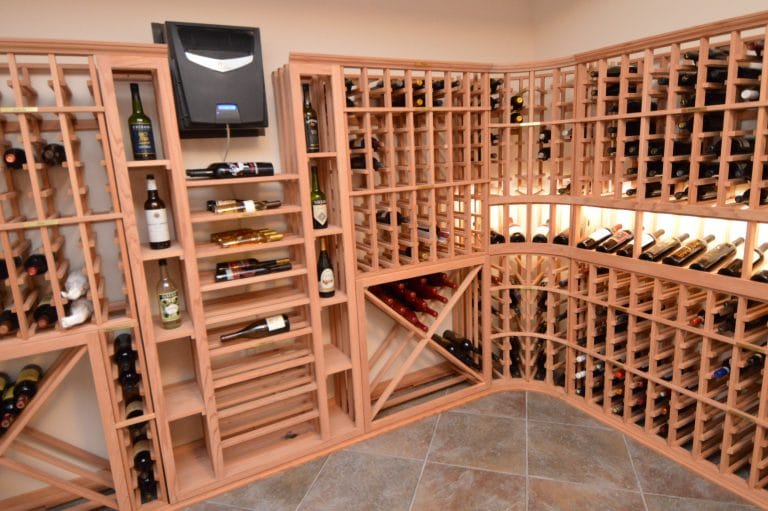 Rustic Home Wine Cellar Tour: Gorgeous Wine Tasting Area
The room where the rustic home wine cellar was built was very spacious, and to make efficient use of extra space, our team built a wine tasting area. We constructed an alcove where a desk was built to serve as a tasting table. Drawers were installed as well so that the client could store wine tasting accessories and notes in them. We added racks where the client could hang wine glasses. Display areas were installed around this alcove, so that the client could place his scotch collection in full view.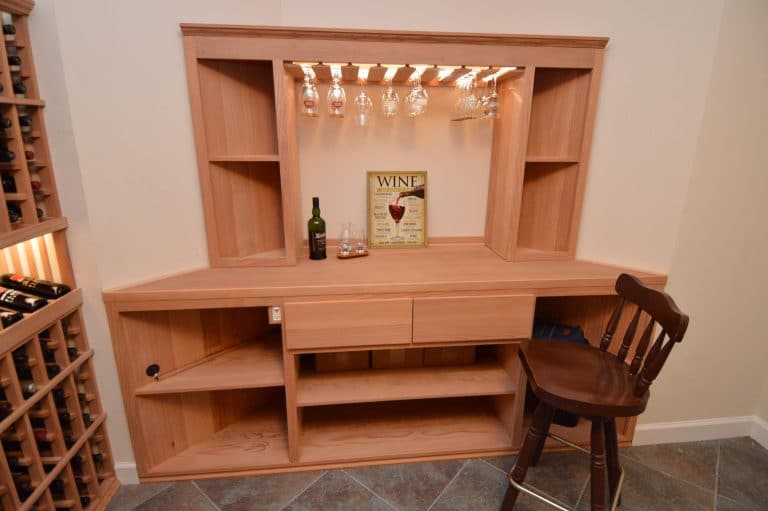 Unique Feature in this Rustic Home Cellar: Wine Rack Labels
Being a wine collector for many years, the client in this project was very particular in organizing his wine bottles. He wanted to make sure he knew where to find the right bottles for certain occasions. Consequently, he had custom-designed labels made, so that he could organize his collection according to region and wine type. The labels are made from brass and have an adhesive at the back, so that they can easily be installed on the wine racks.  
Refrigeration System Ideal for this Rustic Home Wine Cellar 
This rustic home wine cellar was approximately 1500 cubic feet in size. It needed to have a wine cellar refrigeration equipment that could meet its cooling requirements, considering the size of the area and the number of bottles inside. After evaluating the storage room and calculating its heat load, our HVAC specialist installed a through-the-wall cooling unit from Wine Guardian. The unit installed constantly keeps the room's temperature at about 57 to 58 degrees Fahrenheit and its relative humidity at 58%. The equipment exhausts hot air to an adjacent room.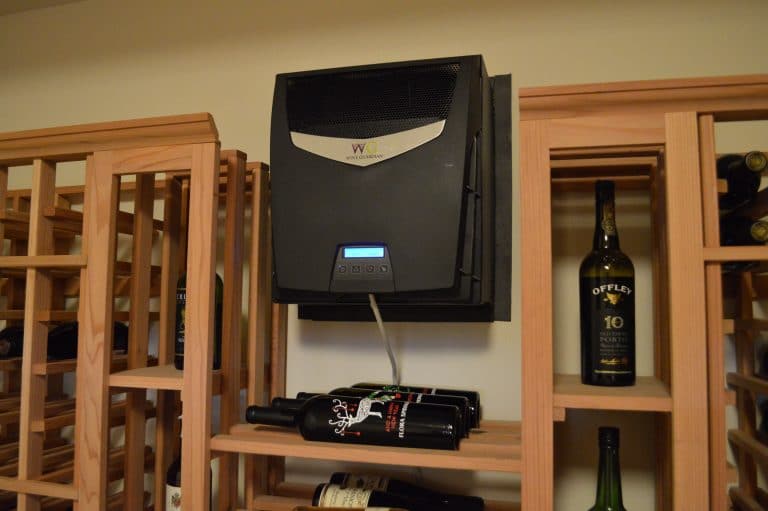 Gorgeous Flooring for this Rustic Residential Wine Cellar in Virginia
There is a variety of materials that can be used for wine cellar flooring, such as wood, stone, tiles, oak barrels, and mosaics. The ideal types of wine cellar flooring are those that could withstand the weight of the racks and the bottles. The material best for wine cellar flooring should also be resilient to highly humid conditions and resistant to mold and mildew. As for this home wine cellar in Virginia, the client opted to use slate tiles. He chose this specific kind of tiles because he wanted the floors to complement the rustic style of the entire wine storage structure.  
Harvest Custom Wine Cellars and Saunas – Trusted Builder of Climate Controlled Structures!
Do you plan to have a wine cellar built? Why not have it custom-designed to your personal style and needs? Harvest Custom Wine Cellars and Saunas is a team of wine storage experts that has over a decade of experience in building various climate-controlled storage structures for residences and businesses. We can create wine rooms of various styles, including rustic, modern, contemporary, and traditional. Our team proudly serves Richmond, VA, Baltimore, MD, Washington, DC, and all the surrounding areas. Reach out to us today and let's discuss your dream rustic home wine cellar. Call us in Richmond at (804) 467-5816 or in Baltimore at (443) 552-5084 in today!