A Contemporary Home Wine Cellar Tour & Walkthrough
Wine, unlike many beverages, requires specific storage conditions. If kept within the ideal temperature and humidity ranges, wines can flourish and develop wonderful flavors. If stored outside the ideal conditions, wines can age too quickly or too slowly and spoil. This is why wine collectors invest in the construction of a dependable climate-controlled storage structure for their liquid babies. Let's take a tour inside a beautiful home wine cellar with a contemporary design! 
A
Cellar Built by a Wine Specialist – A Safe Haven For Wines
A prudent wine collector knows that wines need to be stored in a temperature that ranges from 45 to 55 degrees Fahrenheit and a humidity of approximately 70%. This is why it's best to hire a wine storage specialist to build your wine cellar. Only a master builder that specializes in wine storage should construct your wine cellar because you need an expert who knows how to meet the specific storage needs of your most prized collection.  
A Contemporary Home Wine Cellar Tour & Walkthrough | Harvest Wine Cellars and Saunas
Contemporary Home Wine Cellar Tour & Walkthrough
We recently worked with a client who has spent a decade of being an avid collector of vinos from California, Oregon, and various wine regions in the United States. He hired our team trusting that our experts are well-experienced and widely knowledgeable about the proper storage of wine. Harvest Custom Wine Cellars and Saunas is a reputable specialist in constructing dependable home wine cellars in Richmond, VA, Baltimore, MD, Washington, DC, and surrounding areas.  
Contemporary
Home Wine Cellar Tour – A Fusion of Wood and Metal Features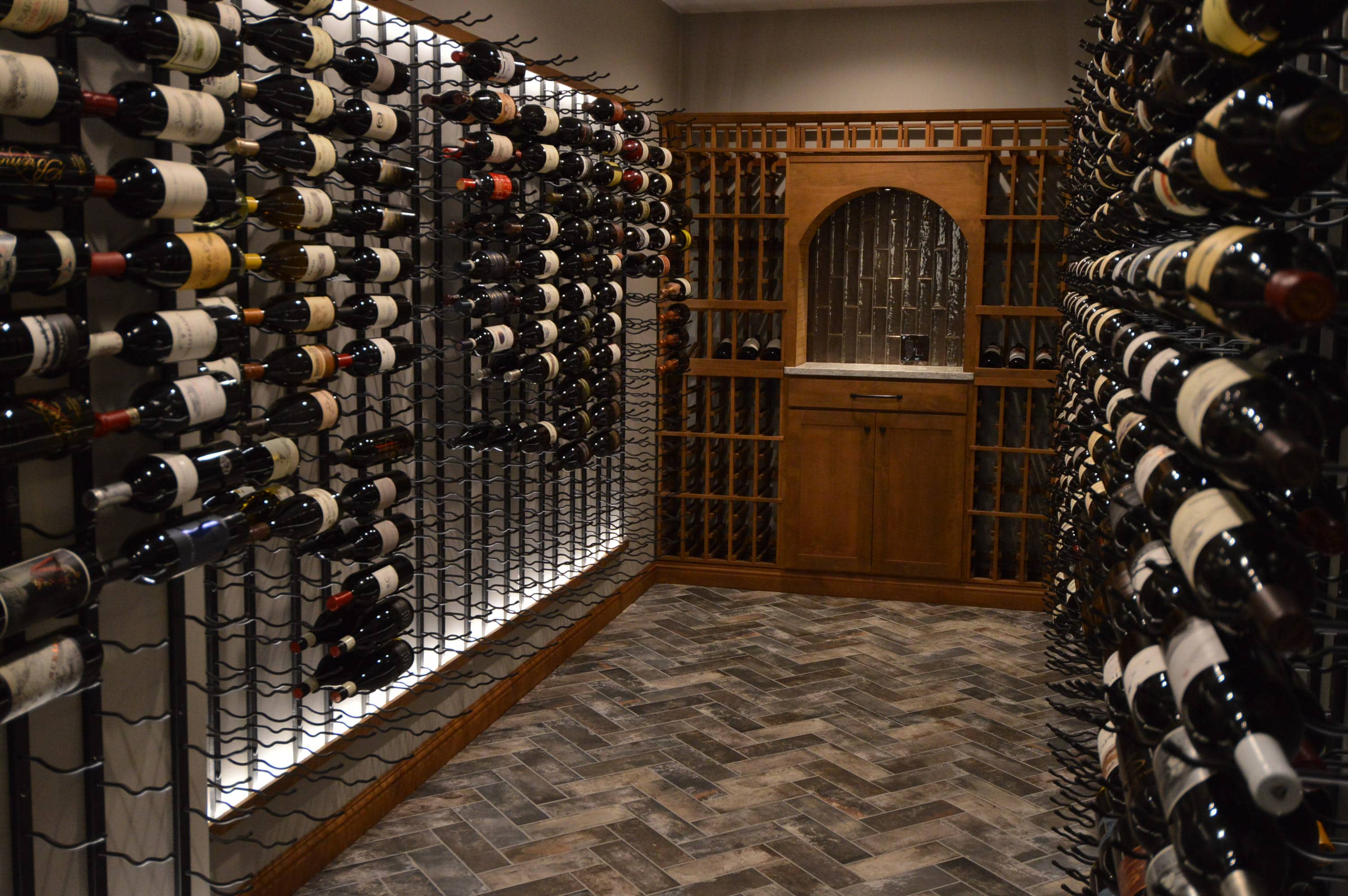 When we design custom wine cellars, we make sure we understand the client's vision of their dream wine storage facility. Some clients want a traditional and rustic appeal, while others want a more modern appearance. The client in this home wine cellar construction project had a contemporary design in mind. To achieve the client's vision, our team combined wooden storages with metal racking in his wine room, in order to create a truly modern and contemporary look.  
1. Elegant Metal Wine Racks Installed on the Left and Right Cellar Walls
The client chose to have our team install metal wine racks of the left and right walls of his contemporary home wine cellars. Besides the modern appeal of steel racking, they also provide convenience because of their label-forward design. Bottles are laid on the metal racks with their labels visible, which makes it easier to find bottles in one glance. This helps the client organize the bottles easily and find them quickly when they are ready to be opened.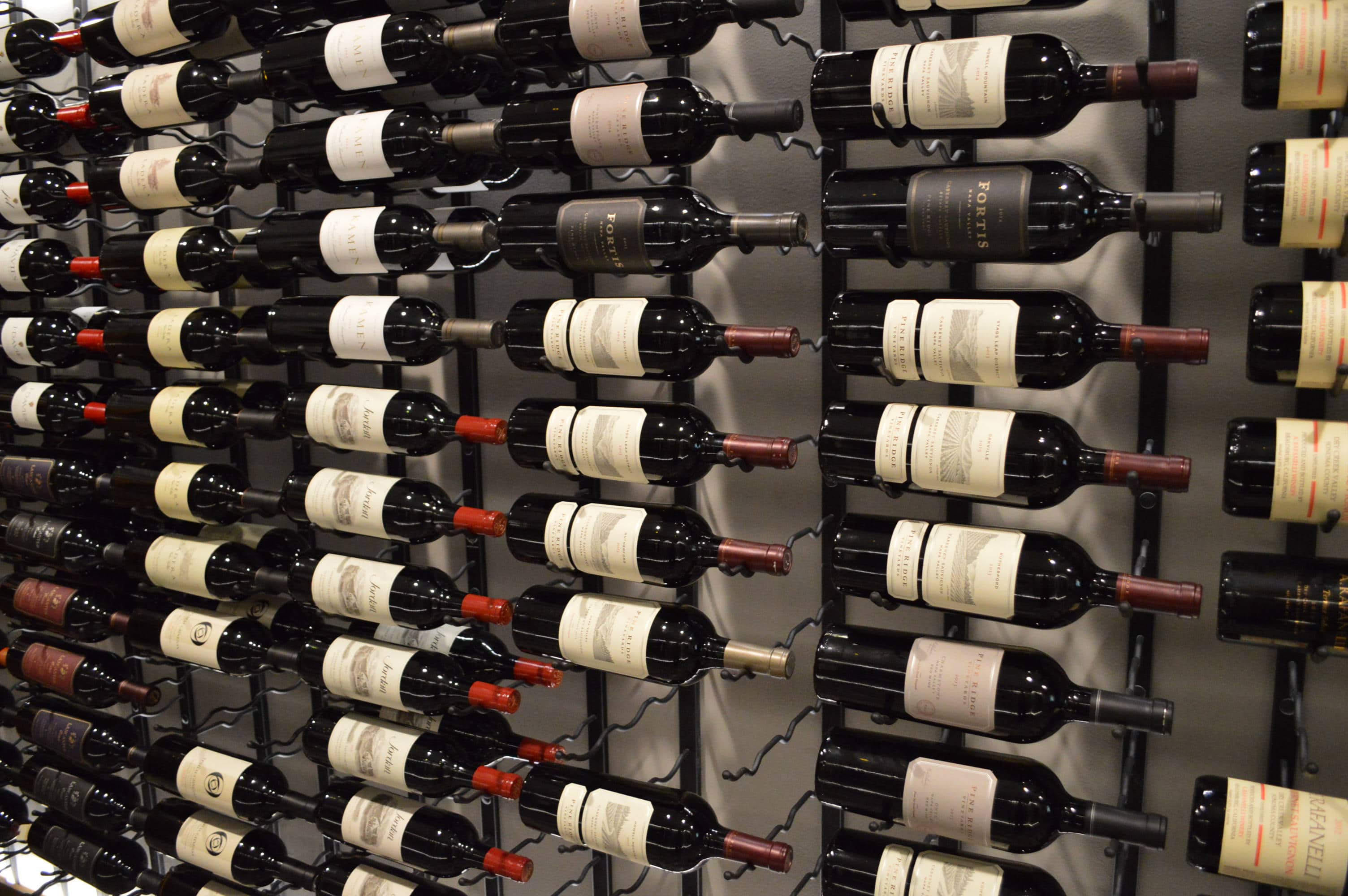 2. Tasting Table and Wooden Display Racks at the
Back Wine
Cellar Wall
A gorgeous wine tasting table was set on the back wall of this contemporary wine cellar. On top of this tasting table was a beautiful wood arch, while beneath it we installed a drawer and a cabinet for storing wine tasting accessories, such as napkins, cork openers, etc. On the sides of this tasting table were standard-sized wooden racks to accommodate more wines, while below them were storage for large-format bottles.  
Stunning
Ambiance Using LED Lighting Fixtures in this Contemporary Home Wine Cellar
We only used LED lights for all the lighting fixtures installed in this contemporary home wine cellar. LED lights are the best type of lighting systems to use in climate-controlled structures because they do not emit too much heat. Fluorescent bulbs emit large amounts of heat and could alter the temperature and humidity inside the cellar. Constantly fluctuating temperature and humidity levels could spoil wines.  
We also installed a dimmer switch for all the lights in this residential wine cellar, so that the client can control the brightness inside the storage room.  
Beautiful
Wine Cellar Flooring Installed
The ideal flooring for a wine cellar is one that can withstand the weight of the racks and the bottles, is highly resistant to mold and mildew formation, and has high aesthetic value. In this contemporary residential custom wine cellar, our client chose to have tiles installed. The tiles were configured in such a way that they complemented the contemporary design of the wine room.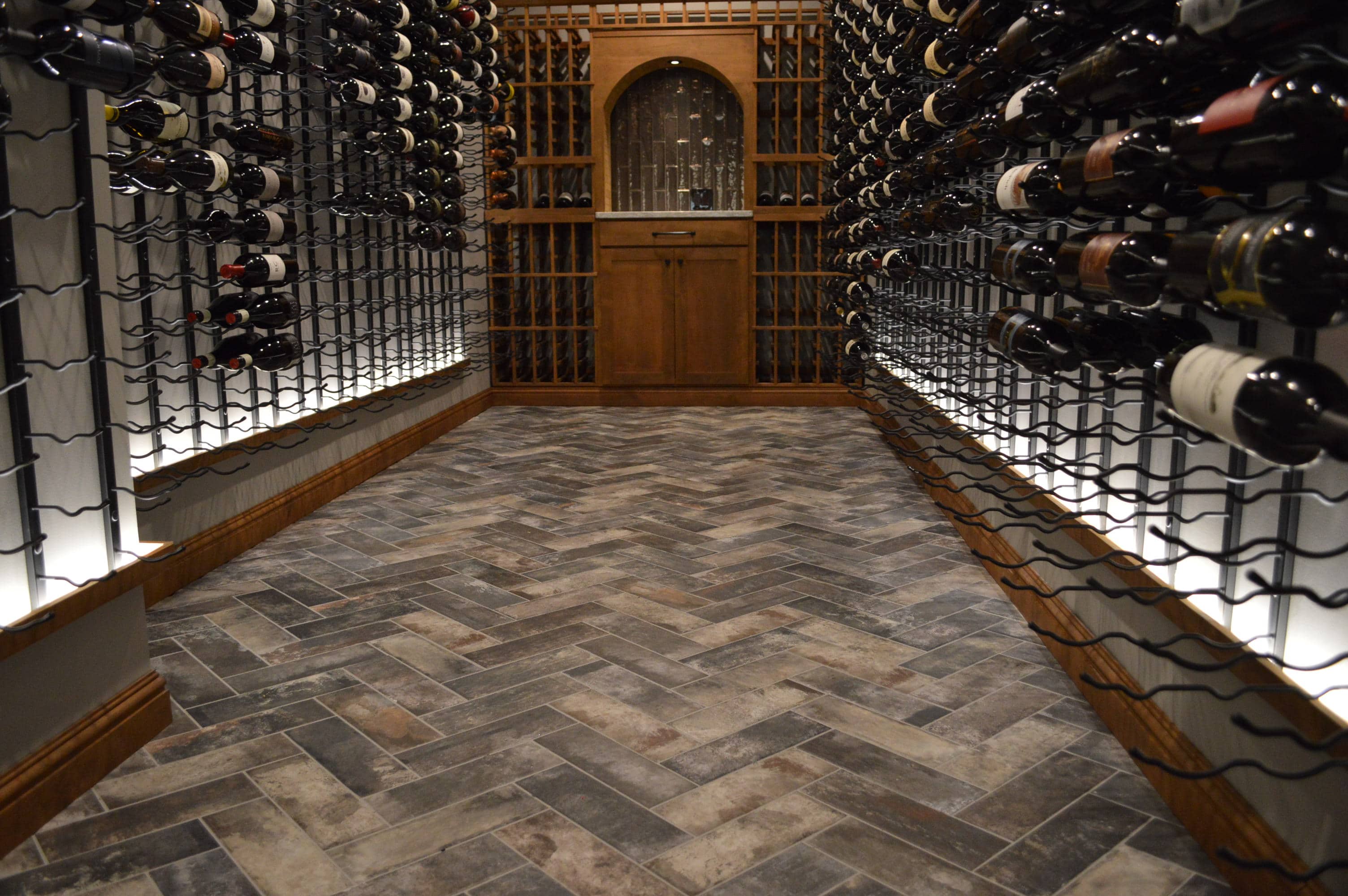 Robust
Contemporary Home Wine Cellar Door
A dependable wine cellar door is one that can tightly seal the storage room. This is because the temperature and humidity inside the wine cellar must be kept consistently in the ideal ranges with minimal to no fluctuations.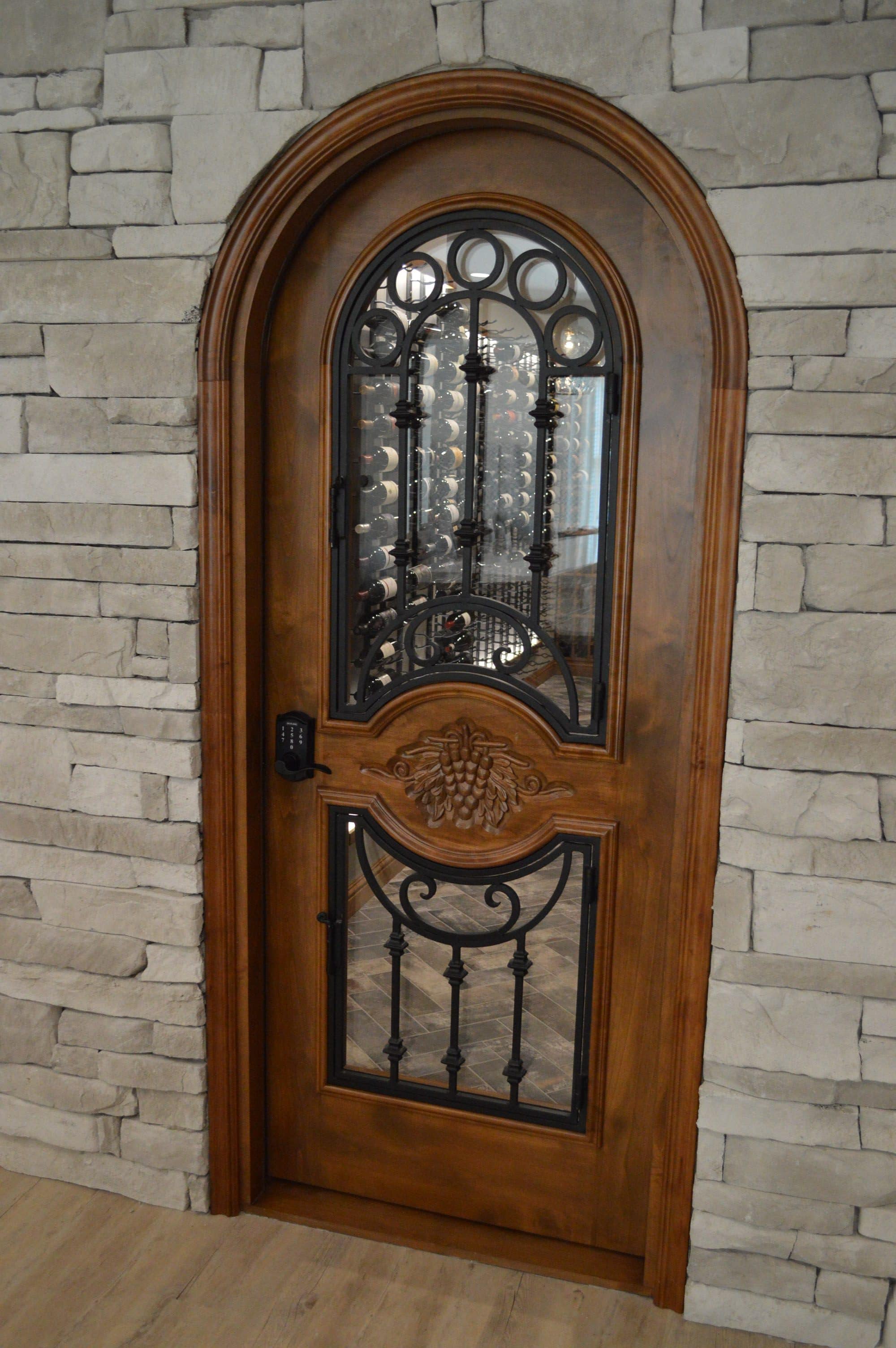 Our team of cellar builders installed a high-quality door in this contemporary wine room. The door is made from durable wood with a glass insert, so that the client and their guests can see the inside of the custom wine cellar from outside. A gorgeous wrought iron detail was also installed to achieve a contemporary look and to facilitate easier cleaning. A keypad lock was installed for added security. 
Trusted
Master Builder of Contemporary Custom Wine Cellars
With more than a decade of experience in building various kinds of climate-controlled structures, Harvest Custom Wine Cellars and Saunas has maintained a reputation of constructing aesthetically superior and truly dependable wine storage facilities. Whether for residential or commercial use, our team of expert builders can construct it for you! Our design specialists can create all kinds of styles, from traditional to modern and rustic to contemporary. We can make your wine storage dreams come true.  
If you'd like our team to create a wine cellar design for your, call us today! You can reach us in Richmond at (804) 467-5816 or in Baltimore at (443) 552-5084!