Virginia Residential Wine Cellar Tour, Walkthrough, and Q&A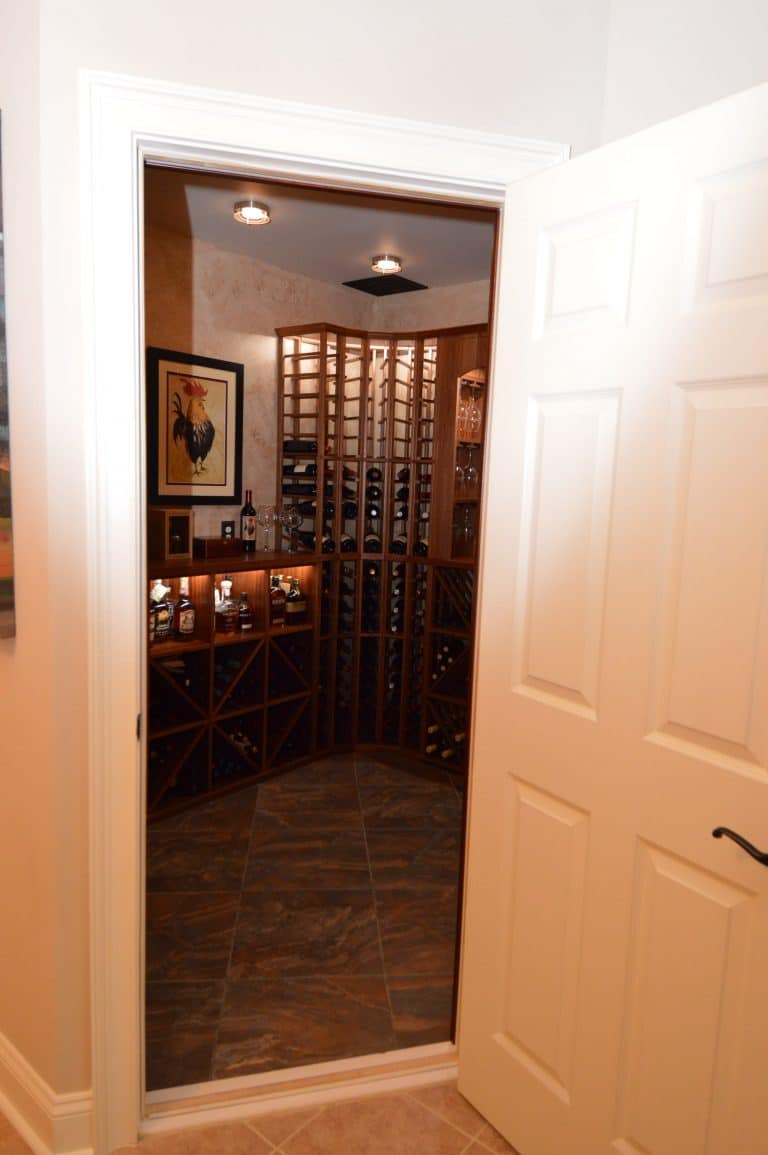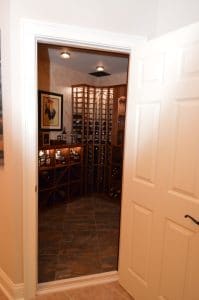 When homeowners decide to have a wine cellar built, it's common for them to express frustration when presented with the limited options from a modular wine storage provider. There are many beautiful modular wine racking kits, but sometimes none of the existing designs fit the vision of the clients. This is why Harvest Wine Cellars and Saunas offers climate-controlled structures that are custom-designed to meet the individual preferences and unique aesthetic needs of our various clients. In a recent project, for example, we built a residential wine cellar that also had space for storage of bourbon. Let's take a tour!
Inspiration for the Residential Wine Cellar Design: A Love for Wine and Whiskey
We recently worked with a client in Virginia who needed our help in building a residential custom wine cellar. When the client had their house built 5 years ago, they had a large space that was intended for storage of their favorite beverages – wine and whiskey! They hired our team of wine storage specialists to help them achieve their dream of a beautiful residential wine cellar that also had space for their bourbon collection.


Residential
Wine
Cellar
Tour – A
Deeper
Look
into
the
Personalized
Style
of
This
Cellar
Virginia Residential Wine Cellar Tour, Walkthrough, and Q&A | Harvest Wine Cellars & Saunas
Virginia Residential Wine Cellar Tour, Walkthrough, and Q&A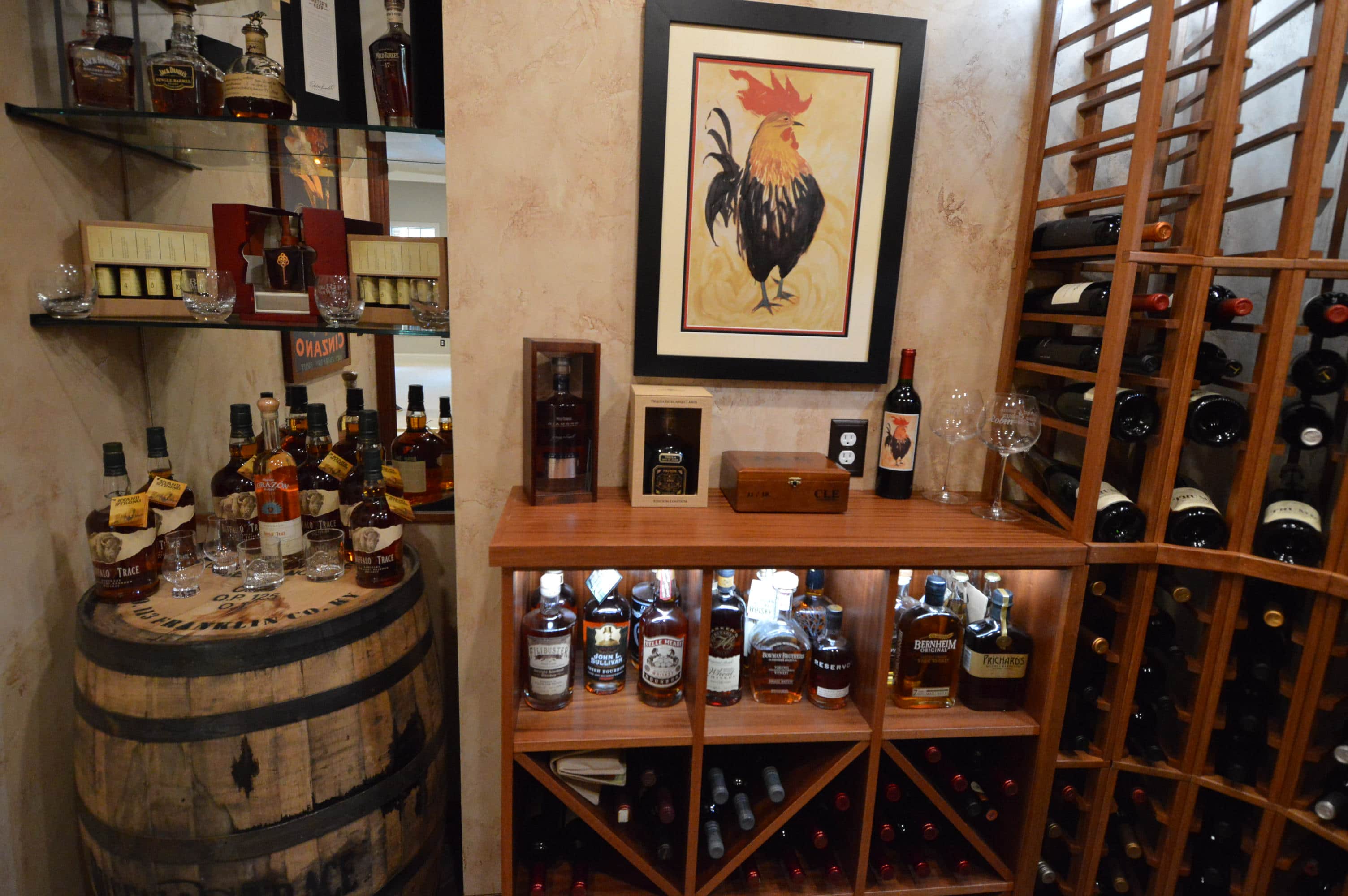 Our design specialists met with the client to discuss their style preferences and specific storage needs. It was apparent during the discussion that the client had the same love for whiskey as they had for wine. Our team made sure that the design we created had storage for both their wines and bourbons. We also made sure that the design of the residential wine cellar matched the existing decor and style of the client's home. The design we created could accommodate approximately 350 wine bottles and the client's existing whiskey collection.
1. Storage and Display
for
the
Bourbon Collection
In one corner, we installed an old oak barrel, which was special to the client because it was given to him by the distributor where he gets his bourbon from.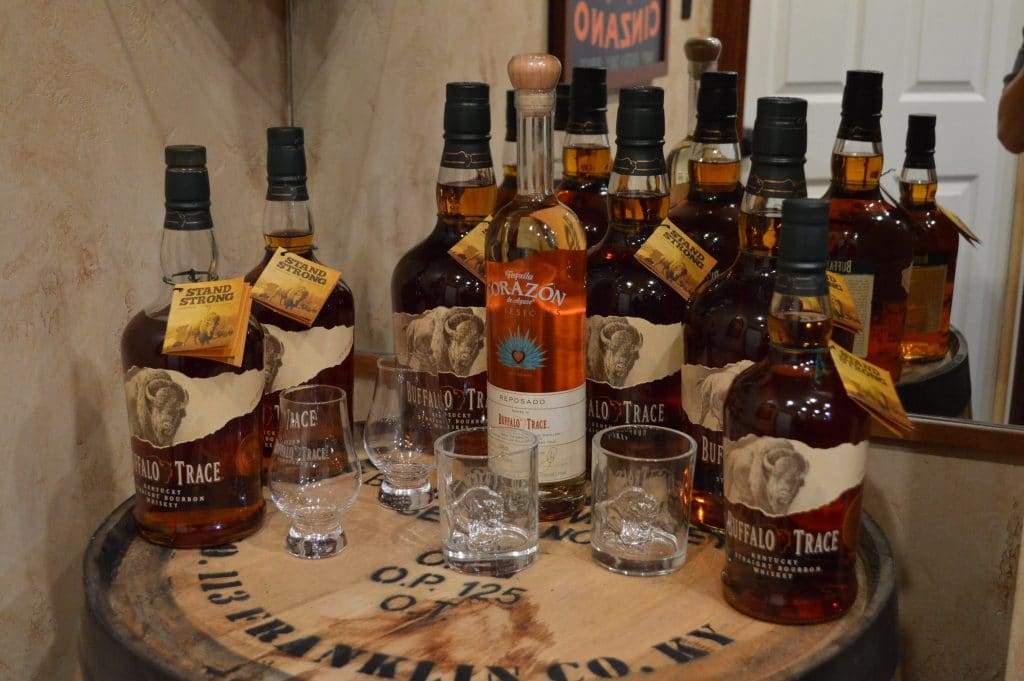 In fact, some of the whiskeys in his collection actually came from the barrel. The client used to have this wooden barrel back in his beach house in South Carolina. In this new wine cellar, we used the oak barrel as a table to display a few of his most cherished whiskey collection.
We also had shelves built to display more of his prized whiskey bottles. These shelves were made from the same wood that we used for building the wine racks. We designed the shelves to seamlessly transition into an arched wine racking.
2.
Wooden
Racks
for
their
Wine
Collection
When we presented the client with the designs during the planning phase of this project, we showed them various options of wood species to use for their wine racking. The client chose Mahogany, which is a durable and aesthetically superior wood species ideal for highly humid spaces. Mahogany was chosen because the client wanted racks with darker tones. The client opted not to have the wood finished, but we had lacquer applied to give the wood some sheen.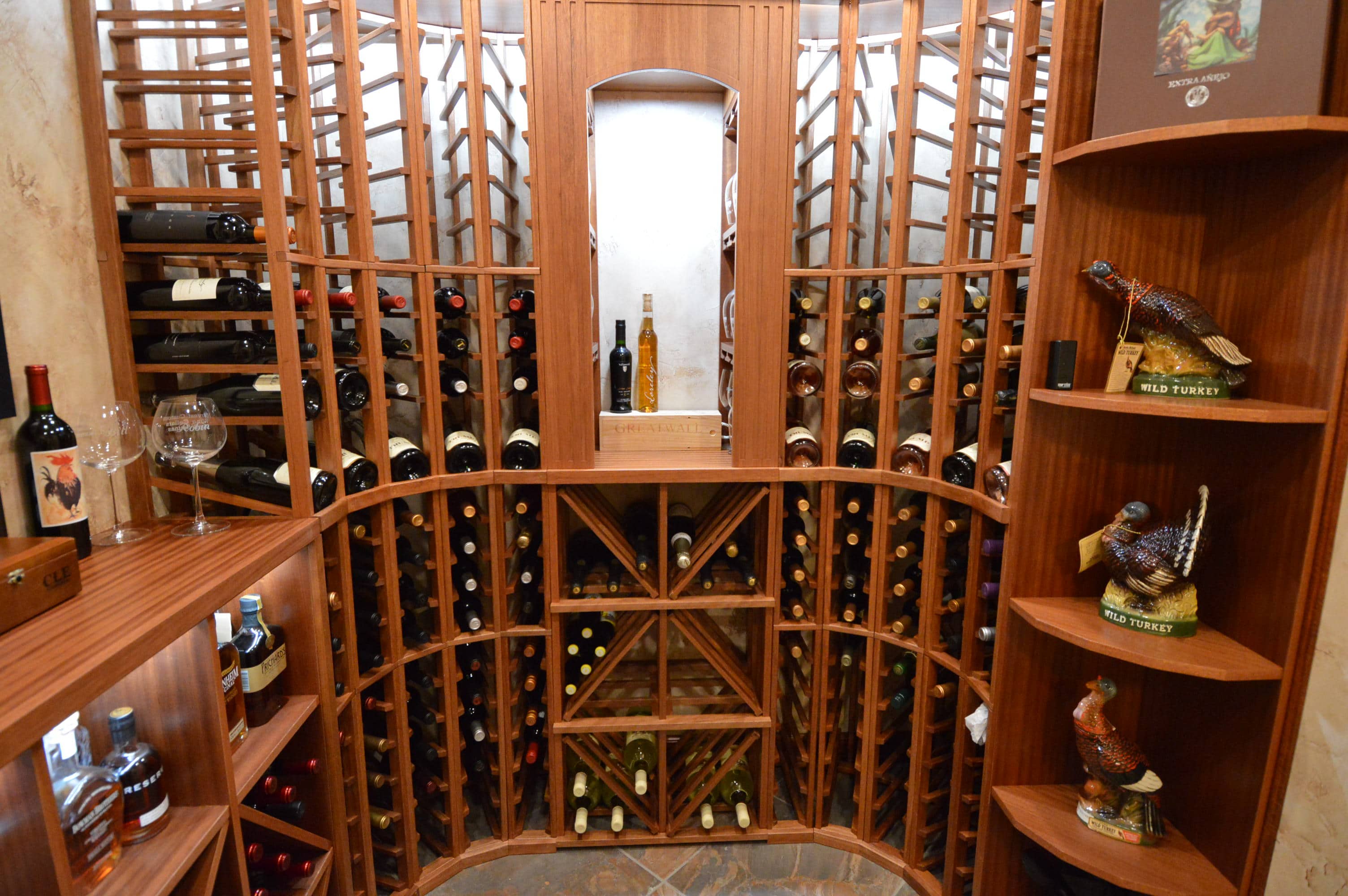 A Tour o
f
the Lighting Systems Installed in this Residential Wine Cellar
We installed a combination of lighting systems in this residential wine cellar, in order to accentuate its design. We lined the wine displays with ribbon lights behind them to illuminate each rack. We installed ceiling lights with a dimmer switch, so that the client can adjust the brightness of the room accordingly. We only used LED lighting in this project. LED lights do not emit as much heat as regular bulbs. Minimal heat production helps prevent fluctuations in the temperature and humidity inside the residential wine cellar.
Ideal Refrigeration System
Installed
Inside
the
Home
Wine
Cellar
in Virginia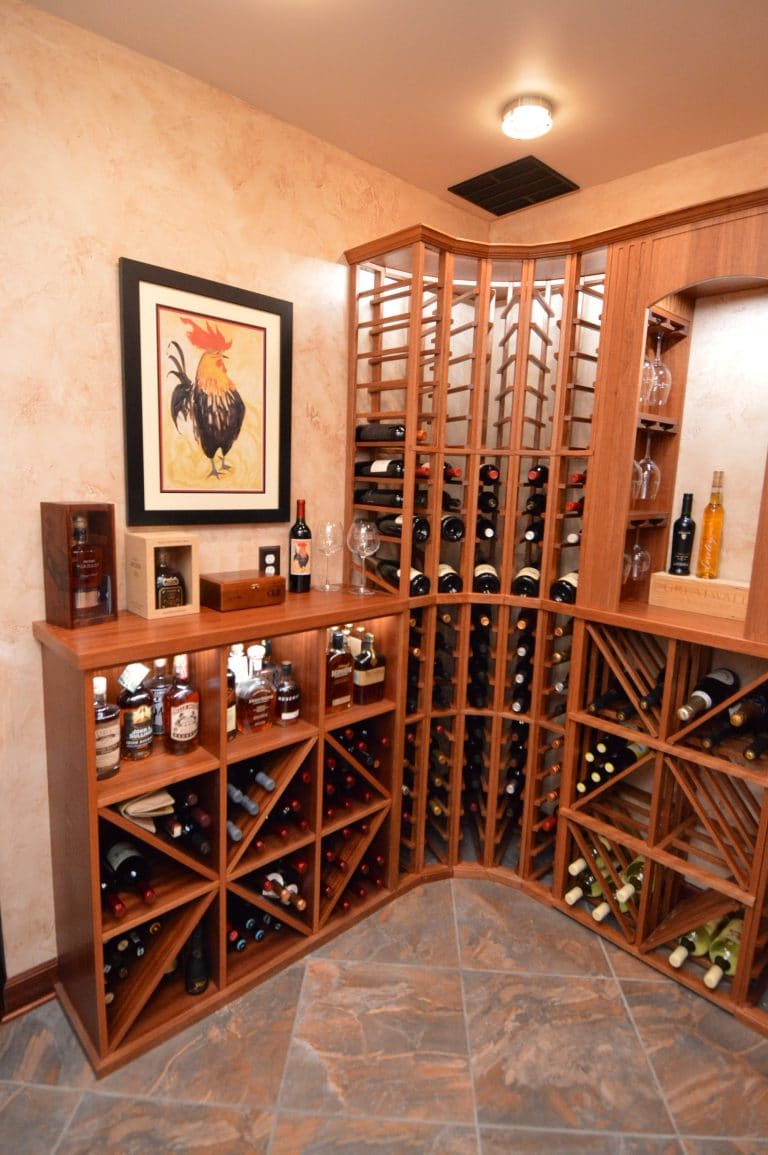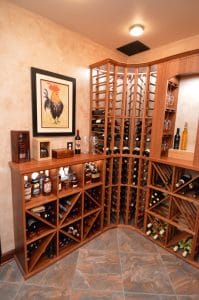 We had an HVAC technician evaluate the custom wine cellar for its heat load, so that we could select the most appropriate cooling unit to install. Our team mounted a Wine Guardian SS025 unit, which is a split-type refrigeration system. A split-type cooling system has the condenser and evaporator installed in two separate locations. The evaporator is placed inside the residential wine cellar, while the condenser is located in an adjacent mechanical room. This kind of setup helps eliminate the noise inside the wine cellar, since the noisy part (condenser) is installed away from the storage room.
Our team also installed a thermostat inside the residential wine cellar. The thermostat comes with the Wine Guardian equipment. A thermostat is a special feature that helps make sure that the temperature and humidity inside the wine room are kept within their ideal ranges.
Residential Wine Cellar Construction Expert – Harvest Custom Wine Cellars and Saunas
Harvest Custom Wine Cellars and Saunas has more than a decade of experience in building various kinds of climate-controlled storage structures. We've helped many people in Richmond, VA, Baltimore, MD, Washington, DC, and their surrounding areas achieve their dream custom-designed wine cellar. The residential wine cellar in Virginia is one of the many completed construction projects that we are very proud of.
Our team of master builders can construct both small and large-scale wine cellars. We can also build both for homes and commercial establishments. If you're planning to have a custom-designed residential wine cellar built, we can most definitely help you. Give us a call today, so that we can discuss your dream home wine room. Contact us in Richmond at (804) 467-5816 or in Baltimore at (443) 552-5084!