Iron Wine Cellars & Furniture: Elegant Components for Your Custom Wine Cellar

Iron Wine Cellars takes pride in creating beautiful spaces to store prized wine bottles and comfortable settings for friends and family to drink and socialize. They are passionate about balancing beauty and utility in all their creations. Harvest Wine Cellars and Saunas is proud to carry their products, particularly their beautiful racking and doors. Their eye for design, quality, and combining form with function is evident in everything they manufacture. Their goal is to provide top quality wine cellar supplies, and we know that you'll be as impressed as we are with their offerings.
Let's take a look at two of Iron Wine's most popular product lines, their doors and racking. And when you're ready for more information, we're here to help! Call us at our Richmond office at (804) 467-5816 or at our Baltimore office at (443) 552-5084 to see if products from Iron Wine Cellars are right for your residential or commercial wine cellar.

Iron Wine Doors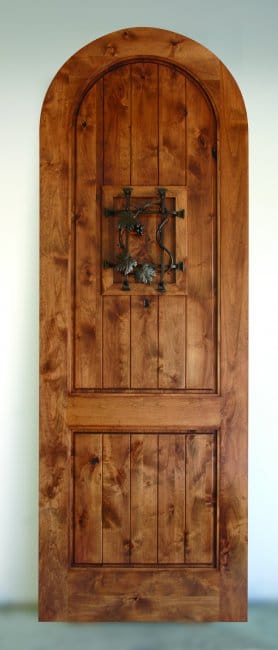 A high quality wine cellar door is so much more than an attractive entrance to your wine storage, it is essential to the success of the room. That is why it is very important to pay attention to what kind of wine cellar door you choose. Iron Wine Cellars go the extra mile to make sure their doors live up to your needs and expectations.
Iron Wine Doors are created by skilled designers and craftsmen. They take time to properly create, assemble, finish and inspect each door with the finest attention to detail. Moreover, the doors undergo a rigid in-house Quality Assurance Program to ensure that they will exceed industry and client standards.
Custom Designed Doors
Iron Wine doors also offer custom designed doors that fit specific wine cellar style and needs. Some of these custom designed doors are the Barolo doors for an elegant and stylish look, Chianti doors designed to withstand humid conditions in wine cellars, Coto style doors to add a vintage appeal to a wine cellar, and many more.
So, what makes these custom designed doors stand out from other brands in the market? Their specific features include the following:
Thermally insulated dual pane Glass for optimum wine storage condition
Innovative technology in custom wine cellar door construction
Mortise & Tenon method which is one of the strongest techniques in building strong wood doors and furniture
Old-World carvings and distressing
Glass Etching for a personalized touch
Hand-Forged black ironwork
Iron Wine Racks
Iron Wine Cellars can create wine racks depending on your available space, racking needs and room aesthetic. Many of Harvest's residential customers are working with limited or irregular spaces, so a traditional, wide open cellar isn't possible. We have lots of experience working with space restrictions, and custom wooden or metal racking from Iron Wine is often a part of our design.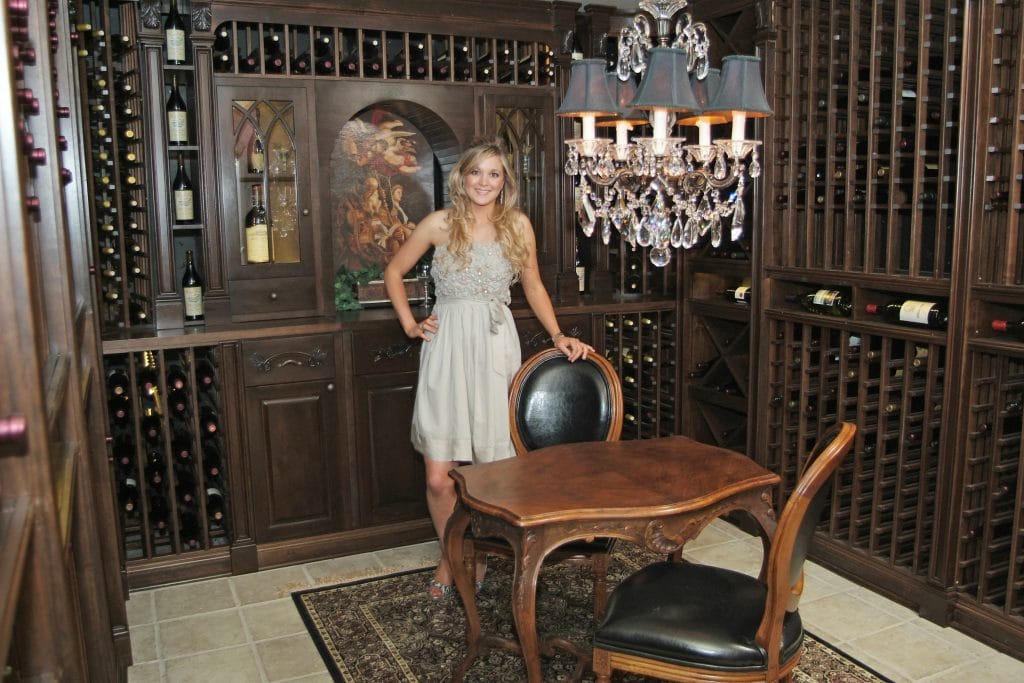 Iron Wine Luxury Series
Another great innovation from Iron Wine Cellars is the Luxury Series. This package includes the most impressive cabinet columns, hand-made carvings options crafted by 3rd generation artisans, cathedral glass doors, raised door panels, premium grade cabinetry, elegant wood options, LED lighting, radius corners, multiple finishing options and so much more. You definitely won't have to worry about your wine racks because you are in good hands with Harvest and Iron Wine.
Get in Touch with Us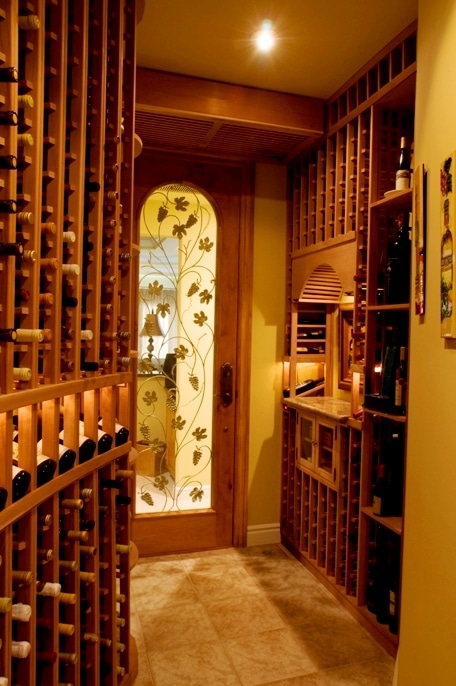 Wine cellar doors and racks play a major role in completing your custom wine cellar transformation. At Harvest Wine Cellars and Saunas, we only work with the best product suppliers and partners, and we are here to find the best options for your residential or commercial wine storage project. Iron Wine Cellars offers a wide range of door and racking styles to suit your aesthetic and functional requirements.
Ready to learn more? Speak with a designer today in Richmond at (804) 467-5816 or in Baltimore at (443) 552-5084, or click here to learn more.