Make Your Wine Cellar Unique with Tastefully Designed Wine Racks Made by Virginia Master Builders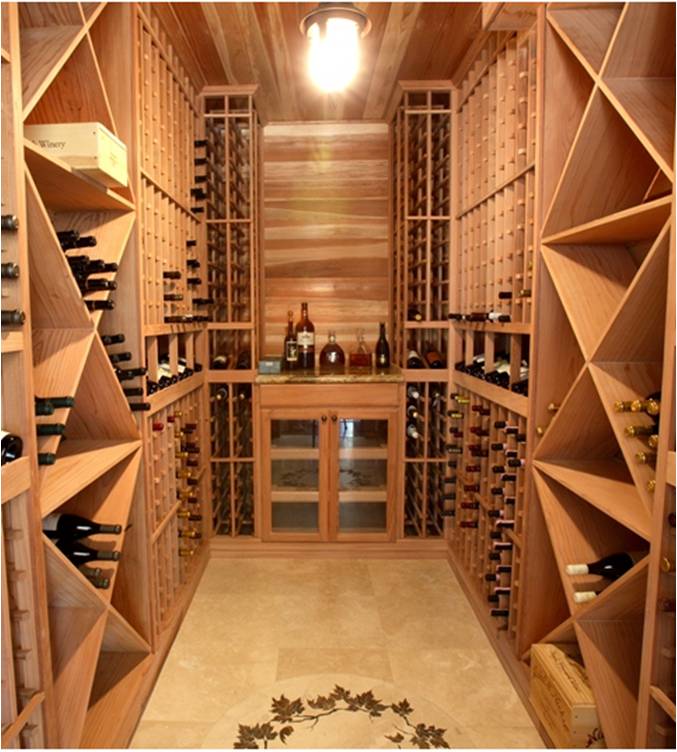 Your precious wine collection deserves to be stored in a room designed and equipped with high-quality components that contribute to the overall appeal and functionality of your wine cellar. At Harvest Custom Wine Cellars and Saunas, our creative and experienced team will make sure that your wine racks are designed with form and function in mind. Learn more about the various racking styles we offer for our clients in Virginia. 
Tastefully Designed Wine Racks for Residential and Commercial Applications
One of the reasons many wine enthusiasts invest in a climate-controlled wine room is to display their wines impressively. Working with the right builder will help show off your wines by creating tastefully designed wine racks.  
A stellar wine rack design will also enhance the value of your home. If you plan to sell your property in the future, a beautiful wine cellar can be a deciding factor for potential buyers.  
At Harvest Custom Wine Cellars and Saunas, we provide innovative racking solutions for residential and commercial wine cellars in and around Virginia. You may choose from our kit and custom wine racks.  
Factors to Consider When Designing Your Wine Rack System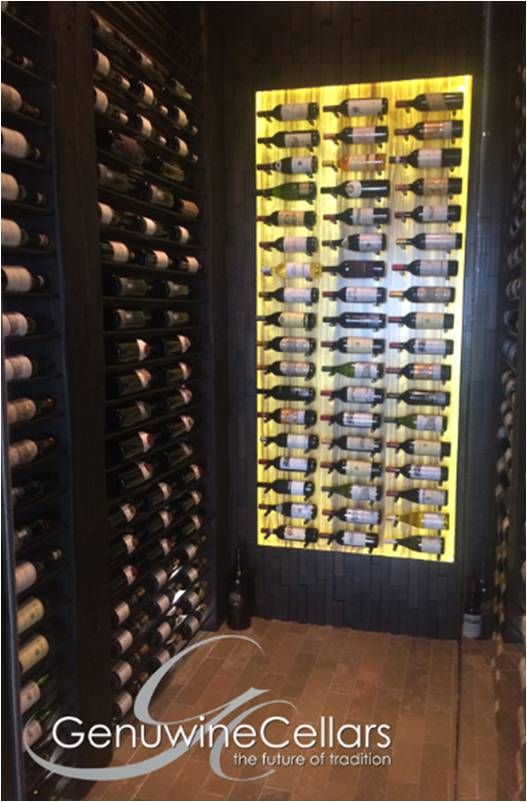 It is crucial to work with a knowledgeable builder to ensure that the right components will be installed in your refrigerated wine cellar. Our team of designers at Harvest Custom Wine Cellars always make a careful assessment of our client's needs before creating a design for your racking system.  
Factors that must be considered to help determine the most suitable bottle configurations are: 
Capacity of your wine room 

 

Bottles that you intend to store and display in your wine cellar

 

Types and sizes of wines in your collection

 

Theme that you want in your wine cellar

 
Existing décor of your residential or commercial property

 

Budget

 

Type of wine cooling system to be used 

 
Failure to consider the above-mentioned factors will result in disappointments and regrets in the future. This will prevent your chosen builder from meeting all of your functional, aesthetic, and financial requirements in wine cellar construction.  
One effect of a poor assessment include a mediocre racking system that does not have enough space for storing the number of bottles you intend to collect. Moreover, a design that does not complement the existing décor of your home and a material that is not ideal for a climate-controlled environment, are also results of a poor assessment. 
Keep in mind that working with a professional like Harvest Custom Wine Cellars and Saunas will help you determine the most suitable design for your racking system.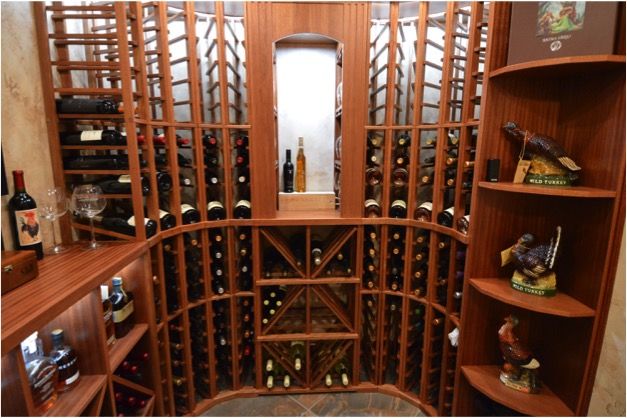 Wooden Wine Racks
High quality and stylish wine racks made from wood are in demand for wine collectors who want a traditional design for their wine cellar. Wood has many properties that make it a top choice for manufacturing wine racks in Virginia.   
It is durable, goes well with any décor, and is naturally beautiful. Wood adds warmth and an earthly appeal to any space. Additionally, it is conducive to extreme changes in temperature and humidity. This means that your wooden wine racks will have a longer lifespan in climate-controlled wine cellars.  
Our wooden wine racks are supplied by top-notch designers: Kessick Wine Storage Systems, Iron Wine Cellars, and GenuwineCellars. 


Kit or Ready-Made Wine Racks 
Our wooden wine rack kits are pre-designed and are available in various heights and styles. This option is ideal for wine enthusiasts who are on a tight budget. Despite its affordability, our team will create a design that will make your wine rack system appear as if it was customized. 
Our wine rack kits include column, diamond bins, rectangular bin, curved corner, archways, stemware, tasting tables, quarter round, and waterfall wine racks.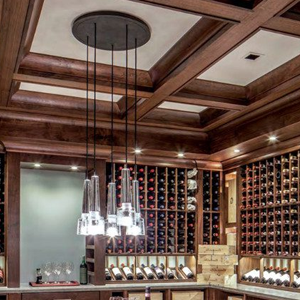 Custom Wine Racks
Wine cellars with a custom racking system have many advantages than those installed with pre-built wine racks.  If you do not mind spending more for your wine cellar project in Virginia, opting for custom wine racks is the best option. 
At Harvest Custom Wine Cellars and Saunas, we offer customization options to allow our clients to incorporate their own designs into the racking.  This way, you can add a personalized touch to their wine room while making sure that the wine racks are designed to fit perfectly into the shape and size of your cellar.      
Examples of custom features in wine racks are drawers, cabinets, cigar humidors, and wooden case storage bins.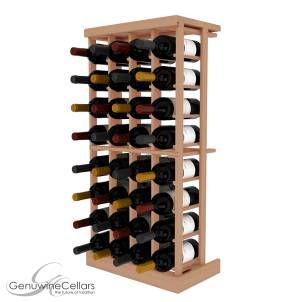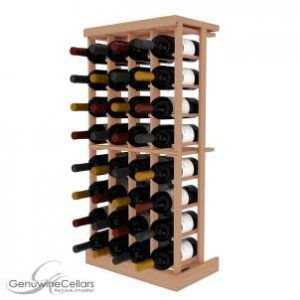 Popular Types of Wood for Kit and Custom Wine Racks 
At Harvest Custom Wine Cellars and Saunas, the wine racks we offer were made from high-quality wood species to ensure that every storage unit is durable, stable and appealing. Some of the most popular types of wood we use in wine cellar construction are Redwood, Mahogany, and Knotty Alder. 
Redwood
If you want wine racks with a reddish tone, you can go for Redwood. As the wood ages, its color becomes richer. Redwood wine racks can last for many years with proper care. This is because the wood has natural preservatives that make it highly resistant to warping, shrinking, and insect infestation. 
Redwood is suitable for wine cellars equipped with a refrigeration system because of its ability to withstand humid conditions.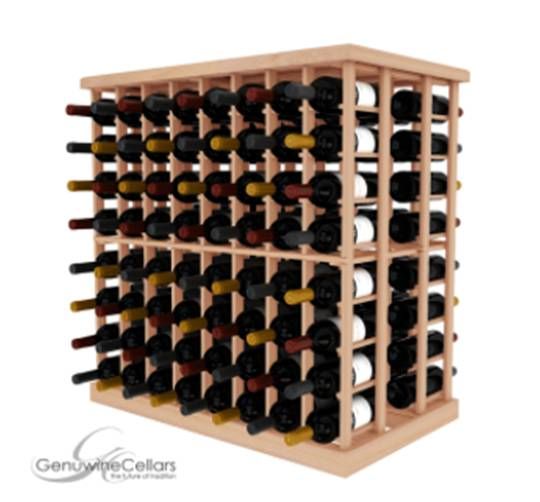 Mahogany
Mahogany's color ranges from gray to reddish-brown, to orange, or a combination of gray, red, brown, and orange. This type of wood is naturally beautiful even when unstained.  
Polishing it will give a reddish sheen. It has close, straight grain patterns that make it stable and resilient. It is also durable and easy to work with (easier to mill than other hardwoods).   
Knotty Alder
Knotty Alder is known for its even textures and lovely knots and burls. It has tight knots and straight grain patterns.  
Knotty Alder is also highly resistant to decay, mold, and mildew. If you want your Knotty Alder wine racks to have a lustrous finish, you may apply a stain of your choice and a lacquer.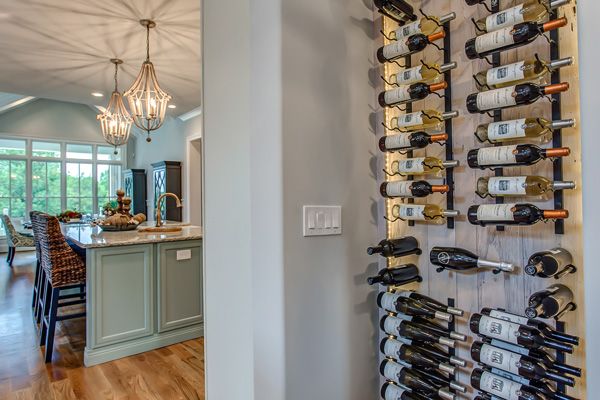 Metal Wine Racks
Harvest Custom Wine Cellars and Saunas recommends metal wine racks for those who want a modern appeal for their wine cellar.  
Metal wine racks are not only elegant; they are also durable and easy to maintain. Some are designed as freestanding units while others are intended for wall-mount installation. 
Metal wine rack systems are space-saver. They can be mounted on the wall to eliminate floor space. Most of them also display the wines in a label forward orientation where the labels are facing out. This allows for easy browsing of the wines. 
Our metal wine rack suppliers are VintageView, Kessick, IronWine Cellars, and Genuine Wine Cellars. 
Give Your Wine Rack System a Wow Factor by Hiring the Experts in Virginia
At Harvest Custom Wine Cellars and Saunas, we create impressive and functional wine rack systems for clients in Virginia. Our experienced and passionate team will ensure that you'll enjoy your wine collection while keeping it safe for many years to come. 
Need help? Contact us today at (804) 467-5816!