Wine Cellar Flooring Styles Offered by Experts in Virginia
The flooring is one of the crucial components of a climate-controlled wine cellar. With many options available, it is easy to choose the wrong type of flooring. You will prevent costly mistakes if you work with a professional builder, like Harvest Custom Wine Cellars. Learn more about the stylish flooring we offer and how we install them to help create the ideal environment.
Gorgeous and Eco-Friendly Wine Cellar Flooring Options Recommended by Virginia Experts
As one of the top-notch builders in the United States, Harvest Custom Wine Cellars has proven its reliability and expertise in the design and construction of wine rooms. We have helped several owners of residential properties and commercial establishments in creating functional and eye-catching wine cellars.
Our creative team also found ways to add unique and environment-friendly features to our client's wine cellar. One of these is installing wine cellar flooring from materials, which are not only beautiful but durable as well. Our flooring options include wine barrel, cork, and bamboo.
Wine Barrel Flooring: Add an Old-World Style to Your Wine Cellar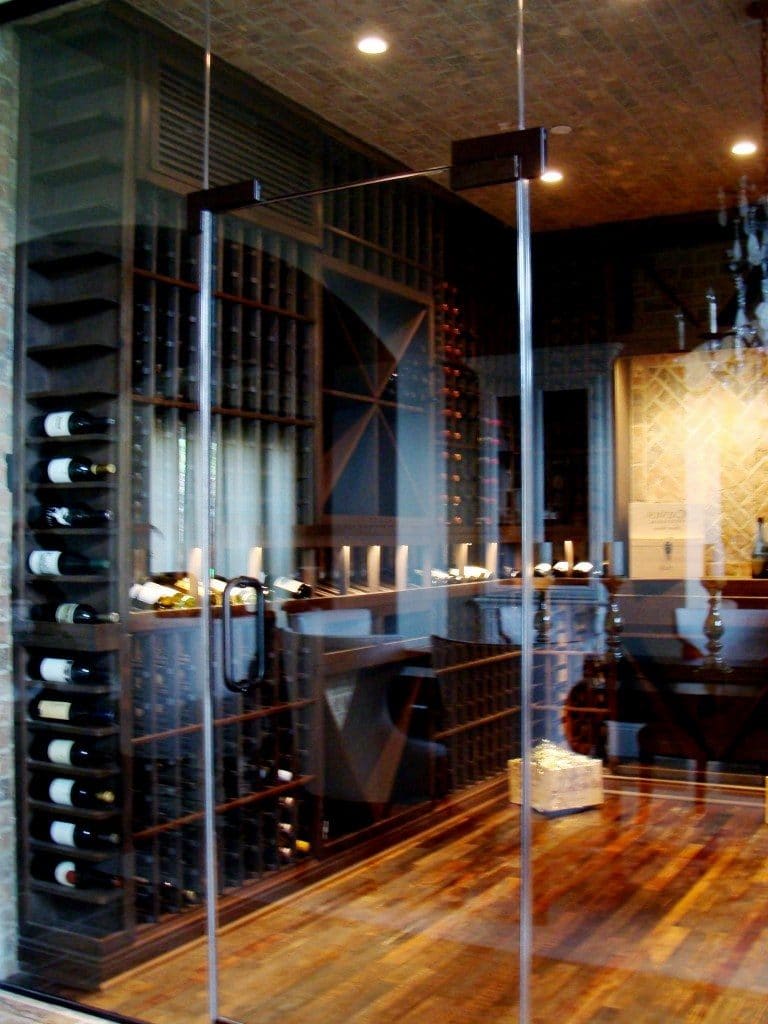 One of the eco-friendly features that you can add to your residential or commercial wine cellar in Virginia is the wine barrel flooring. Wine barrels have been used to age wines for many years. After serving their purpose between 6-50 years, they are usually dumped into the landfill.

Expert builders discovered a way to help save our Mother Earth, which is to utilize or repurpose the used wine barrels to create wine cellar flooring, as well as tabletops, wine racks, and countertops. Specialized techniques are used to create wine barrel flooring. It can be nailed or glued over an area installed with a vapor barrier.
Keep in mind that if you choose wine barrel flooring, no stain will be added. Instead, we will apply a satin finish, which is water-based polyurethane. There are many reasons why wine barrel flooring is widely used in designing and building wine cellars.
Wine Barrel Flooring Has Unique Color Variation
With wine barrel flooring, no two planks are the same because of the variations in the hues and markings from the wineries. Unlike other types of flooring, there is no need to achieve a specific color tone to match the wine racks or the client's requirements.
3 Stylish Options
At Harvest Custom Wine Cellars, we offer three options for wine barrel flooring: Cooperage, Stave, and Wine Infusion. Cooperage style wine barrel flooring makes use of the outside parts of the reclaimed wine barrels are used, showing the patinas and Cooper's stamps.
We make Stave wine barrel flooring is made the vertical wood from the sides of the used wine barrels. The markings came from the metal hoops or bands.
We use the planks from the inside of the barrels to create Wine Infusion flooring. This type of flooring shows reddish or pinkish tones imparted by the wine once stored inside the barrel.
Cork Wine Cellar Flooring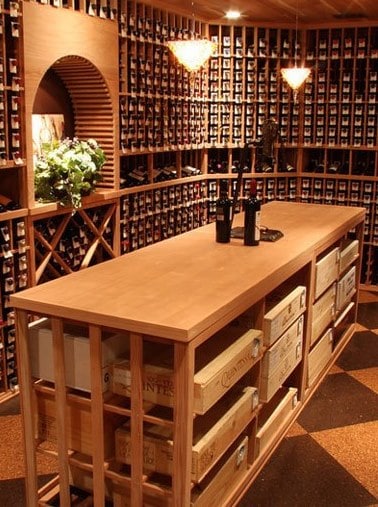 Cork is widely used as cork stoppers. Moreover, it is also an excellent material for climate-controlled wine rooms where the humidity level is high. You can turn a space into a cozy wine room with cork flooring.
It is a sustainable material harvested from the Oak tree, which can be replanted. It comes in tongue and groove pieces that snap together, eliminating the use of nails or glue.
A moisture barrier is required if you are going to install a floating cork floor. We recommend the application of polyurethane as an extra protective finish coat.
Cork wine cellar flooring offers vivid colors, which means your flooring will not be boring like corkboards. Other characteristics of cork flooring are:
High insulating properties
Durable
Cushion feel
Sound reduction
Easy to install
Elastic
Flexible
Hypoallergenic
Resistant to insect, fire, mildew, dust, pollen, and moisture
Bamboo Flooring for Wine Cellars in Virginia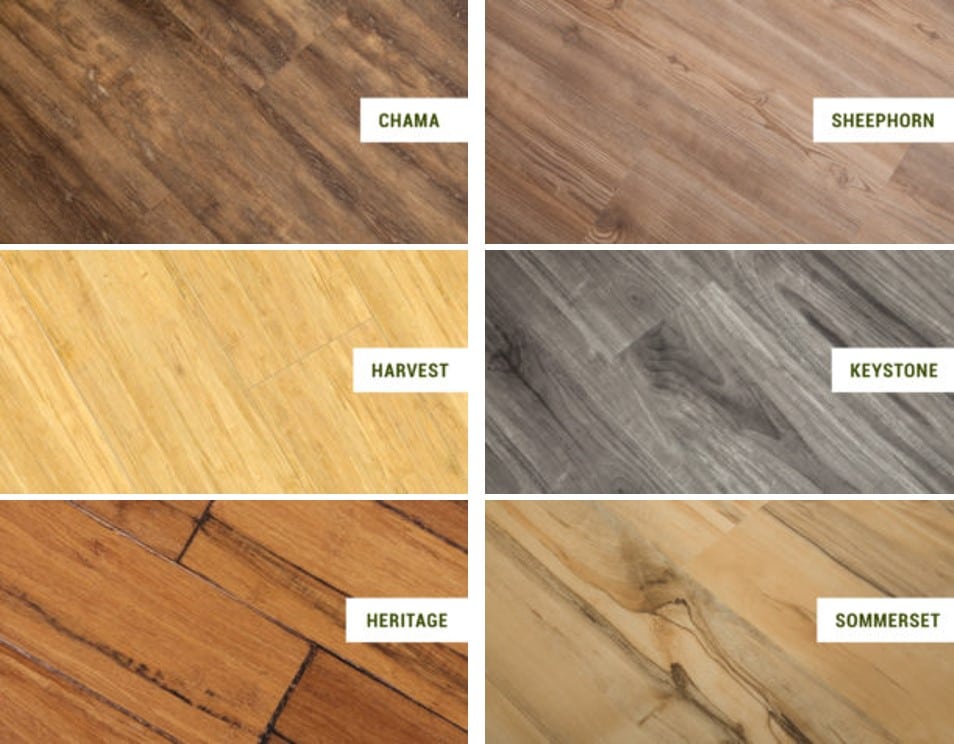 Another eco-friendly and sustainable type of flooring is one that is made from bamboo. It is harder than Red Oak and has been a trend in the design and construction industry. The styles and colors of bamboo add character to wine cellars.
Below are the common styles and colors that we offer:
Chama
Keystone
Harvest
Sheephorn
Heritage
Sommerset
How We Construct Wine Cellar Flooring to Create a Lovely and Safe Wine Room in Virginia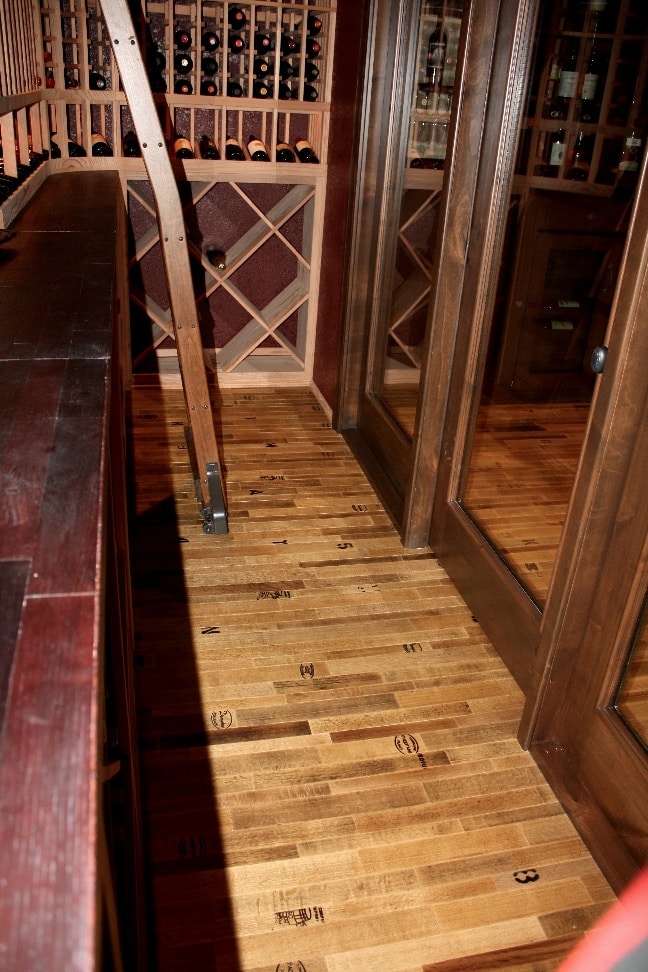 The installation of flooring in refrigerated wine cellars should not be ignored. Preparing the flooring requires skills and knowledge. It must be done correctly, or else, it will cause wine storage problems that will result in a waste of investment. Correct insulation will prevent temperature fluctuations and moisture build-up inside your wine cellar.
It should be insulated depending on where it rests. If your flooring rests on a cement slab, adding a vapor barrier to the cement must be done before the application of your floor covering. If your flooring is above ground, you have to add an insulator and a vapor barrier used for your walls and ceiling.
Bostic's MVP4 (Moisture Vapor Protection) is a product recommended by expert builders because it is effective and easy to install. A trowel is used to apply the MVP4 vapor barrier on the cement, and it should be dried before adding the flooring on top of it. You can buy it in most hardware stores in your area.
Let a Specialist from Harvest Custom Wine Cellars Install h Safe Flooring that Stands Out
Our team has been in the construction industry for many years now. We have extensive knowledge and expertise in installing stylish and functional residential and commercial wine cellars. We recommend eco-friendly flooring options utilizing wine barrels, cork, and bamboo.
Do not hesitate to call us at (804) 467-5816!