Finlandia: America's Original Sauna Providers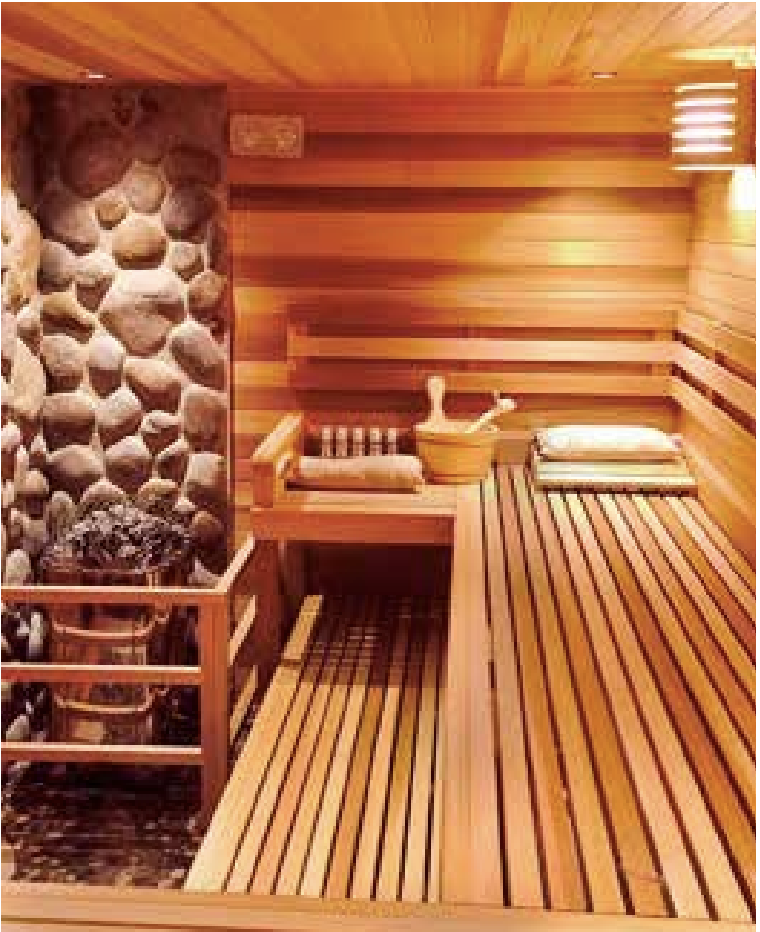 Since its inception in 1964, Finlandia has stood as a stalwart purveyor of genuine Finnish saunas within the United States. An unwavering torchbearer of the original Finnish legacy, the company remains unparalleled as the sole producer of steam saunas in the Americas that remains faithful to its roots. Infused with the essence of authentic Finnish heritage, each sauna is meticulously manufactured using exclusively the most superior materials available, spanning from robust paneling, doors, and heaters to insulation, flooring, and benches.  
The Makers of Pure Saunas
Original saunas make use of both dry and damp air to trigger the body's natural cleansing capabilities through perspiration. This self-contained environment has been practiced and used for centuries in Europe as a natural way to fight off multiple ailments. Among the many health benefits observed after using pure saunas, some of the most notable are: 
Improves blood circulation

 

Removal of impurities from the body (including nicotine in some smokers)

 

Relieves stress

 

Refreshes tight and tired muscles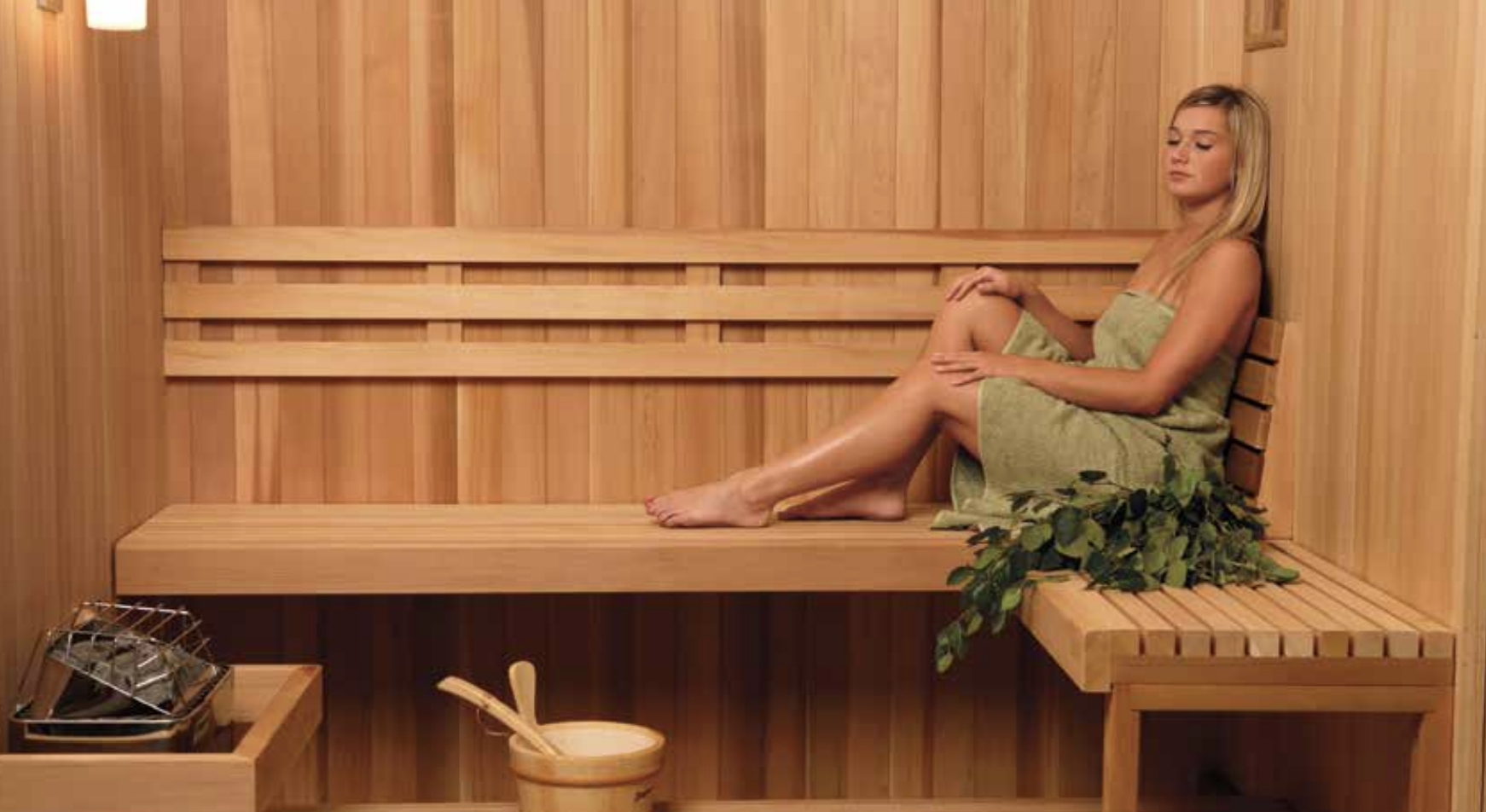 When exposed to temperatures between 160F and 180F and low humidity (about 25%), the human body goes into a state of perspiration. This facilitates good health as it flushes out potential toxins from our body and unclogs our pores from any foreign materials.  
Pure saunas are different from infrared saunas we see today. Pure saunas only use natural materials, including wood, water, and hot stones, to produce heat, and they don't employ electromagnetic radiation that infrared saunas have. With infrared saunas, you can expect a dry environment throughout your bath, while with pure saunas, you can manage the humidity by controlling the amount of water being poured onto the stones. In short, you have the option to bathe in a dry sauna, a wet sauna, or something in the middle when you go with a pure sauna.  
Types of Saunas by Finlandia
Deemed the oldest privately-owned sauna company in the United States, Finlandia sources their wood from ISO-certified sustainable forests and manufactures all their saunas within their 50,000 sq. ft. facility in Portland, Oregon.  The company offers two main types of Saunas: Pre-Fabricated Modular Saunas (PFP) and Pre-Cut Sauna Packages (FPC).  
Pre-Fabricated Modular Saunas (PFP)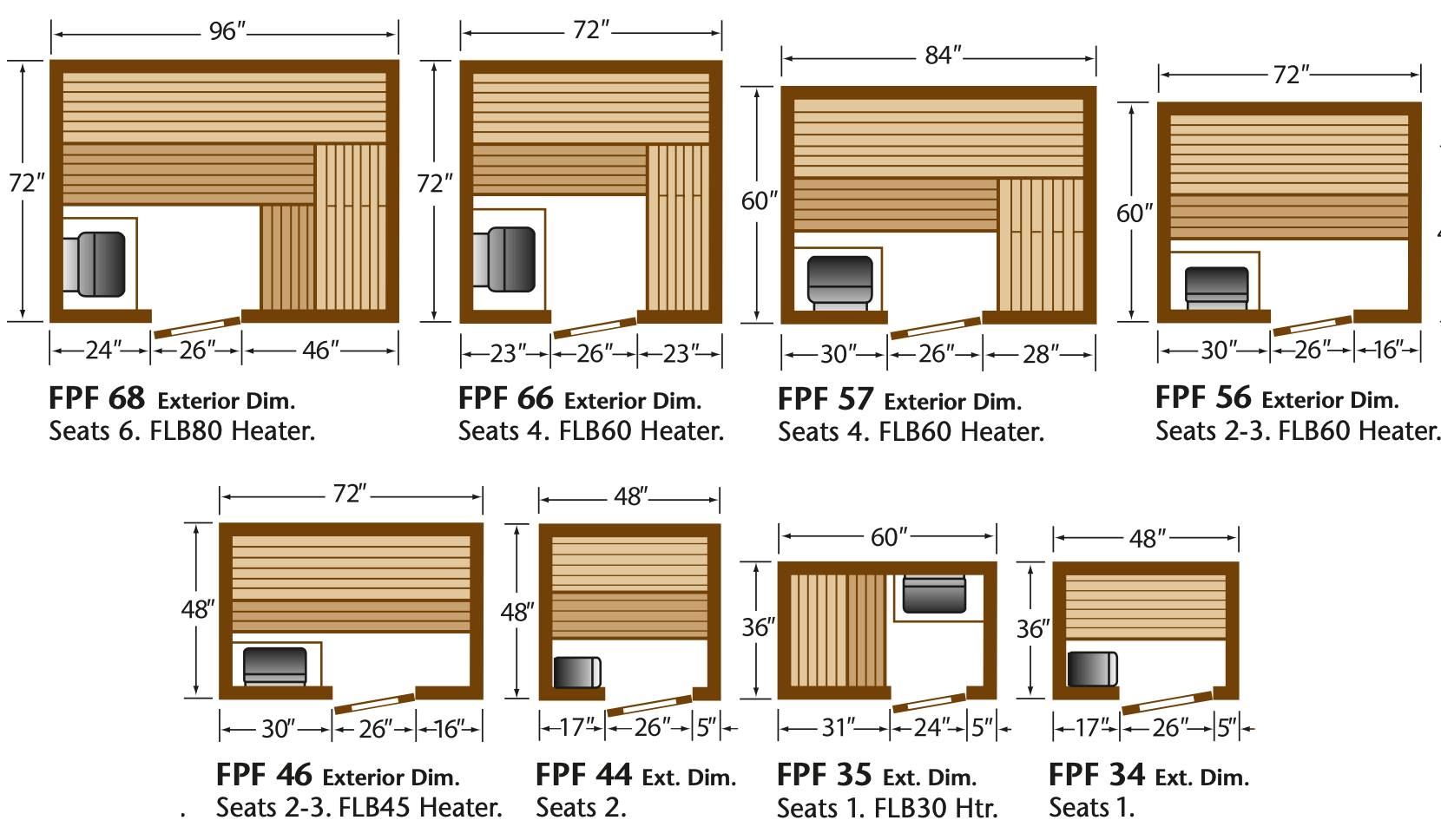 Finlandia's Pre-Fab Modular Saunas are engineered for effortless and quick installation. They can be installed on any hard, waterproofed surface at any level and are available in different standard sizes and custom sizes (especially for wheelchair accessibility). 
The PFP line features comprehensive, self-contained enclosures that stand as independent units. Their design allows them to be placed in any available space. You, the client, will have to provide a waterproof flooring surface, such as concrete, tile, or vinyl, alongside the essential electrical wiring to install a PFP sauna. The package includes all necessary internal and external components, including a panel locking mechanism, where you can combine every panel without using screws, splices, or bolts. This paves the way for an efficient and straightforward assembly process. 
Standard Inclusions: 
Framing:

2″ x 2″ Oregon Douglas Fir with galvanized fasteners

 

Insulation:

3 ½ "Fiberglass (R11) on the walls and ceiling

 

Vapor Barrier:

Type C Building Foil (ceiling and walls)

 

Base:

2"x 4"

 

Exterior Siding:

11/32″ Mahogany Plywood or Western Red Cedar

 

Interior Paneling:

1″ x 4″ A-grade, kiln-dried Western Red Cedar / Clear Alaska Yellow Cedar / Clear Redwood / Clear Western Hemlock

 

Exclusive Concealed Locking System:

neat locks, removing the need for unsightly interior moldings

 

Benches:

S4S 2" x 2" tops and S4S 2" x 4" facing with smooth edges

 

Backrest/Headrest:

tapered 14 5/8″ x 18 ½"

 

Prehung Glass Door:

½" tempered, thermopaned glass, V.G. Oregon Douglass Fir rails, Hemlock door jamb, 4″ x 4″ butt chrome-plated butt hinges, 2 wooden door pulls

 

Heater:

Finlandia-made; can cater up to 7' x 8' room

 

Heater Fence:

2" x 4" and 2" x 2"

 

Super Dek/ Eurodek:

synthetic, washable, and removable flooring

 

Vents:

2 V10 white vents or 2 V5 cedar vents

 

Lights:

satin-aluminum finish, wall mounted, vapor-proof

 

Trim:

for interior and exterior ceiling

 

Stones:

Peridotite, igneous stones from Finland

 

Accessories:

wooden bucket, dipper, wooden thermometer, light switch, plexiglass sign

 

DVD for Installation Instructions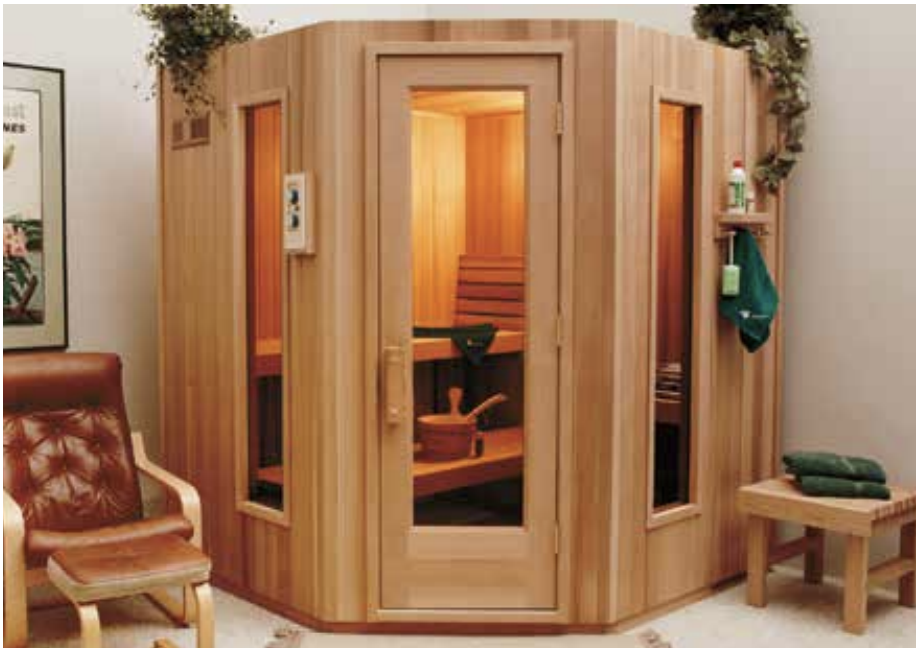 PFP Outdoor Sauna
With the PFP line is the outdoor sauna. Finlandia's Outdoor Sauna sets a benchmark as one of the market's premier insulated outdoor saunas. Clients provide the waterproof base, while the company delivers the complete insulated modular chamber, accompanied by a roof package. The roofing includes essential elements: wood plates, pre-fab rafters, nailers, facia, metal flashing, cedar shingles, ridge cap, and nails. The roof extends 12″ at the front and 6″ on the other sides. Spanning sizes from 4′ x 4′ to 8′ x 8′, the FINLANDIA Outdoor Sauna attains peak heights between 8'6″ and 9'8″, depending on the room's dimensions.  
PFP 5-Sided Sauna
Another PFP option is the 5-sided sauna, great for corner spaces. It features a full glass door and glass windows on 2 side walls. This 7-foot modular sauna is available in 3 sizes as of this writing: 4″ x 4″, 6″ x 6″, and 8″ x 8″.  
Pre-Cut Sauna Packages (FPC)
Finlandia's pre-cut saunas are designed to fit in spaces with existing frames and insulation. The materials (including the 1″ x 4″ horizontal T&G boards) are made to order and pre-cut to your preferred size. If you have general carpentry experience, it's possible to assemble the parts on your own. Dubbed as "old country" builders, Finlandia is proud to create quality pieces with expert craftsmanship, guaranteed safe for all bathers.  
Standard Inclusions: 
Ceiling and Wall Boards:

pre-cut, 1″ x 4″ kiln-dried T&G boards (option of 4 types of wood); the standard is horizontal, but vertical boards are available upon request

 

Benches:

assembled S4S 2" x 2" tops with 3/8" spacing and S4S 2" x 4" facing with smooth edges

 

Prehung Glass Door:

2'0" x 6'8" (with interior casing only)

 

Heater Fence:

assembled

 

Headrest/Backrest:

for upper benches; assembled

 

Trim and Base

 

Super Dek or Eurodek:

enough for a walking area

 

Heater:

Finlandia-made; can cater up to 7' x 8' room

 

Stones:

Peridotite, igneous stones from Finland

 

Lights:

vapor-proof, wall-mounted

 

Vents:

2 V10 white vents or 2 V5 cedar vents

 

Accessories:

wooden bucket, dipper, wooden thermometer, light switch, plexiglass sign

 

Fasteners:

5D galvanized nails for paneling (upon request only)

 

Vapor Barrier:

Type C Building Foil

 

DVD for Installation Instructions

 
What to Know When Planning Your Sauna
Experts recommend that a 2ft bench space must be allocated per person, while a 6-foot long bench will be comfortable enough for reclining bathers. Considering the user's comfort is essential when pre-planning your sauna, and here are other important things to remember when starting your sauna project:  
BENCHES
For optimal arrangement, it is recommended that the widths of both upper and lower benches in a sauna measure 20″. It is advised to refrain from designing a sauna with angular dimensions, as this could compromise bench space and result in inefficiencies in cubic footage allocation. Having two levels of benches is also crucial for a well-designed sauna. The upper bench is important for using the rising heat that reaches the ceiling. The lower bench serves various functions, like stepping up to the upper bench, resting feet, or providing additional seating. 
SAUNA DOOR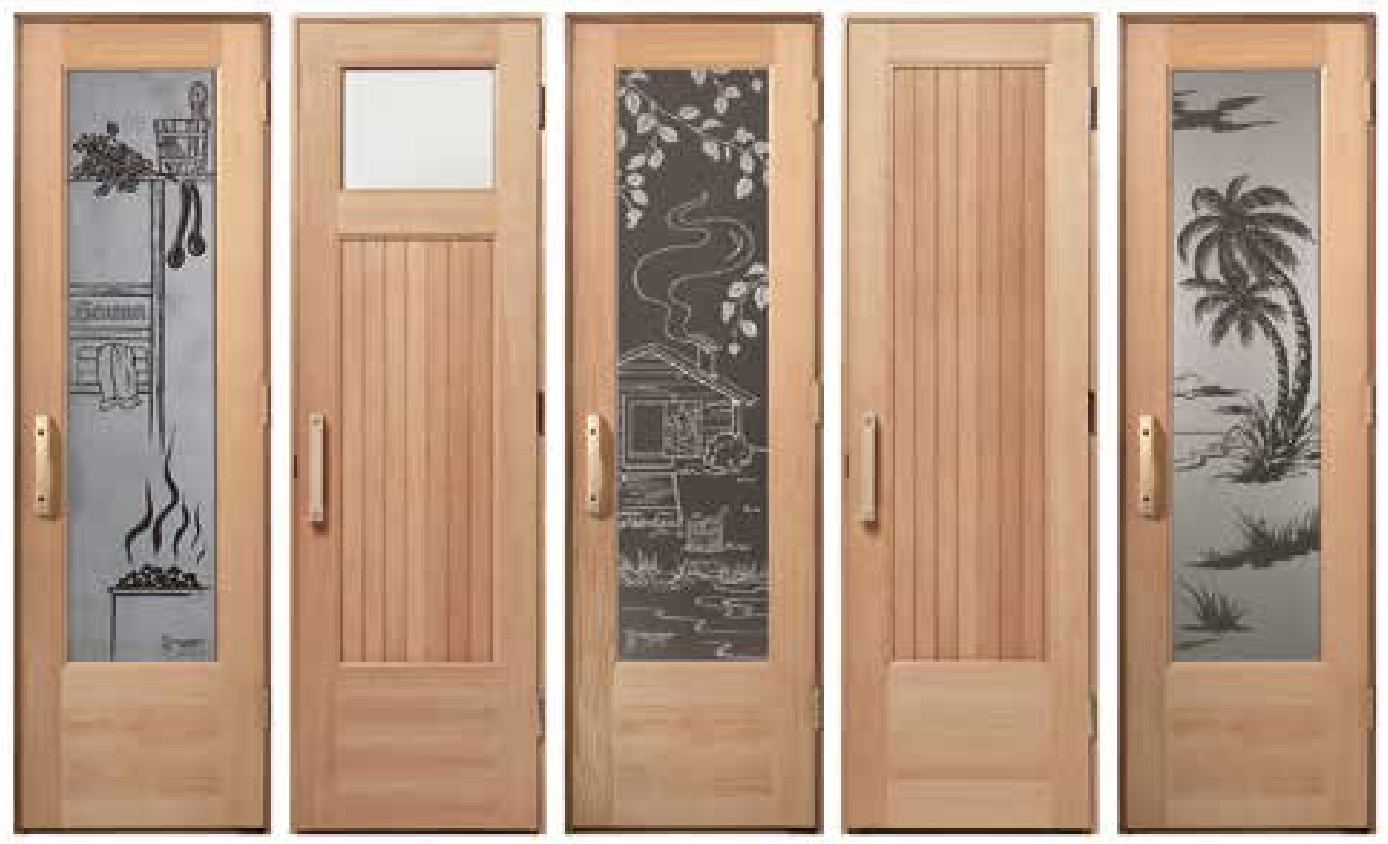 The Sauna door should open outward and not have a lock. It's best if it's 24″ wide to keep heat from escaping. It's advisable not to place the door directly facing a spa or shower since humidity can cause rusting and warping. If you want to make space for handicapped users, avoid using a larger handicapped door (36″) unless the sauna room is spacious enough for wheelchair movement, ramps, and grab bars.  
Sidenote: Don't allow users to leave their wheelchairs inside as they get hot.  
SHOWER
Since a sauna deeply cleanses by opening pores and removing bodily impurities, washing off this waste with soap and water in a shower is important. Placing a shower near the sauna is convenient, but avoid installing a shower head inside the sauna room to prevent humidity from harming the Sauna heater's electrical components. If the sauna is near a pool or spa, create a dressing room between them to shield the Sauna heater's electrical and metal parts from harmful vapors and humidity.  Lastly, never pour pool or spa water onto the heater. 
FLOOR LAYOUT
The pressure of being creative, stylish, and unique with your sauna can be inevitable. But remember that saunas are fundamentally used for health and wellness. This means that the correct use of space is more important than building visually striking interiors. A good example is positioning the benches such that there is enough backrest, a comfortable reclining space, and little walking space.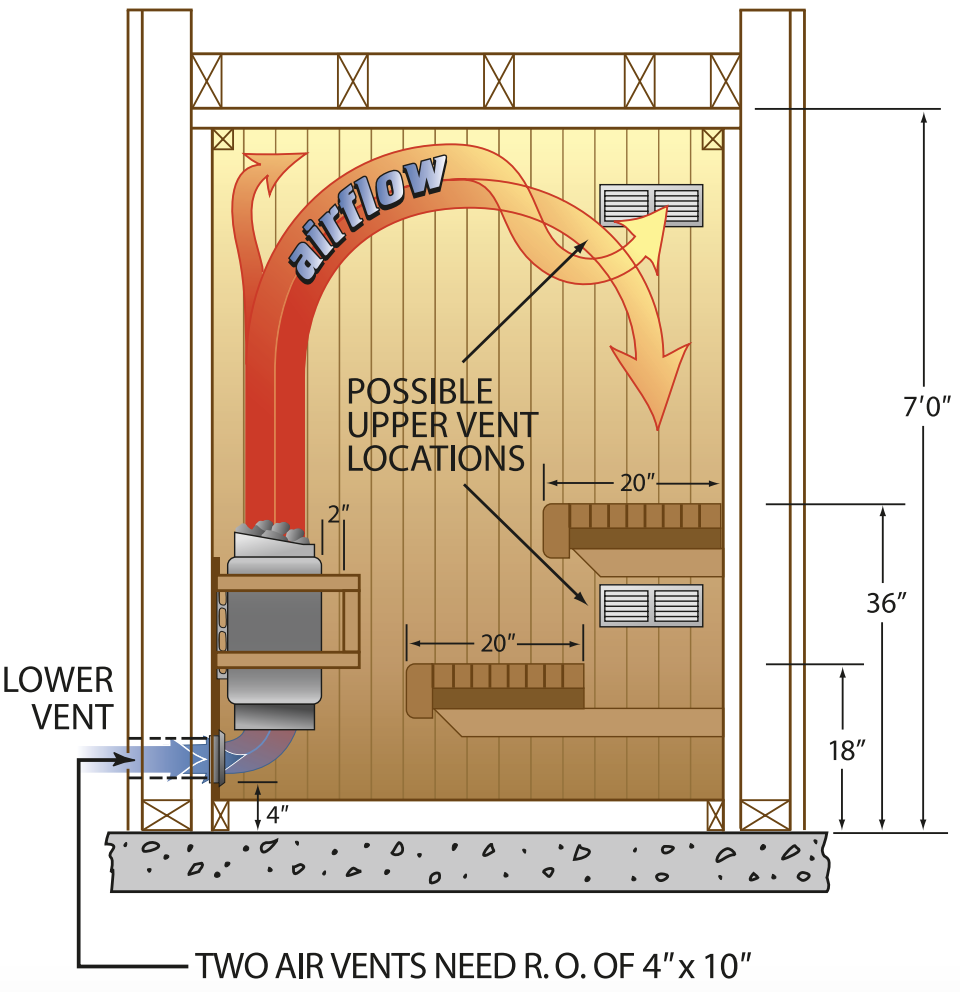 CEILING HEIGHT
For effective heat distribution at bench and head levels, maintaining a Sauna ceiling height of 7′ is advised. It's important to adjust the room height from the standard 8′ to the recommended 7′ from the finished floor (although it can go as low as 6′ 2″). An 8′ ceiling can lead to heat wastage, energy inefficiency, and unnecessary material use. It will also prolong heating time, which means you'll have greater energy costs. A Sauna room with an improper 8′ ceiling experiences a 20-degree temperature difference at the upper bench and bather's head levels. Minimizing the ceiling height reduces excess heat loss at the upper level while ensuring sufficient warmth at the bench levels where bathers sit or lie. 
VENTILATION
For proper airflow inside a sauna, having one lower intake vent and one upper outlet vent is a good idea. These vents are more for comfort and less for safety. The lower vent brings in fresh air, making the atmosphere cozy, while the upper vent pushes out used air. Position the lower vent around 4″ from the floor, ideally near the heater. This helps fresh air flow through the heater, improving its performance. The upper vent can be placed anywhere, ranging from 24″ above the floor to 6″ below the ceiling. If you want to heat the Sauna faster, you can also close the upper vent while it's warming up. 
Support Your Health and Wellness Journey With Finlandia's Natural Baths
Discover the world of health and relaxation with Finlandia's pure saunas. Harvest Custom Wine Cellars and Saunas is an authorized dealer of Finlandia saunas, and we're here to make it easy for you to set up a home or commercial sauna. Experience the benefits of wellness at your convenience, and let us help you create a soothing space that promotes your vitality! For questions and inquiries, call us today at +1 (804) 467 – 5816 or +1 (443) 552 – 5084.