Commercial Wine Cellar Installation Washington D.C.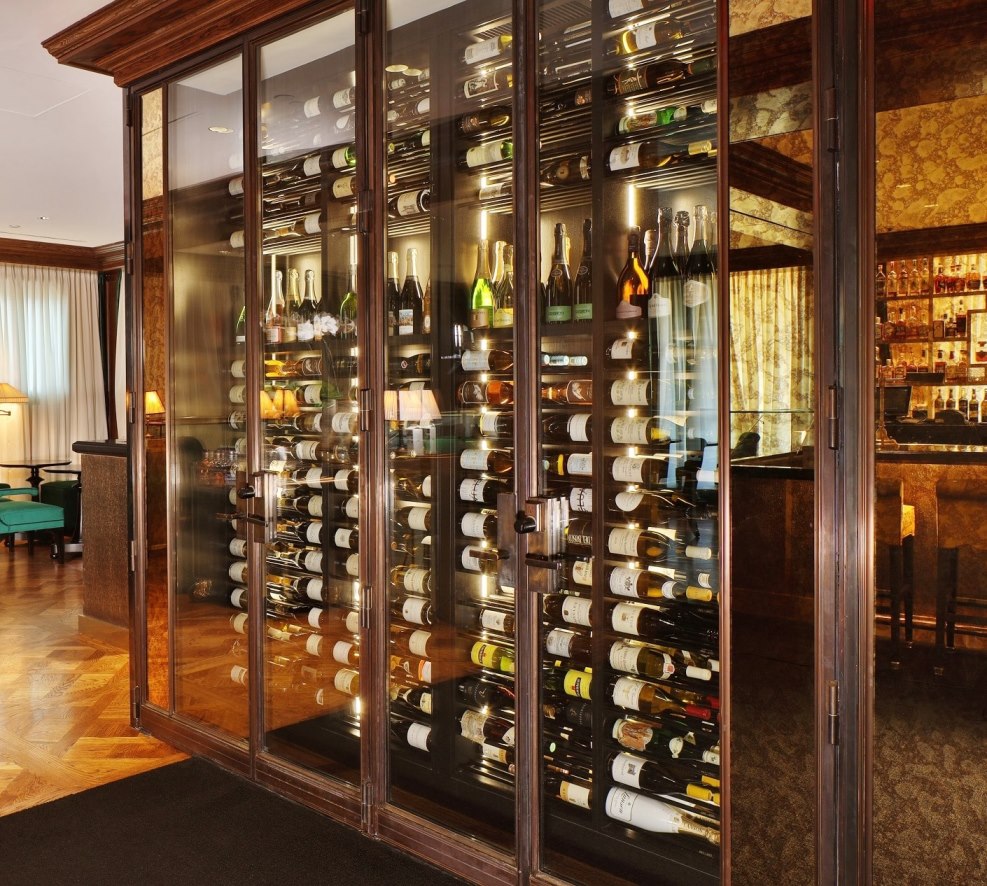 Wine cellar installation is a cumbersome task requiring extensive knowledge. Therefore, you must work with a professional builder like Harvest Custom Wine Cellars. For many years, we have been helping owners of wine businesses in improving their sales by creating an eye-catching wine display area in their commercial establishment. In one of our projects in Washington, D.C., our team of experts constructed an elegant wine cellar using modern wine racks.  
Another Commercial Wine Cellar Installation Project Completed by Our Experts in Washington, D.C.
Harvest Custom Wine Cellars is known for its expertise in wine room design and installation. Recently, the owners of the Wolfgang Puck's restaurant contacted us because they needed help building a commercial wine cellar where they could display their products impressively and attract potential customers. 
The available area was more than 50 feet long. We decided to divide it into four different zones to maximize the space. We installed an efficient wine cooling unit in each zone, allowing the owners to store various types of wines.     
Wine Rack Design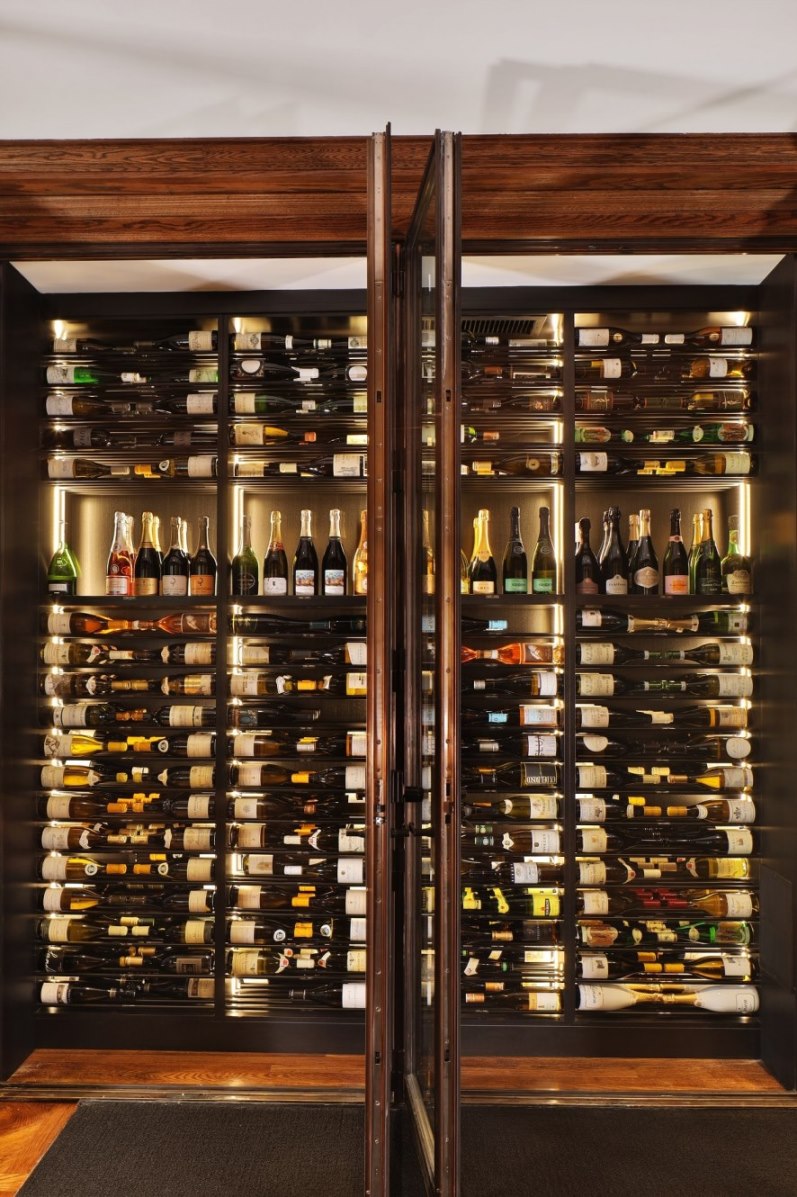 The design of the racking has a significant impact on the overall appeal of a wine cellar. In this project, our goal was to maximize the space to increase storage capacity without compromising quality and beauty.  
In this wine cellar installation project in Washington, D.C., the owners chose wine racks with label-forward orientation to allow the customers and diners to see the types of wines available in the restaurant. With the labels are facing out, the time for locating a specific type of wine will be reduced, and the need to flip the bottles will e eliminated. The sediments that have settled on one side of the bottle will not be disturbed.  
We utilized the Parallel Series from Kessick Wine Cellars, one of our trusted suppliers of modern wine storage systems. It consists of parallel black anodized metal bars that display the wines for maximum view of the labels, easy access, proper air circulation, and better wine management.  
For the structural support on both sides of the metal bars, we used Sapele Mahogany. This type of wood is known for its stability, beauty, and ability to withstand the high humidity in refrigerated wine cellars.  
The owners chose a Black Microderm stain. Each piece of wood was hand-stained, resulting in a sophisticated look. We applied a Clear Satin finish over the stain to match the metal bars. The combination of metal and wood impressed the Wolfgang Puck team. 
The custom racking also consists of upright storage for large format bottles like champagne and some cork-forward wine racks. This commercial wine cellar has a bottle capacity of more than 3000 bottles.   
Wine Cellar Doors and Lighting Used in this Wine Cellar Installation Project in Washington, D.C.
The wine cellar doors are made of glass, allowing the customers to see the wine display without entering the wine room. We added metal hardware to match the theme of the wine cellar.  
The lighting system is a vital component in wine cellar installation. As a master builder in Washington. D.C., we always want to safeguard our client's wine collection. Choosing the wrong lighting system can increase heat in the wine room, resulting in spoiled wines. Therefore, we use and recommend the LED lighting system for wine cellars.   
LED lights are known for their low heat emission, preventing wine damage. Although they are more expensive than other types of lighting, they have a longer lifespan and consume less energy, saving you money in the long run.  
Harvest Custom Wine Cellars made sure that the lighting was installed in specific areas to create a dramatic lighting effect and allow customers to see the wine labels easily. We installed ribbon lighting vertically along the sides of the cabinets. This way, every bottle from top to bottom is illuminated evenly.   
Wine Cellar Cooling System
Choosing the type and size of the wine cooling unit for every project must be done by a professional.  Our team is composed of HVAC technicians who were trained in the installation and repair of wine refrigeration systems.   
With so many brands and types of wine cooling systems available in the market, it is easy to experience a dilemma in choosing the ideal equipment for your wine storage facility. Working with an expert will ensure that a suitable climate control unit is installed in your wine cellar.  
To achieve this, our team will assess your needs and perform a heat load calculation to determine the correct size and type of cooling system for your project.  In this commercial wine cellar installation we completed in Washington, D.C., we chose the 1-ton D088 unit from Wine Guardian for the two larger areas. Since the other two areas are smaller, we installed the 1/2 –ton D050 unit.  
These two refrigeration systems from Wine Guardian are known for their cooling efficiency, virtually quiet operation, and minimal required maintenance. We added the serving temperature option to allow convenience in monitoring and regulating the temperature inside the modern wine room.  
This feature will benefit the guests because they get to enjoy their favorite wines stored at the optimum temperature. When they are pleased with their experience in your hotel or restaurant, they will become repeat customers. Our excellent service and high-quality products will become word of mouth.   
Work with Our Experts in Wine Cellar Installation
Are you planning to build a wine storage facility for your business? Work with our experts in wine cellar installation in Washington, D.C. Let us know your needs, and we will transform your space into a functional and visually appealing wine room.  
If you have questions, please call us at (804) 467-5816.