Stylish Custom Wine Racks Washington, D.C.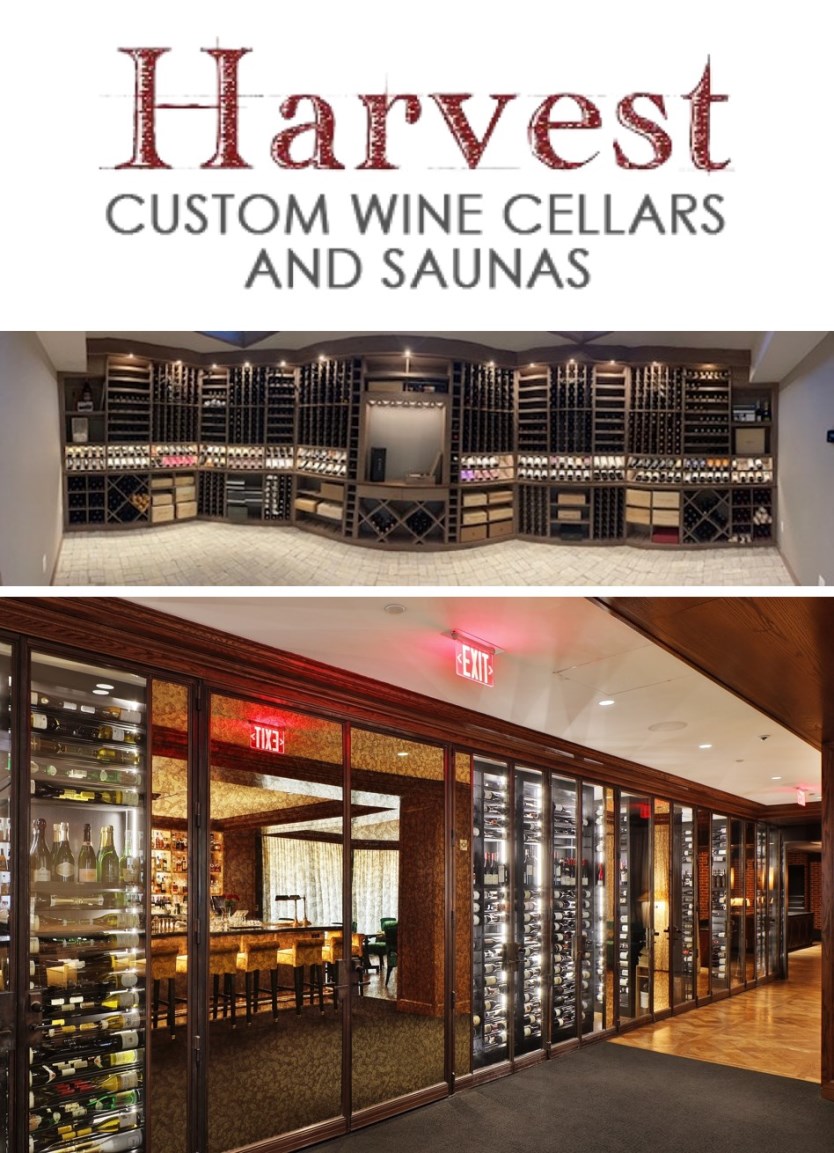 Choosing the right style and material for your wine rack system can be a dilemma. Harvest Custom Wine Cellars offers beautiful custom wine racks made from high-grade materials. We have transformed spaces into masterpieces in homes and eye-catching features in commercial establishments. 
How We Choose and Design Custom Wine Racks for Your Residential or Commercial Wine Cellar  
You can add aesthetic value to your home, wine store, or restaurant with a luxurious-looking wine cellar built by a professional. For many years, Harvest Custom Wine Cellars has been providing wine storage solutions to private wine collectors and restaurateurs in Washington, D.C. 
Our team understands the crucial role of your racking design and material in achieving your wine room goals and overall aesthetic. We apply thorough assessment, careful planning, keen attention to detail, expertise, and creativity in order to make every wine rack system stand out and look beautiful while also holding and protecting your valuable wine bottles. When you choose our custom wine racks, you can be sure that your wine display will impress guests and add character to your space.  
Assessment of Your Needs: Why It is Important in Designing Custom Wine Racks
As a master wine cellar builder in Washington, D.C., Harvest Custom Wine Cellars follows the proper steps in wine cellar construction. In the first stage, we will assess your needs and requirements to determine the most suitable design for your wine storage facility.   
We will gather relevant information via phone interview or an on-site visit. We will have to know the following details: 
The measurement and location of the space where the construction will take place

 

Your primary purpose of building a wine cellar in your home or commercial establishment

 

The types and sizes of bottles you intend to store in your wine cellar  

 

The bottle capacity that you desire

 

The style of the wine cellar that you prefer (traditional, contemporary, or transitional)

 

The type of wine racks you want (kit or custom wine racks)

 

The material for your racking (wood, metal, or both)

 

Your financial requirements

 

The availability of an exhaust room for proper heat dissipation and heat resources nearby (this will help us determine the type of wine cooling system to use)

 
These pieces of information have a significant impact on the design of your wine racks and the features to include. We will send you a design proposal consisting of the 3D rendering of the elevation views of the completed wine room, racking styles, dimensions, and bottle capacities.  
When and Why We Recommend Custom Wine Racks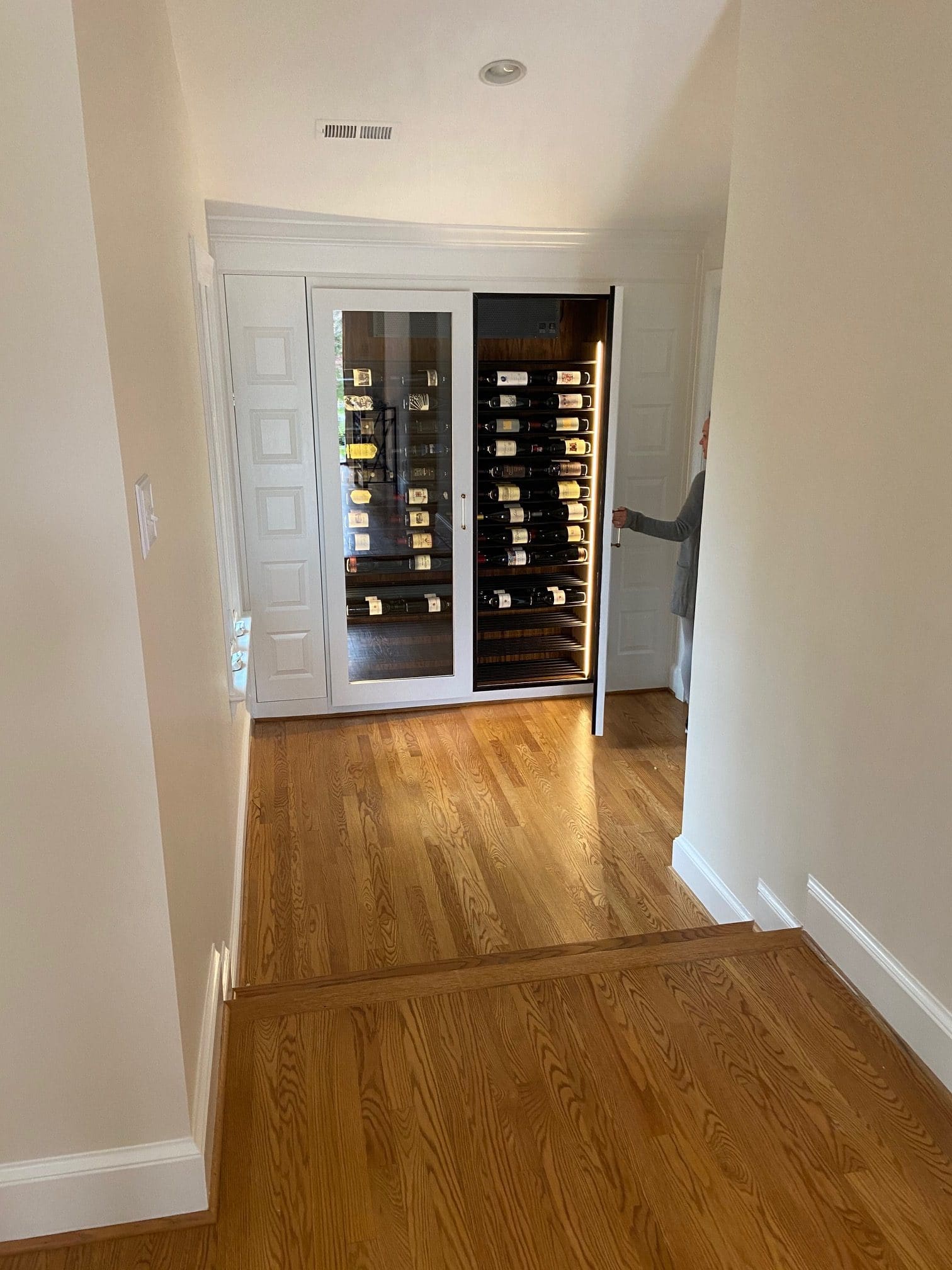 Whether you are planning to build a wine cellar for residential or commercial purposes, we recommend customizing your wine racks. Why? It is because custom wine racks offer many advantages. Unlike ready-made (kit) wine racks, they are measured based on the actual size and shape of your wine room and your personalized design. We recommend custom wine racks for irregularly shaped rooms such as spaces under the stairs and narrow closets. 
Custom wine racks are more costly than kit wine racks, but if you are willing to spend more to have a wine storage system that fits perfectly into your space, then custom racking is perfect for you. You will be able to make use of your space, maximizing storage capacity.  
Another benefit of choosing custom wine racks is having the opportunity to incorporate features that can bring your wine cellar to a higher level. You can add drawers, cabinets, cigar humidor, wood carvings, a display area for your decorative pieces, choose the size and bottle opening to suit your unique requirements, and a lot more! 
Impressive Custom Wine Racks Created by Our Experts in Washington D.C.
Harvest Custom Wine Cellars  is a top-notch master builder in Washington D.C., Maryland, and Virginia. Our portfolio of projects has helped us create a good reputation in the construction industry. We have designed custom wine racks with impressive features.  
Commercial Wine Cellar with Elegant Custom Wine Racks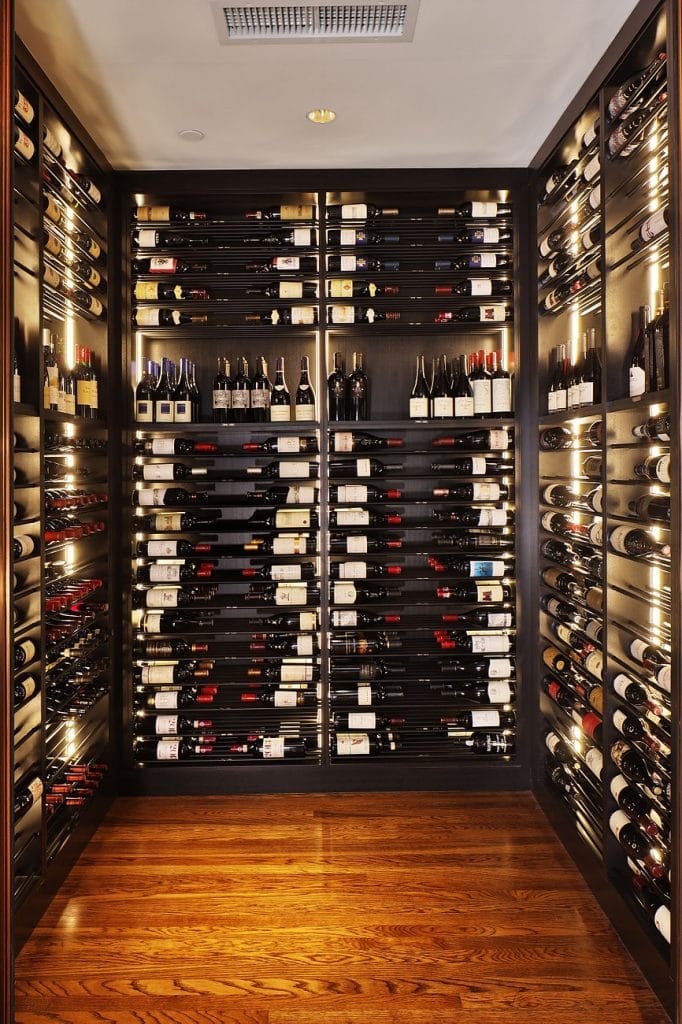 In one of our projects in Washington, D.C., we built a commercial wine cellar for a high-end hotel. We used Sapele Mahogany as the main material for the elegant custom wine racks. We stained the wine racks with Black Microderm stain.  
We installed the Parallel Wine Rack Series paired with stainless steel rods, creating a chill vibe and allow customers to relax and enjoy. Each rod was hand-stained and labeled for easy location of the bottles. Our team added rectangular displays for the champagne bottles. To highlight the wine display, we added a dramatic LED ribbon lighting system.  
Custom Wine Racks Designed for a Home Wine Cellar
In one of our home wine cellar projects, the client chose unfinished Redwood from IronWine Cellars. We designed the custom wine racks to hold more than 1,000 bottles. We created a focal point on one of the walls of the wine cellar.  We incorporated an arch opening where the homeowners added an Australian vineyard map as the backdrop.   
Other racking features in this traditional wine room include the following: 
Tabletop 

 

Lattice diamond bins

 

Vertical display racks

 

Horizontal display racks 

 

Individual wine racks 

 

Display rows pitched at an angle

 
Let Us Design Your Custom Wine Racks for Your Residential or Commercial Wine Cellar 
Do you want your wine display to be visually appealing and functional? Harvest Custom Wine Cellars will help you!   
Let our experts design custom wine racks that will bring your space to a new level. We have the perfect solution for every budget. Please call us at (804) 467-5816.